Amber Portwood is known for being in the reality TV series 16 and Pregnant, the show that documented the unplanned pregnancies and motherhood journey of several teenage girls. Along with that, Amber also gained fame for all the bad relationship choices she has made throughout her life. Many might say that she has "bad luck with men" but it also might not be that simple. Two of her partners have chosen to distance themselves from her legally, and she has lost custody of her two children. These might be some clear hints telling us how the problem probably lies with Amber's behavior. Plus, with Season 2 of Teen Mom: The Next Chapter, Amber again finds herself in more court trouble.
RELATED: MTV Stops the 'Teen Mom' Parents From Growing
Who Has Amber Portwood Dated?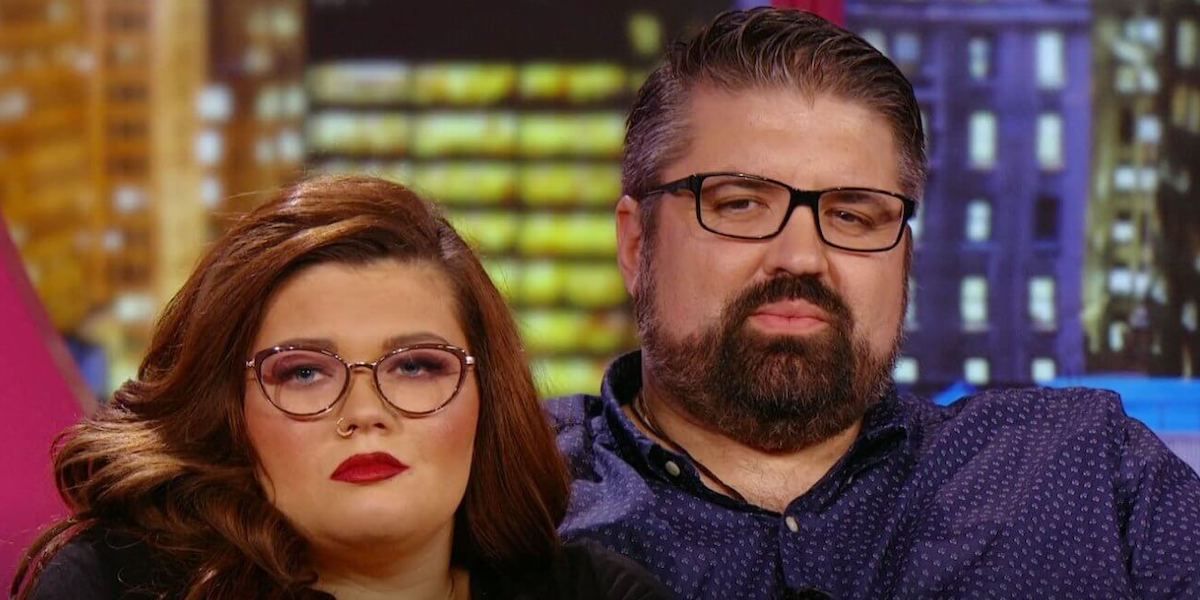 Amber joined 16 and Pregnant after she became pregnant along with her boyfriend of that time, Gary Shirley. When Amber finally gave birth to their daughter, Leah Leann Shirley, their relationship started to derail rapidly. Eventually they split in 2010 after Amber engaged in acts of domestic violence towards Gary that were caught on camera during the show. Gary was granted primary custody of Leah. Amber's struggles with adapting to motherhood and co-parenting are long documented and were worsened after Gary married his wife, Khristina Shirley. Both have a history of conflict while trying to find their roles in Leah's life. Leah has also been open about her feelings of abandonment and resentment toward her mom.
At 25, Amber went on to date Matt Baier, who was 18 years older than her. During the time of their relationship, he would go on to lie, cheat, and deceive her multiple times. Amber didn't even know of the seven children Matt had from other relationships. (She only knew about two!) Regardless, the two would buy a house and move in together. Amber paid for the house, but put the house entirely under her ex's name, which he didn't give back when they split. She later claimed how she was financially scammed of $140,000 by Matt.
The rollercoaster of romance did not just end there. In 2017, on the set of Marriage Boot Camp, Amber Portwood met the cinematographer Andrew Glennon. The two got involved in a passionate romance and Amber soon became pregnant with her second child, a son, James Glennon. Amber was sure that she had met the man of her dreams but unfortunately, her love story didn't get a fairytale ending. In a sad turnout, Amber was arrested again after Andrew claimed that she got violent towards him and their son. Because of her history of domestic violence, mental illnesses, and lack of emotional control during court hearings, Amber Portwood lost custody of James as well. The U.S Sun reported how the court made the decision after seeing Amber's conduct in court. The judge said, "Mother was often emotional during the deposition and had to leave the room on several occasions." Even Kristina and Leah were sad seeing Amber lose James like that when she had worked so hard on herself. In a heartbreaking statement, Amber said, "I've worked so hard to better myself and improve my relationship with my children."
Amber Portwood's Mental Health Struggles Might Have Impacted Her Decisions
In her 2021 memoir, So, You're Crazy Too?, the OG Teen Mom wrote about her battles with mental health. Following that, in an interview with PageSix, she explained how she was dealing with five different mental illnesses including Borderline Personality and Bipolar Disorder. She has been continuously taking therapy sessions and also enrolled in a Bachelor's degree in psychology, so she can understand herself better!
As we know from 16 and Pregnant, Amber had a difficult childhood with an absent father and a neglectful mother. Since then, she has been dealing with the public spotlight and scrutiny since 19. Her emotional instability, picking the wrong men to date, and her behavior negatively impacting her parenting would make sense. Her partner's choosing to distance her from their kids might be a heartbreaking scenario, but it is most likely the healthiest choice for the safety of the kids. Amber could take this as an opportunity and take her time to focus on improving her mental health. So she can meet her kids again on a healthier note.
The Big Picture
Amber Portwood's troubled relationships and custody battles suggest that the problem lies with her behavior rather than just bad luck with men.
Her struggles with adapting to motherhood and co-parenting, along with her history of conflict and domestic violence, have negatively impacted her parenting.
Portwood's battles with mental illnesses, her difficult childhood, and her emotional instability contribute to her poor relationship choices.