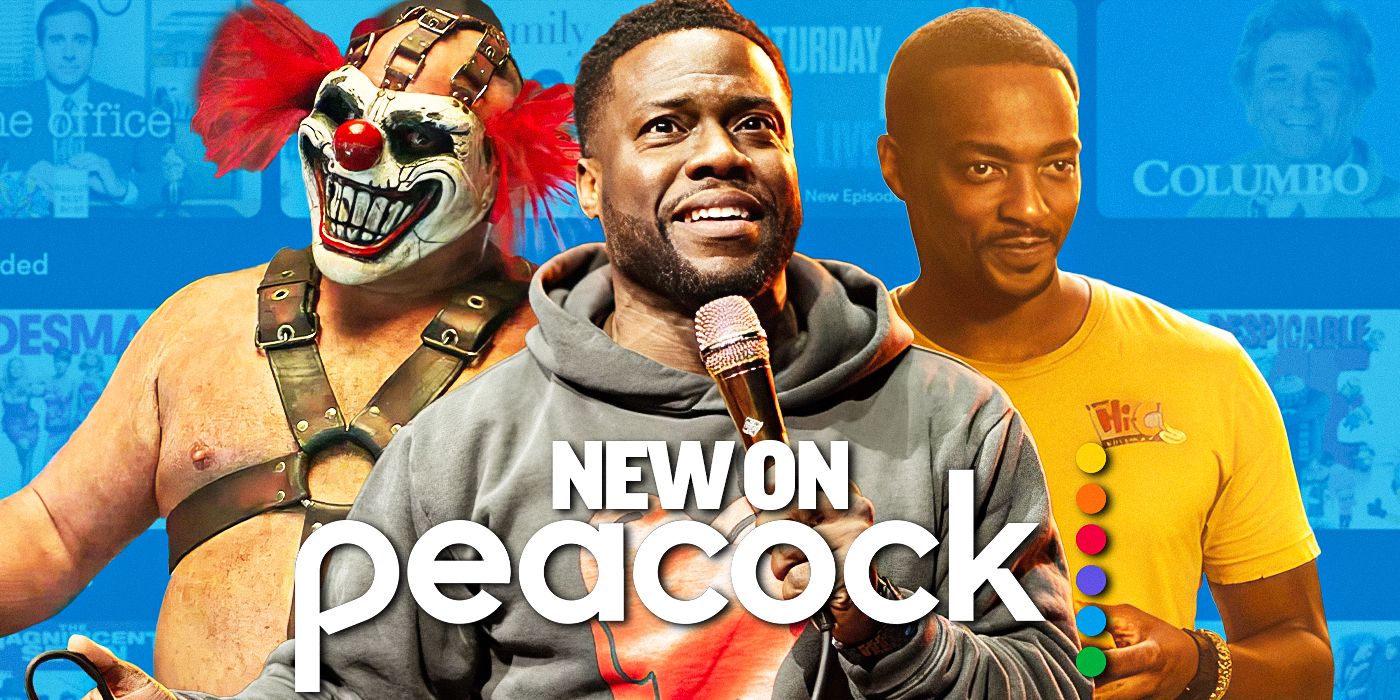 Peacock is celebrating July in a festive way as some of Universal's most iconic franchises and films will be heading to the service come the first of the month, from franchises like Jaws, American Pie, Meet the Parents, and The Da Vinci Code to films like Do The Right Thing, Apollo 13, Mamma Mia, and Inside Man. While Peacock may not be streaming the Harry Potter films anymore, this July will bring two other popular YA franchises to the service with all four Hunger Games films and all five Twilight films available to stream. Fresh from the theaters, Diane Keaton, Jane Fonda, Mary Steenburgen, and Candice Bergen reunite in Italy in the sequel Book Club: The Next Chapter. Anthony Mackie will star in the highly-anticipated action-comedy series Twisted Metal, which is based on the popular PlayStation video games, while Kevin Hart's latest comedy special Reality Check will be available to stream as well.
You can check out the list below for what else is new on Peacock this July.
Read More About What's Streaming on Peacock:
* = is exclusive to Peacock
(+) = New Hallmark films available on-demand for 72 hours after release and will be available at additional times when airing on Hallmark Channels
(++) = New episodes of Hallmark and Reelz originals series stream live on the Hallmark Channel and Reelz Channel, respectively, and are available on demand the next day.
Now Available:
Book Club: The Next Chapter, 2023*
Available July 1:
Air Force One, 1997
American Gangster, 2007
American Pie, 1999*
American Pie 2, 2001*
American Wedding, 2003*
American Reunion, 2012*
American Psycho, 2000*
American Psycho 2, 2002*
Angel of Christmas, 2015 (Hallmark)
Angels & Demons, 2009*
Apollo 13, 1995
Away & Back, 2015 (Hallmark)
Baby Mama, 2008
Billy Elliot, 2000
Blue Crush, 2002
Blue Crush 2, 2011
The Burbs, 1989
Christmas Festival of Ice, 2017 (Hallmark)
A Christmas Melody, 2015 (Hallmark)
The Christmas Parade, 2014 (Hallmark)
The Christmas Spirit, 2013 (Hallmark)
The Christmas Train (Hallmark)
Christmas with Tucker, 2013 (Hallmark)
Couples Retreat, 2009
Cowboys & Aliens, 2011
The Da Vinci Code, 2006*
The Day After Tomorrow, 2004
Debbie Macomber's Mr. Miracle, 2014 (Hallmark)
Do The Right Thing, 1989
Downtown Abbey, 2019
Engaging Father Christmas, 2017 (Hallmark)
Finding Father Christmas, 2016 (Hallmark)
For The Love of the Game, 1999
Forgetting Sarah Marshall, 2008
Half Baked, 1998
Hellboy II: The Golden Army, 2008
Here Comes The Boom, 2012
The Hitman's Wife's Bodyguard, 2021*
Hollow Man, 2000*
Horizon Line, 2020*
The Hunger Games, 2012
Hunger Games: Catching Fire, 2013
Hunger Games: The Mocking Jay Part 1, 2014
Hunger Games: The Mocking Jay Part 2, 2015
Inferno, 2016*
Inside Man, 2006
Jaws, 1975*
Jaws 2, 1978*
Jaws 3-D, 1983*
Jaws: The Revenge, 1987*
Jumping The Broom, 2011*
Karen Kingsbury's The Bridge, 2015 (Hallmark)
Larry Crowne, 2011
The Last Airbender, 2010*
Lone Survivor, 2013*
A Majestic Christmas, 2018 (Hallmark)
Mama, 2013
Mamma Mia!, 2008
Marrying Father Christmas, 2018 (Hallmark)
Meet Joe Black, 1998
Meet the Parents, 2000
Meet the Fockers, 2004
Little Fockers, 2010
Love at First Bark, 2017 (Hallmark)
Mystery Men, 1999
Neighbors 2: Sorority Rising, 2016*
A Nutcracker Christmas, 2016 (Hallmark)
Reality Bites,1994
Role Models, 2008
A Rose for Christmas, 2017 (Hallmark)
Signed, Sealed, Delivered: Lost Without You, 2016 (Hallmark)
Signed, Sealed, Delivered: One in a Million, 2016 (Hallmark)
A Song for Christmas, 2017 (Hallmark)
The Terminal, 2004
That Awkward Moment, 2014*
This Is 40, 2012
The Turning, 2020*
Van Helsing, 2004
Waterworld, 1995
Wimbledon, 2004
Woody Woodpecker, 2018
Access Hollywood, Season 27, New Episode (NBC)
Breeders' Cup Challenge Series – Stephen Foster Stakes
DP World Tour – Betfred British Masters – Round 3
IndyCar – Qualifying & Practice 2 – Mid-Ohio*
PGA TOUR – Rocket Mortgage Classic – Round 3
Secretos de Sangre, Season 1, New Episode (Telemundo)
Super Motocross Race Day Live – Round 22 World Champs – RedBud*
Top Chef VIP, Season 2, New Episode (Telemundo)
Tour de France
USA Swimming – Phillips 66 National Championships – Day 5*
U.S. Senior Open*
USFL Championship Game
WWE Money in the Bank*
Available July 2:
Diamond League Track & Field – Wanda Diamond League – Stockholm*
IndyCar – Final Warm Up & Race – Mid-Ohio*
MLB Sunday Leadoff – Minnesota Twins at Baltimore Orioles*
NASCAR Cup Series Race – Chicago, IL
The Outfit, 2022*
PGA TOUR – Rocket Mortgage Classic – Final Round
Tour de France
U.S. Senior Open – Final Round*
Available July 3:
Days of Our Lives, Season 58, New Episode (Peacock Exclusive)*
Morning Joe, New Episode Streaming Live (MSNBC)
Squawk Box, New Episode Streaming Live (CNBC)
Tour de France
Available July 4:
Access Hollywood, Season 27, New Episode (NBC)
Days of Our Lives, Season 58, New Episode (Peacock Exclusive)*
Live From The U.S. Women's Open
Macy's 4th of July Fireworks
Morning Joe, New Episode Streaming Live (MSNBC)
Secretos de Sangre, Season 1, New Episode (Telemundo)
Squawk Box, New Episode Streaming Live (CNBC)
Snapped, Season 32, New Episode (Oxygen)
Top Chef VIP, Season 2, New Episode (Telemundo)
Tour de France
The Weakest Link, Season 3, New Episode (NBC)
Available July 5:
Access Hollywood, Season 27, New Episode (NBC)
Days of Our Lives, Season 58, New Episode (Peacock Exclusive)*
Live From The U.S. Women's Open
Morning Joe, New Episode Streaming Live (MSNBC)
Secretos de Sangre, Season 1, New Episode (Telemundo)
Squawk Box, New Episode Streaming Live (CNBC)
Top Chef VIP, Season 2, New Episode (Telemundo)
Tour de France
Available July 6:
Access Hollywood, Season 27, New Episode (NBC)
The Big D, Season 1, New Episode (USA)
Days of Our Lives, Season 58, New Episode (Peacock Exclusive)*
Hart to Heart, Season 3, Episodes 1-2 (Peacock Original)*
Kevin Hart: Reality Check, 2023 (Peacock Original)*
LA Fire & Rescue, Season 1, New Episode (NBC)
Live From The U.S. Women's Open
LPGA Tour – U.S. Women's Open – Round 1*
Morning Joe, New Episode Streaming Live (MSNBC)
PGA TOUR – John Deere Classic – Round 1
The Real Housewives of Orange County, Season 17, New Episode (Bravo)
Secretos de Sangre, Season 1, New Episode (Telemundo)
Squawk Box, New Episode Streaming Live (CNBC)
Temptation Island, Season 5, New Episode (USA)
Top Chef VIP, Season 2, New Episode (Telemundo)
Tour de France
Available July 7:
Access Hollywood, Season 27, New Episode (NBC)
The Blacklist, Season 10, New Episode (NBC)
Days of Our Lives, Season 58, New Episode (Peacock Exclusive)*
Live From The U.S. Women's Open
LPGA Tour – U.S. Women's Open – Round 2*
Morning Joe, New Episode Streaming Live (MSNBC)
PGA TOUR – John Deere Classic – Round 2
Project Runway, Season 20, New Episode (Bravo)
Secretos de Sangre, Season 1, New Episode (Telemundo)
Squawk Box, New Episode Streaming Live (CNBC)
Top Chef VIP, Season 2, New Episode (Telemundo)
Tour de France
Track & Field – Toyota USATF Outdoor Championships – Day 1
Available July 8:
Access Hollywood, Season 27, New Episode (NBC)
IMSA – CTMP #1 – VP Racing SportsCar Challenge
IMSA – WeatherTech Qualifying & Michelin Pilot Challenge
Live From The U.S. Women's Open
LPGA Tour – U.S. Women's Open – Featured Group – Round 3*
Meet the Press Reports, Season 6, New Episode (NBC News)
MLB All-Star Futures Game*
On Patrol: First Shift, Season 1, New Episode (Reelz)++
On Patrol: Live, Season 1, New Episode (Reelz)++
PGA TOUR – Golf John Deere Classic – Round 3
Secretos de Sangre, Season 1, New Episode (Telemundo)
Super Motocross Race Day Live – Round 23 SMX World Champs – Southwick*
Top Chef VIP, Season 2, New Episode (Telemundo)
Tour de France
Track & Field – Toyota USATF Outdoor Championships – Day 2
World Para Track & Field Championships
Available July 9:
IMSA – Chevrolet Grand Prix
IMSA – CTMP #2 – VP Racing SportsCar Challenge
Live From The U.S. Women's Open
LPGA Tour – U.S. Women's Open – Final Round*
MLB Sunday Leadoff – Texas Rangers at Washington Nationals*
On Patrol: First Shift, Season 1, New Episode (Reelz)++
On Patrol: Live, Season 1, New Episode (Reelz)++
PGA TOUR – John Deere Classic – Final Round
Tour de France
Track & Field – Toyota USATF Outdoor Championships – Day 3
U.S. Women's National Team Soccer International Friendly– USA vs. Wales (Friendly)
Available July 10:
Days of Our Lives, Season 58, New Episode (Peacock Exclusive)*
Luann and Sonja: Welcome to Crappie Lake, Season 1, New Episodes (Bravo)
Morning Joe, New Episode Streaming Live (MSNBC)
The Real Housewives of Atlanta, Season 15, New Episode (Bravo)
Siegfried & Roy: The Original Tiger Kings, New Episode (Reelz)++
Squawk Box, New Episode Streaming Live (CNBC)
To End All War: Oppenheimer and the Atomic Bomb (MSNBC)
Watch What Happens Live, Season 20, New Episode (Bravo)
Available July 11:
Access Hollywood, Season 27, New Episode (NBC)
Below Deck: Sailing Yacht, Season 4, New Episodes (Bravo)
Days of Our Lives, Season 58, New Episode (Peacock Exclusive)*
Morning Joe, New Episode Streaming Live (MSNBC)
Myth of the Zodiac Killer, Limited Series, All 2 Episodes, (Peacock Original)*
Secretos de Sangre, Season 1, New Episode (Telemundo)
Snapped: Killer Couples, Season 17a, New Episode (Oxygen)
Squawk Box, New Episode Streaming Live (CNBC)
Top Chef VIP, Season 2, New Episode (Telemundo)
Tour de France
The Wall, Season 5, New Episode (NBC)
Watch What Happens Live, Season 20, New Episode (Bravo)
Available July 12:
Access Hollywood, Season 27, New Episode (NBC)
Days of Our Lives, Season 58, New Episode (Peacock Exclusive)*
Firestarter, 2022*
Hot Wheels: Ultimate Challenge Best Builds, Season 1, New Episode (NBC)
Morning Joe, New Episode Streaming Live (MSNBC)
Odd Mom Out, Season 3, Episodes 1-10
Secretos de Sangre, Season 1, New Episode (Telemundo)
Squawk Box, New Episode Streaming Live (CNBC)
Top Chef VIP, Season 2, New Episode (Telemundo)
Tour de France
Watch What Happens Live, Season 20, New Episode (Bravo)
Available July 13:
Access Hollywood, Season 27, New Episode (NBC)
The Big D, Season 1, New Episode (USA)
Days of Our Lives, Season 58, New Episode (Peacock Exclusive)*
Hart to Heart, Season 3, Episodes 3-4 (Peacock Original)*
LPGA Tour – Dana Open – Round 1*
Morning Joe, New Episode Streaming Live (MSNBC)
PGA TOUR – Barbasol Championship – Round 1
PGA TOUR Champions – Kaulig Companies Championship – Round 1
PGA TOUR – Genesis Scottish Open – Round 1
The Real Housewives of Orange County, Season 17, New Episode (Bravo)
Secretos de Sangre, Season 1, New Episode (Telemundo)
Squawk Box, New Episode Streaming Live (CNBC)
Temptation Island, Season 5, New Episode (USA)
Top Chef VIP, Season 2, New Episode (Telemundo)
Tour de France
Watch What Happens Live, Season 20, New Episode (Bravo)
Available July 14:
Access Hollywood, Season 27, New Episode (NBC)
American Century Golf Championship – Round 1
The Blacklist, Season 10, New Episode (NBC)
Days of Our Lives, Season 58, New Episode (Peacock Exclusive)*
FINA World Swimming Championships – 10km Women
FINA World Swimming Championships – 10m Platform Synchro Mixed
IndyCar – Practice 1 – Toronto, Canada*
Los Miserables, Season 1, New Episodes (Telemundo)
LPGA Tour – Dana Open – Round 2*
Meet the Press Reports, Season 6, New Episode (NBC News)
Morning Joe, New Episode Streaming Live (MSNBC)
PGA TOUR – Barbasol Championship – Round 2
PGA TOUR Champions – Kaulig Companies Championship – Round 2
PGA TOUR – Genesis Scottish Open – Round 2
Project Runway, Season 20, New Episode (Bravo)
Secretos de Sangre, Season 1, New Episode (Telemundo)
Squawk Box, New Episode Streaming Live (CNBC)
Top Chef VIP, Season 2, New Episode (Telemundo)
Tour de France
Watch What Happens Live, Season 20, New Episode (Bravo)
Available July 15:
Access Hollywood, Season 27, New Episode (NBC)
American Century Golf Championship – Round 2
FIFA Women's World Cup 2023™ (Spanish)
FINA World Swimming Championships – 1m Springboard Women
FINA World Swimming Championships – 3m Springboard Synchro Men
FINA World Swimming Championships – 10km Men
IndyCar – Practice 2 & Qualifying – Toronto, Canada*
LPGA Tour – Dana Open – Round 3*
On Patrol: First Shift, Season 1, New Episode (Reelz)++
On Patrol: Live, Season 1, New Episode (Reelz)++
PGA TOUR Champions – Kaulig Companies Championship – Round 3
PGA TOUR – Barbasol Championship – Round 3
PGA TOUR – Golf Genesis Scottish Open – Round 3
Secretos de Sangre, Season 1, New Episode (Telemundo)
Super Motocross Race Day Live – Round 24 SMX World Champs – Spring Creek
Top Chef VIP, Season 2, New Episode (Telemundo)
Tour de France
Available July 16:
American Century Golf Championship – Final Round
Chasing Gold: Paris, Season 1, New Episode (NBC)
Diamond League T&F – Silesia (Poland)
FINA World Swimming Championships – 1m Springboard Men
FINA World Swimming Championships – 10m Platform Synchro Women
IndyCar – Final Warm-Up & Race – Toronto, Canada*
Kick-Ass 2, 2013
LPGA Tour – Dana Open – Final Round*
MLB Sunday Leadoff – San Francisco Giants at Pittsburgh Pirates*
On Patrol: First Shift, Season 1, New Episode (Reelz)++
On Patrol: Live, Season 1, New Episode (Reelz)++
PGA TOUR – Barbasol Championship – Final Round
PGA TOUR Champions – Kaulig Companies Championship – Final Round
PGA TOUR – Genesis Scottish Open – Final Round
Riddick, 2013
Tour de France
You Won't Be Alone, 2022*
Available July 17:
Days of Our Lives, Season 58, New Episode (Peacock Exclusive)*
FINA World Swimming Championships – 3m Springboard Synchronized Women's Event*
FINA World Swimming Championships – 10m Platform Synchronized Men's Event*
Live From The Golf Open
Luann and Sonja: Welcome to Crappie Lake, Season 1, New Episode (Bravo)
Morning Joe, New Episode Streaming Live (MSNBC)
The Real Housewives of Atlanta, Season 15, New Episode (Bravo)
The Real Housewives of New York City, Season 14, New Episode (Bravo)
Squawk Box, New Episode Streaming Live (CNBC)
Twilight, 2008
The Twilight Saga: New Moon, 2009
The Twilight Saga: Eclipse, 2010
The Twilight Saga: Breaking Dawn Part 1, 2011
The Twilight Saga: Breaking Dawn Part 2, 2012
Watch What Happens Live, Season 20, New Episode (Bravo)
Available July 18:
Access Hollywood, Season 27, New Episode (NBC)
Accident, Suicide, or Murder, Season 4, New Episodes (Oxygen)
Below Deck: Deck Down Under, Season 2, New Episode (Bravo)
Below Deck: Sailing Yacht, Season 4, New Episodes (Bravo)
Days of Our Lives, Season 58, New Episode (Peacock Exclusive)*
FINA World Swimming Championships – 3m/10m Team Event*
Live From The Golf Open
Love Island USA, Season 5, Episode 1 (Peacock Original)*
Morning Joe, New Episode Streaming Live (MSNBC)
Secretos de Sangre, Season 1, New Episode (Telemundo)
Snapped: Killer Couples, Season 17a, New Episode (Oxygen)
Squawk Box, New Episode Streaming Live (CNBC)
Top Chef VIP, Season 2, New Episode (Telemundo)
Tour de France
Watch What Happens Live, Season 20, New Episode (Bravo)
The Weakest Link, Season 3, New Episode (NBC)
Available July 19:
Access Hollywood, Season 27, New Episode (NBC)
Days of Our Lives, Season 58, New Episode (Peacock Exclusive)*
FINA World Swimming Championships – 10m Platform Women's Event*
Hot Wheels: Ultimate Challenge Best Builds, Season 1, New Episode (NBC)
Live From The Golf Open
Los 50, Season 1, New Episode (Telemundo)
Love Island USA, Season 5, Episode 2 (Peacock Original)*
LPGA Tour – Dow Great Lakes Bay Invitational – Round 1
Morning Joe, New Episode Streaming Live (MSNBC)
Secretos de Sangre, Season 1, New Episode (Telemundo)
Squawk Box, New Episode Streaming Live (CNBC)
Tour de France
Watch What Happens Live, Season 20, New Episode (Bravo)
Available July 20:
Access Hollywood, Season 27, New Episode (NBC)
The Big D, Season 1, New Episode (USA)
FIFA Women's World Cup 2023™ (Spanish)
Days of Our Lives, Season 58, New Episode (Peacock Exclusive)*
FINA World Swimming Championships – 3m Springboard Men's Event*
FINA World Swimming Championships – Duet Freestyle Event*
Hart to Heart, Season 3, Episodes 5-6 (Peacock Original)*
IMSA – FCP Euro Northeast Grand Prix
Live From The Golf Open
Love Island USA, Season 5, Episode 3 (Peacock Original)*
LPGA Tour – Dow Great Lakes Bay Invitational – Round 2
Morning Joe, New Episode Streaming Live (MSNBC)
The Open Golf Championship – 151st Open Championship Featured Group & Holes – Round 1*
PGA TOUR – Barracuda Championships – Round 1
The Real Housewives of Orange County, Season 17, New Episode (Bravo)
Secretos de Sangre, Season 1, New Episode (Telemundo)
Squawk Box, New Episode Streaming Live (CNBC)
Temptation Island, Season 5, New Episode (USA)
Tour de France
Watch What Happens Live, Season 20, New Episode (Bravo)
Available July 21:
Access Hollywood, Season 27, New Episode (NBC)
The Blacklist, Season 10, New Episodes (NBC)
FIFA Women's World Cup 2023™ (Spanish)
Days of Our Lives, Season 58, New Episode (Peacock Exclusive)*
FINA World Swimming Championships – 3 Springboard Women's Event*
FINA World Swimming Championships – Team Freestyle Event*
IndyCar – Practice – Iowa*
Live From The Golf Open
Love Island USA, Season 5, Episode 4 (Peacock Original)*
LPGA Tour – Dow Great Lakes Bay Invitational – Round 3
The Open Golf Championship – 151st Open Championship Featured Group & Holes – Round 2*
Morning Joe, New Episode Streaming Live (MSNBC)
PGA TOUR – Barracuda Championship – Round 2
Project Runway, Season 20, New Episode (Bravo)
Secretos de Sangre, Season 1, New Episode (Telemundo)
Squawk Box, New Episode Streaming Live (CNBC)
Tour de France
Track & Field – Wanda Diamond League – Monaco
Voyagers, 2021*
Watch What Happens Live, Season 20, New Episode (Bravo)
Available July 22:
Access Hollywood, Season 27, New Episode (NBC)
Breeders Cup Challenge Horseracing – Haskell Stakes
FIFA Women's World Cup 2023™ (Spanish)
FINA World Swimming Championships – 3m Springboard Synchro Mixed
FINA World Swimming Championships – 10m Platform Men's Event*
FINA World Swimming Championships – Preliminaries Day 1*
IMSA – Lime Rock – VP Racing Sports Car Challenge
IMSA – Lime Rock – WeatherTech Qualifying
A Lifelong Love, 2023 (Hallmark)+
Live From The Golf Open
Love Island USA, Season 5, Episode 5 (Peacock Original)*
On Patrol: First Shift, Season 2, New Episode (Reelz)++
On Patrol: Live, Season 2, New Episode (Reelz)++
The Open Golf Championship – 151st Open Championship Featured Group & Holes – Round 3*
PGA TOUR – Barracuda Championship – Round 3
Premier League Summer Series – Chelsea v. Brighton & Hove Albion*
Secretos de Sangre, Season 1, New Episode (Telemundo)
Super Motocross World Champs & Race Day Live – Washougal*
Tour de France
Available July 23:
Ambulance, 2022*
FIFA Women's World Cup 2023™ (Spanish)
Diamond League T&F – Wanda Diamond League – London*
FINA World Swimming Championships – Finals Day 1*
FINA World Swimming Championships – Preliminaries Day 2
Live From The Golf Open
Love Island USA, Season 5, Episode 6 (Peacock Original)*
MLB Sunday Leadoff – San Diego Padres at Detroit Tigers*
On Patrol: First Shift, Season 2, New Episode (Reelz)++
On Patrol: Live, Season 2, New Episode (Reelz)++
The Open Golf Championship – 151st Open Championship Featured Group & Holes – Final Round*
PGA TOUR – Barracuda Championship – Final Round
Premier League Summer Series – Fulham v. Brentford
Premier League Summer Series – Newcastle United v. Aston Villa
Tour de France
Tour de France Femmes avec Swift
Available July 24:
FIFA Women's World Cup 2023™ (Spanish)
Days of Our Lives, Season 58, New Episode (Peacock Exclusive)*
FINA World Swimming Championships – Finals Day 2*
FINA World Swimming Championships – Preliminaries Day 3*
Luann and Sonja: Welcome to Crappie Lake, Season 1, New Episode (Bravo)
Love Island USA, Season 5, Episode 7 (Peacock Original)*
Morning Joe, New Episode Streaming Live (MSNBC)
The Real Housewives of Atlanta, Season 15, New Episode (Bravo)
The Real Housewives of New York City, Season 14, New Episode (Bravo)
Squawk Box, New Episode Streaming Live (CNBC)
Tour de France Femmes avec Swift
Watch What Happens Live, Season 20, New Episode (Bravo)
Available July 25:
Access Hollywood, Season 27, New Episode (NBC)
Below Deck: Deck Down Under, Season 2, New Episodes (Bravo)
FIFA Women's World Cup 2023™ (Spanish)
Days of Our Lives, Season 58, New Episode (Peacock Exclusive)*
FINA World Swimming Championships – Finals Day 3*
FINA World Swimming Championships – Preliminaries Day 4
Love Island USA, Season 5, Episode 8 (Peacock Original)*
Morning Joe, New Episode Streaming Live (MSNBC)
Secretos de Sangre, Season 1, New Episode (Telemundo)
Snapped: Killer Couples, Season 17a, New Episode (Oxygen)
Squawk Box, New Episode Streaming Live (CNBC)
Tour de France Femmes avec Swift
The Wall, Season 5, New Episode (NBC)
Watch What Happens Live, Season 20, New Episode (Bravo)
Available July 26:
Access Hollywood, Season 27, New Episode (NBC)
FIFA Women's World Cup 2023™ (Spanish)
Days of Our Lives, Season 58, New Episode (Peacock Exclusive)*
FINA World Swimming Championships – Finals Day 4*
FINA World Swimming Championships – Preliminaries Day 5*
FINA World Swimming Championships – Women's Water Polo – Semifinals 1 & 2*
Hot Wheels: Ultimate Challenge Best Builds, Season 1, New Episode (NBC)
Morning Joe, New Episode Streaming Live (MSNBC)
Premier League Summer Series – Brentford v. Brighton & Hove Albion
Premier League Summer Series – Chelsea v. Newcastle
Premier League Summer Series – Fulham v. Aston Villa
Secretos de Sangre, Season 1, New Episode (Telemundo)
Squawk Box, New Episode Streaming Live (CNBC)
Tour de France Femmes avec Swift
Watch What Happens Live, Season 20, New Episode (Bravo)
Available July 27:
Access Hollywood, Season 27, New Episode (NBC)
The Amundi Evian Golf Championship – Round 1
The Big D, Season 1, New Episode (USA)
FIFA Women's World Cup 2023™ (Spanish)
The Croods: Family Trees, Season 7, Episodes 1-6
Days of Our Lives, Season 58, New Episode (Peacock Exclusive)*
FINA World Swimming Championships – Finals Day 5*
FINA World Swimming Championships – Men's Water Polo – Semifinals 1 & 2*
FINA World Swimming Championships – Preliminaries Day 6*
Hart to Heart, Season 3, Episodes 7-8 (Peacock Original)*
Love Island USA, Season 5, Episode 9 (Peacock Original)*
Morning Joe, New Episode Streaming Live (MSNBC)
PGA TOUR – 3M Open – Round 1
The Real Housewives of Orange County, Season 17, New Episode (Bravo)
Secretos de Sangre, Season 1, New Episode (Telemundo)
Senior Open Championship – Round 1
Squawk Box, New Episode Streaming Live (CNBC)
Temptation Island, Season 5, New Episode (USA)
Tour de France Femmes avec Swift
Twisted Metal, Season 1, Episodes 1-10 (Peacock Original)*
Watch What Happens Live, Season 20, New Episode (Bravo)
Available July 28:
Access Hollywood, Season 27, New Episode (NBC)
The Amundi Evian Golf Championship – Round 2
FIFA Women's World Cup 2023™ (Spanish)
Days of Our Lives, Season 58, New Episode (Peacock Exclusive)*
FINA World Swimming Championships – Finals Day 6*
FINA World Swimming Championships – Preliminaries Day 7*
FINA World Swimming Championships – Women's Water Polo Final
Love Island USA, Season 5, Episode 10 (Peacock Original)*
Morning Joe, New Episode Streaming Live (MSNBC)
PGA TOUR – 3M Open – Round 2
Premier League Summer Series – Brighton & Hove Albion v. Newcastle
Project Runway, Season 20, New Episode (Bravo)
Project Runway: After Show, Season 20, New Episode (Bravo)
Secretos de Sangre, Season 1, New Episode (Telemundo)
Squawk Box, New Episode Streaming Live (CNBC)
Senior Open Championship – Round 2
Tour de France Femmes avec Swift
Watch What Happens Live, Season 20, New Episode (Bravo)
Available July 29:
Access Hollywood, Season 27, New Episode (NBC)
The Amundi Evian Golf Championship – Round 3
FIFA Women's World Cup 2023™ (Spanish)
FINA World Swimming Championships – Finals Day 7*
FINA World Swimming Championships – Men's Water Polo Final
FINA World Swimming Championships – Preliminaries Day 8*
Love Island USA, Season 5, Episode 11 (Peacock Original)*
On Patrol: First Shift, Season 2, New Episode (Reelz)++
On Patrol: Live, Season 2, New Episode (Reelz)++
PGA TOUR – 3M Open – Round 3
Secretos de Sangre, Season 1, New Episode (Telemundo)
Senior Open Championship – Round 3
Tour de France Femmes avec Swift
Available July 30:
Aloha Heart, 2023 (Hallmark)+
The Amundi Evian Golf Championship – Final Round
FIFA Women's World Cup 2023™ (Spanish)
FINA World Swimming Championships – Finals Day 8
IMSA – Road America #1 – Lamborghini Super Trofeo
Love Island USA, Season 5, Episode 12 (Peacock Original)*
On Patrol: First Shift, Season 2, New Episode (Reelz)++
On Patrol: Live, Season 2, New Episode (Reelz)++
PGA TOUR – 3M Open – Final Round
Premier League Summer Series – Aston Villa v. Brentford
Premier League Summer Series – Chelsea v. Fulham
Senior Open Championship – Final Round
Tour de France Femmes avec Swift
When Calls the Heart, Season 10, New Episode (Hallmark)++
WWE NXT The Great American Bash*
Available July 31:
FIFA Women's World Cup 2023™ (Spanish)
Days of Our Lives, Season 58, New Episode (Peacock Exclusive)*
Love Island USA, Season 5, Episode 13 (Peacock Original)*
Luann and Sonja: Welcome to Crappie Lake, Season 1, New Episode (Bravo)
Morning Joe, New Episode Streaming Live (MSNBC)
The Real Housewives of Atlanta, Season 15, New Episode (Bravo)
The Real Housewives of New York City, Season 14, New Episode (Bravo)
Squawk Box, New Episode Streaming Live (CNBC)
Watch What Happens Live, Season 20, New Episode (Bravo)
World Para Swimming Championships