The Big Picture
Uma Thurman and Samuel L. Jackson reunite on screen in the upcoming thriller comedy film The Kill Room, marking their first collaboration since Pulp Fiction.
The trailer introduces Patrice Capullo, an art gallery owner who becomes entangled with hitman Reggie Pitt and his boss, Gordon Davis, as they launder money through the gallery and create art inspired by Reggie's real-life killings.
The trio's plan to leave their lives of crime behind takes a twist when Reggie's art becomes a sensation, leading them to plot the assassination of a Russian oligarch. Maya Hawke also stars as someone trying to uncover the identity of "The Bagman."
Shout! Studios has unveiled the first trailer for the upcoming thriller comedy film The Kill Room. The project will see two of the biggest names in Hollywood, Uma Thurman and Samuel L. Jackson, reunite on screen for the first time since their 1994 crime classic Pulp Fiction.
The trailer depicts the film's protagonist, Patrice Capullo (Thurman), an art gallery owner who believes, "When you make art from a truthful place, people find out something about you." When Capullo appears to run into financial woes at her gallery, she gets entangled with an unlikely pair: hitman Reggie Pitt (Joe Manganiello) and Reggie's boss, Gordon Davis (Jackson). The trio eventually begin working together, with Reggie and Gordon laundering money through the gallery while the former makes some paintings to make the business seem legitimate.
However, things go awry, EW notes, when "Reggie's art, inspired by his real-life killings, becomes an overnight sensation," transforming him "into an accidental avant-garde sensation known as 'The Bagman' in the New York art scene." The three continue working together, with Gordon quipping that Reggie's paintings "can sell for a million bucks, and the IRS wouldn't bat an eye." Eventually, the group must form a plan to assassinate a Russian oligarch in order to leave their lives of crime behind.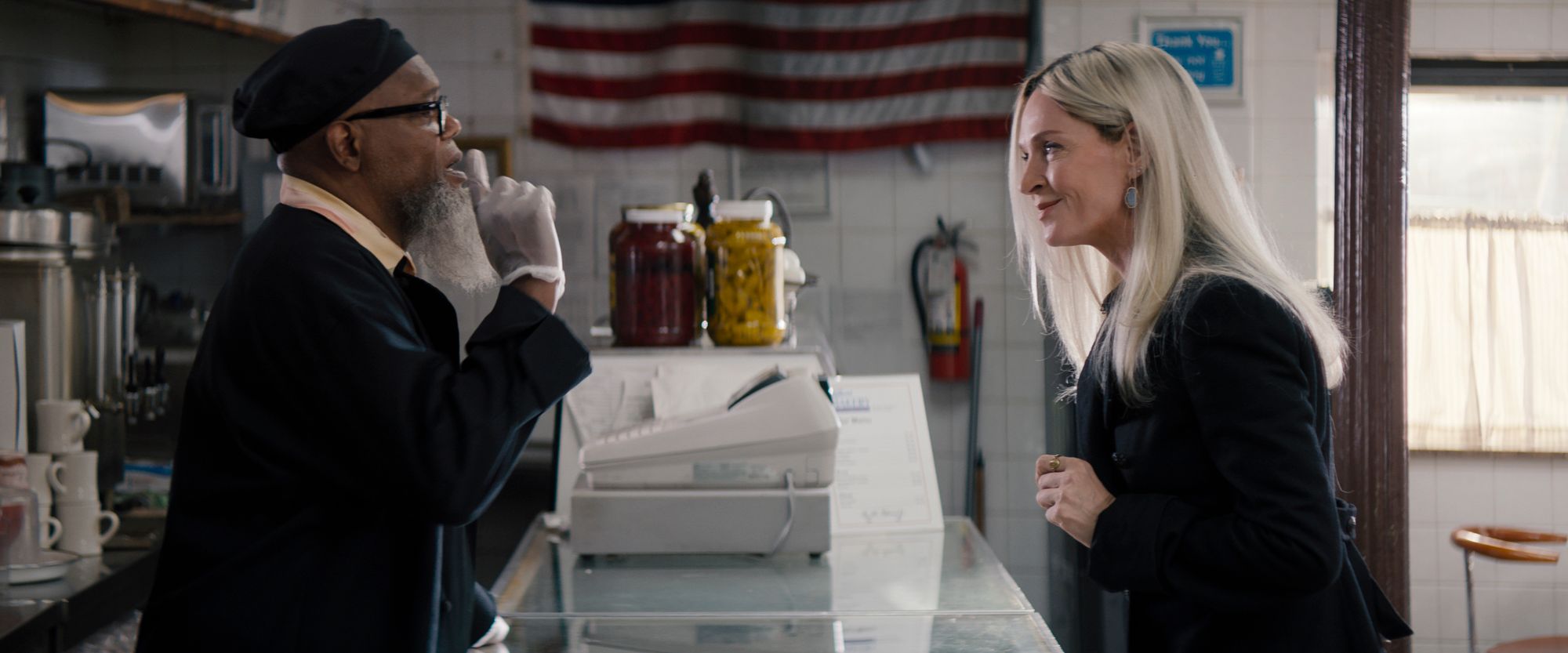 Beyond Thurman, Jackson, and Manganiello, The Kill Room also stars Thurman's daughter Maya Hawke as someone who is trying to track down the identity of The Bagman. Additional cast members include Dree Hemingway, Larry Pine, Liv Morgan, Candy Buckley, Amy Keum, Alexander Sokovikov, Jennifer Kim, Tom Pecinka, Matthew Maher and Debi Mazar. The Kill Room was directed by Nicole Paone from a script by Jonathan Jacobson, the Shout! Studios-distributed film comes from Yale Productions, Idiot Savant Pictures, Such Content and BK Studios. Producers include Paone, Thurman, William Rosenfeld, Jon Keeyes, Anne Clements, Jordan Yale Levine, Dannielle Thomas, Jason Weinberg, and Jordan Beckerman.
Jackson and Thurman Have a History
It was Jackson and Thurman's roles in Pulp Fiction that helped cement them both as leading stars of the 1990s. The pair also began a working relationship with the film's director, Quentin Tarantino, that has lasted to this day. Jackson has appeared in nearly every Tarantino film in some capacity, and Thurman starred as the iconic vengeful assassin The Bride in Kill Bill: Volume 1 and Kill Bill: Volume 2. While the pair have shared a stage on Broadway before, their first onscreen team-up in nearly 30 years is likely to delight fans of the Tarantino-esque genre.
Outside of The Kill Room, Thurman can be seen in the upcoming Amazon Prime romantic comedy Red, White and Royal Blue, and also has a role in the upcoming superhero film The Old Guard 2 for Netflix. Jackson will star in the upcoming spy action thriller Argylle for Apple TV and Universal. He is also set to reprise his iconic role as Nick Fury in the upcoming Marvel Studios sequel The Marvels alongside Brie Larson.
The Kill Room will be released in theaters on Sept. 28, 2023. Check out the film's trailer below: