Playstation's classic vehicular combat game gets a bloody, action-packed, and hilarious television adaption with a stellar lead performance from Anthony Mackie. Peacock's Twisted Metal follows the adventures of a wise-cracking, smart-ass "milkman" through post-apocalyptic America as he tries to deliver a secret package. He dodges "vultures," murderous "lawmen" led by an authoritarian tyrant, and an insane killer clown called Sweet Tooth in an armored ice cream truck. Each 30-minute episode is a glorious blast of unrepentant carnage. The big surprise is a smarter than expected plot with several clever reveals. Old school fans and neophytes alike are going to love this crazy summer joyride.
John Doe (Mackie) races across a destroyed California in EV3L1N (Evelyn), his turbocharged, orange 2002 Subaru WRX resplendent with machine guns and missiles. He's the best "milkman" in the business, delivering much needed supplies to scattered settlements. John listens to groovy pop music CDs as he shreds anyone or anything in his path. Being a milkman is a dangerous occupation. They don't last long. His reputation for getting the job done doesn't go unnoticed.
John pulls up to the heavily fortified gates of New San Francisco for his usual drop-off. He's stunned to be invited into the safe and gleaming city. John, after a thorough delousing and delightful spritz of booty perfume, marvels at the families with children going about their day. You could never tell the world had fallen apart. He's brought to an extremely important official. Raven (Neve Campbell), New San Francisco's powerful chief operating officer, invites him to dinner with her husband and infant child in their luxurious apartment. John can't believe they have actual toilet paper.
Anthony Mackie as John Doe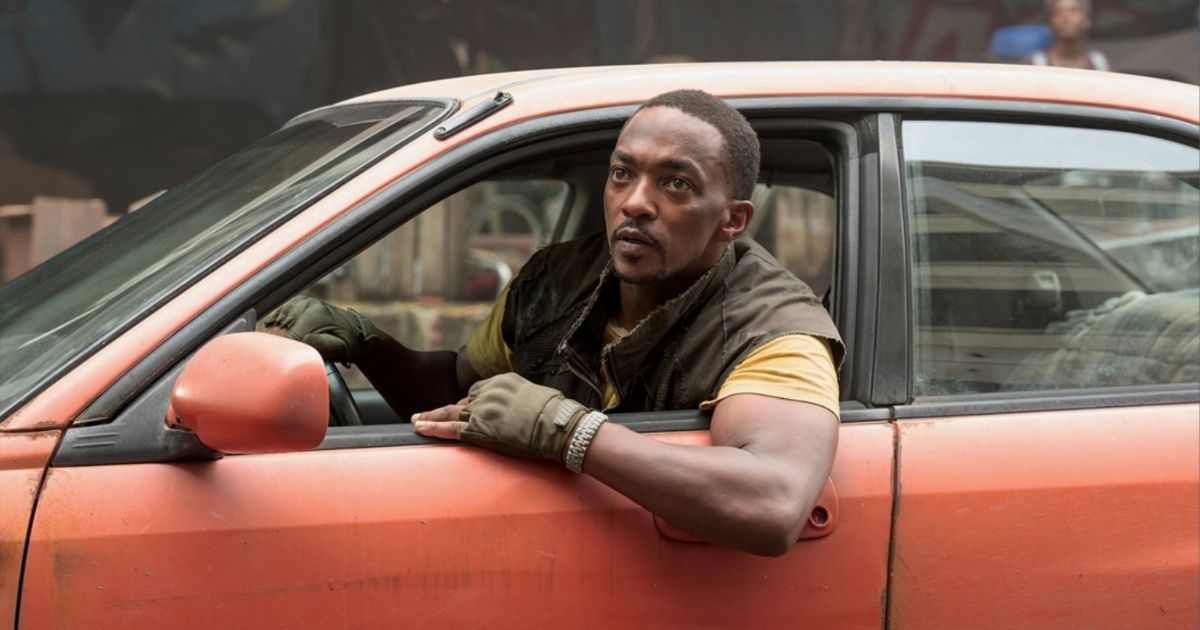 Raven offers John a chance to become a citizen. He'll have his own place, unlimited fuel for Evelyn, and of course, toilet paper on demand. The rub is that she needs him to drive to New Chicago and return with a top secret package. John has never left California. Going to New Chicago is probably a suicide mission, but the opportunity for stability, comfort, and a clean booty is just too good to pass up. He accepts the job but first needs to find a map with a safe route.
Meanwhile, Agent Stone (Thomas Haden Church) and his brutal army of lawmen brings order through execution. He'll clean up the country by any means necessary. That's not good news for a thief (Stephanie Beatriz) and her brother (Richard Cabral) trying to escape their clutches. John acquires his map from an old friend but gets a stern warning. He'll have to drive through Las Vegas. That's Sweet Tooth's (Samoa Joe, voiced by Will Arnett) territory, and he doesn't take kindly to visitors.
Related: Anthony Mackie's Upcoming Peacock Series Could Feature His Best Performance in Years
Twisted Metal is not a Fast X wannabe with lame CGI and cartoonish action scenes. Showrunner, executive producer, and writer Michael Jonathan Smith (Cobra Kai, Diary of a Future President) delivers melted rubber, bullet-riddled baddies, and gnarly explosions à la Mad Max. The premiere gets down and dirty early with gritty practical effects and wicked stunts. Smith clearly understood the value of staying true to the source material. A legion of ardent gamers would have been irate if the show was anything but a demolition spree. No one watching will be disappointed by the level and scope of violence.
Beware of Sweet Tooth
Mackie continues to astound with his range and dexterity. John is a laugh riot but no fool. He remains with a positive outlook regardless of the grim situation. This is a necessary survival tool when everyone is trying to kill you. He's charming, funny, and sincere about wanting a better life. John's lonely road warrior status gets a welcome complication when Beatriz becomes his "quiet" partner of sorts. He can't stop yapping while she initially never says a word. They become a dynamic comedy duo as the plot thickens.
Related: The Best Peacock Original Series, Ranked
Sweet Tooth nearly steals the series with his bonkers antics. He's a performer at heart that just wants to entertain a literally captive audience. The chances of making it through alive are slim but definitely worth the price of admission. Samoa Joe's hulking stature and terrifying clown mask is given a hysterical personality through Arnett's voiceover. Sweet Tooth slaughters at will but shockingly isn't indiscriminate with his targets. There's a method to the madness that becomes more apparent as the season progresses. The character is integral to the overall story and not just a brainless import from the game.
Twisted Metal is not for children. Sweet Tooth would give any kid nightmares. The gore, graphic violence, and subject matter is solely meant for adults. It's the perfect binge-watch for those looking to decompress with raucous humor, awesome action, and brisk pacing.
Twisted Metal is a production of Artists First, Electric Avenue, Inspire Entertainment, PlayStation Productions, Universal Television, and Sony Pictures Television. All 10 episodes will be available to stream July 27th exclusively on Peacock.