Editor's Note: The following contains full spoilers for Twisted Metal
The Big Picture
Season 1 of Twisted Metal is a fun and entertaining road trip featuring wacky characters inspired by the video games.
The mysterious Calypso and the Twisted Metal tournament are absent concepts throughout most of the season, but they are teased in the final minutes, hinting at a more game-accurate adaptation in the future.
John Doe is chosen by Raven to be her driver in the Twisted Metal tournament, and familiar characters like Miranda Watts and Amber will join him as contestants. John's sister, Dollface, may also become an enemy he has to face. Sweet Tooth seeks revenge in a mid-credits scene.
Peacock's Twisted Metal ended up being one of the year's biggest surprises, being a fun and entertaining road trip from start to finish. Over the course of ten episodes, hardcore fans of the video games that inspired the series as well as newcomers learning about Twisted Metal for the first time got to see John Doe (Anthony Mackie) and Quiet (Stephanie Beatriz) embark on a country-wide race across the post-apocalyptic United States. During that time, they meet a vast array of wacky characters, almost all of whom are playable racers from the Playstation video games.
As enjoyable as the show is, Season 1 does seem to feature a few absent concepts, namely the major inclusion of the mysterious Calypso (though he does appear in the series) and the namesake of the "Twisted Metal" demolition tournament. Much like the 2021 remake of Mortal Kombat, the tournament that the game adaptation is named after seems noticeably missing. That is, until the last few minutes of the series, which tease a bigger, badder, and far more game-accurate adaptation of the fan-favorite source material.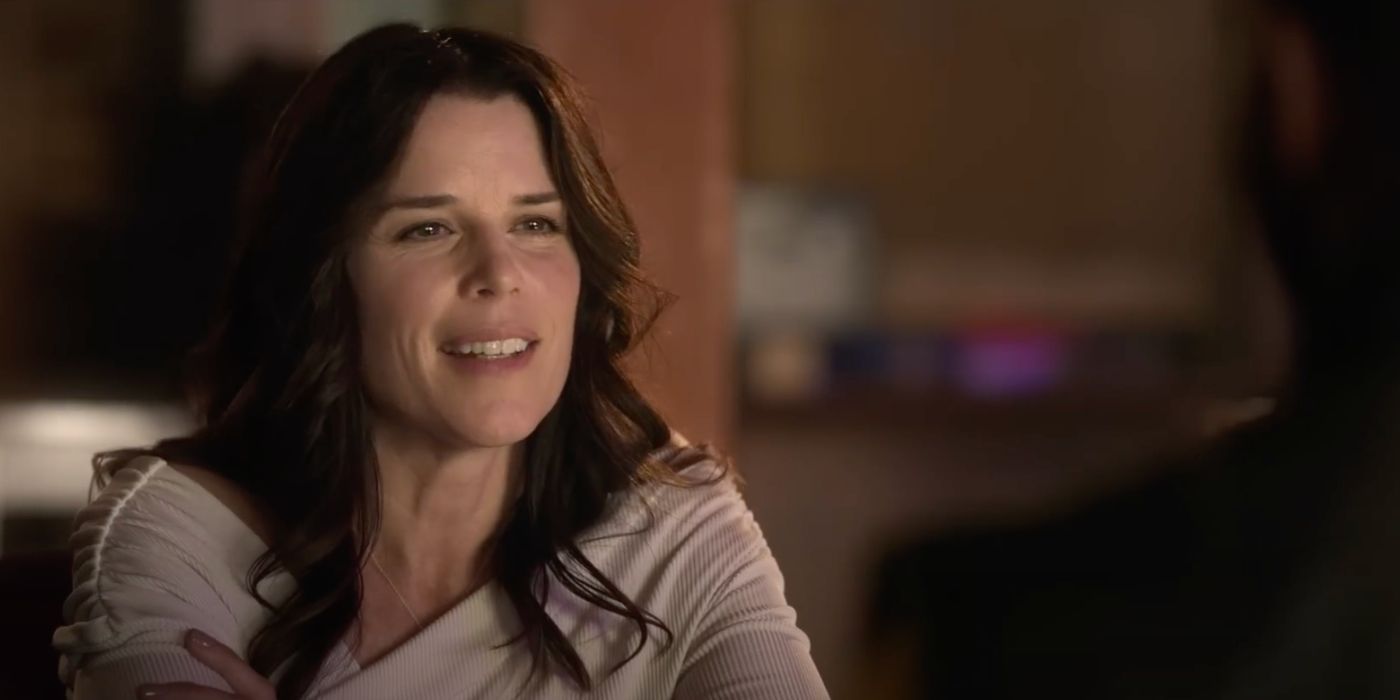 The final episode of Twisted Metal Season 1 sees John Doe earn his wish to be accepted into the New San Francisco community. He delivers the mysterious package for Raven (Neve Campbell) on time, mainly through the help of Quiet. This leads John to understandably want to bring Quiet in with him to his new life behind the walls, but that's something that Raven just refuses to abide by. John tries to refuse the offer, but Quiet insists that he go inside and start his new life, even going as far as to shoot him so that he would get medical attention inside. After John is brought in, the soldiers outside the New San Francisco gate insist that Quiet be their new "Milkman." She refuses, instead throwing their delivery to the suffering people outside the wall.
John reluctantly begins his new life in the city but finds he's having a tough time adapting to it. While he has a group of friends, begins dating one of the city's guards, and has all the Toaster Strudels he could possibly ask for, John just can't help but feel that something isn't right. He doesn't realize that everything he has been experiencing is all manufactured for him, with everyone under strict orders from Raven to make life for John pleasant. Even the package he was sent to deliver was all an elaborate lie, with the MacGuffin item being a carton of Rocky Road ice cream. Still, John decides that his life is out on the open road with Quiet, much to the chagrin of Raven.
Raven makes one final effort to convince John to stay by showing him that the house he grew up in is located in New San Francisco. She even gives John some old family photos, revealing to him that he has a sister who may still be out there. Even when given the opportunity to learn about the past he had lost, John still wants to leave the city. With no other option, Raven makes John her prisoner and reveals her ultimate plan: she has been grooming him all along to be her driver in Calypso's dreaded first annual "Twisted Metal" tournament.
RELATED: 'Twisted Metal' Review: This Destruction Derby Is Scrappy, Campy, Dark Fun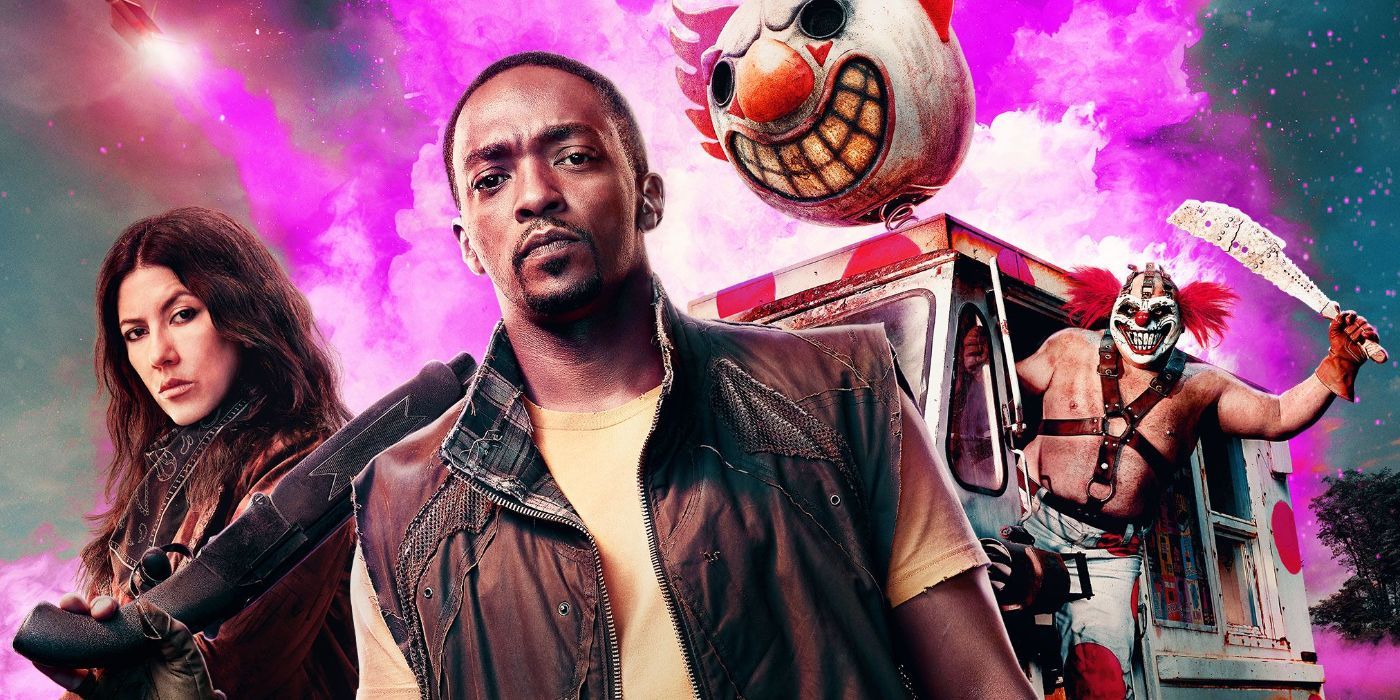 As Raven tells John about the tournament, we see the silhouette of a long-haired, suited figure in front of a bracket board. This is unmistakably Calypso — the notorious supernatural leader of the Twisted Metal tournament. Calypso's origins have always been a mystery, but historically, he can grant any wish to the victor of his tournament. However, these wishes almost always have strings attached and are almost never what they appear to be.
The combatants of this demolition derby are abundant, and a few familiar characters will join John. This notably includes two allies that he and Quiet made, with Miranda Watts (Jamie Neumann) and Amber (Diany Rodriguez) being among the contestants. There are also some old enemies in the mix, including the insane deviant Preacher (Jason Mantzoukas) and John's old flame Bloody Mary (Chloe Fineman), implying that she survived the bar brawl in Episode 7 of Season 1.
There are also some other contestants who did not make an appearance earlier in Season 1, but will be instantly recognizable to fans of the games. This first of these is unmistakably Axel — a fan-favorite character who is best known to pilot a colossal two-wheel contraption that his arms and legs are lodged into. The other new challenger is a character wearing a motorcycle helmet with a red skull plastered on it. This is likely Mr. Grimm, who is a character known for his affinity for skeletal apparel.
John Doe's Sister May Be Another Enemy He'll Have To Face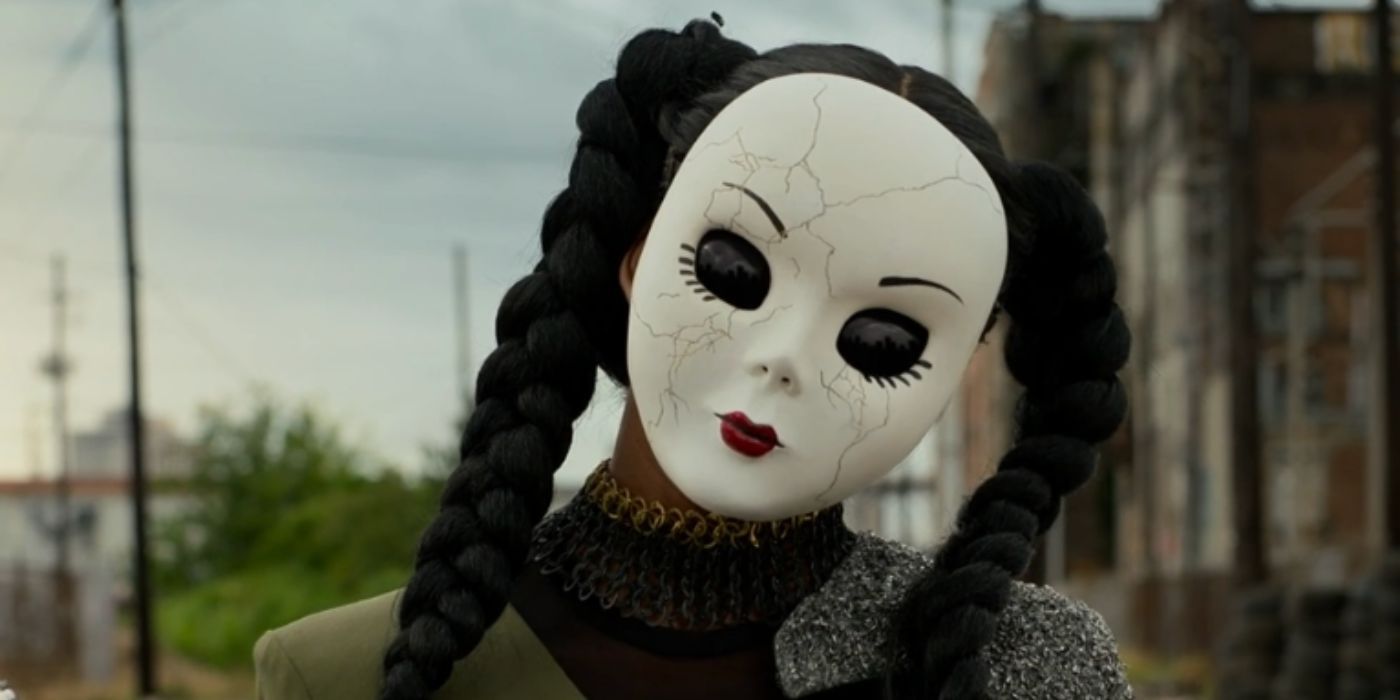 As Quiet tries to move on by being an outer wall freedom fighter, she finds herself surrounded by a horde of women wearing creepy doll masks. The leader appears in front of her car, and she has a stunning revelation. The woman says she is looking for her brother — John Doe. This is almost certainly the character of Dollface, who first appeared in the games through Twisted Metal: Black. Much like Sweet Tooth, she is depicted as a clinically deranged madwoman who finds comfort in committing wanton acts of violence. Whether she will be a friend or foe to John and Quiet remains to be seen.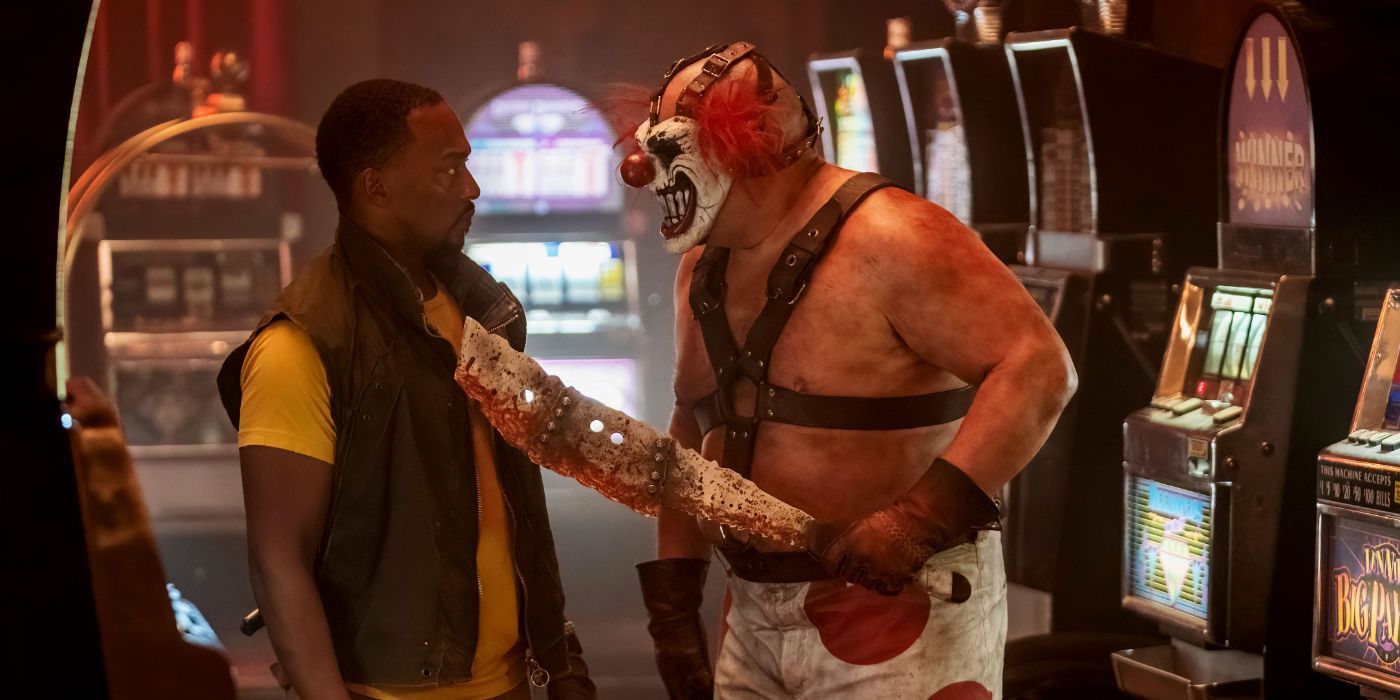 Twisted Metal Season 1 concludes with the duo Mike (Tahj Vaughans) and Stu (Mike Mitchell) finally settling down, sitting by a campfire after all the madness they endured. Their peace is interrupted by a pissed off Sweet Tooth (played by Samoa Joe and voiced by Will Arnett), who isn't thrilled about being shot by his two former companions. The trio share an awkward laugh at first, but then Sweet Tooth brings his machete down and splatters blood everywhere. He drags Stu along with him, leaving Mike's fate uncertain.
Twisted Metal is streaming on Peacock now.