The Big Picture
Tomorrow Never Dies faced difficult expectations and a rushed production, but still managed to be a highly underrated film in the James Bond series.
The original script for Tomorrow Never Dies focused on the Hong Kong handover but was scrapped due to concerns about its alignment with real-world events.
Director Roger Spottiswoode faced immense pressure with a tight schedule and incomplete script, ultimately firing screenwriter Bruce Feirstein and bringing in Nicholas Meyer as a replacement.
Tomorrow Never Dies was never going to have it easy. Two years before its December 1997 release, audiences had been graced by the arrival of GoldenEye, the seventeenth installment of the long-running James Bond franchise and the first to star Pierce Brosnan in the titular role. Even calling the film a triumph would be doing it a disservice. Overnight, all skeptics who had dismissed the character as a bygone relic of a previous age were gone – silenced by a masterful examination of the franchise's core tenets that proved just how easily these films could be modernized while still adhering to the proven 007 formula. Suddenly, a Bond film wasn't just an excuse for indulgent action sequences and flamboyant villains, but the ideal platform to explore Britain's place is a rapidly changing landscape that was seeing its influence on the global stage diminishing by the second – exactly what Ian Fleming had used his original novels for. Audiences flocked to GoldenEye in a way that hadn't been felt since 1979's polarizing (but highly profitable) Moonraker, and it didn't take long for its reputation as one of the greatest entries in the series to become an unassailable fact. What a start to Brosnan's time in the £1 million tuxedo.
But as countless musicians can attest to, the second album is the hardest of your career, and it's easy to transfer that logic to cinema. It might seem strange to call Bond 18 a sophomore release, but it represented more than just Brosnan's second inning at the most envious job in Britain. Instead, Bond 18 marked the second entry in what we can retroactively describe as the modern iteration of the franchise – a time when filmmakers critiqued rather than overlooked the archaic characterization of its title character to make him a more fully realized creation (in the process making him the ideal vector to explore Britain's identity in a post-Cold War setting). Expectations were high for GoldenEye's follow-up, and producers Michael G. Wilson and Barbara Broccoli knew it, resulting in one of the most rushed, disorderly, and downright chaotic productions in the franchise's history. Tomorrow Never Dies had all the makings of a disaster, and that it still turned out pretty good (indeed, there's a case for it being the most underrated film in the series) is nothing short of miraculous. But how different things could have been…
RELATED: All 27 James Bond Movies Ranked Worst to Best, According to Rotten Tomatoes
Why Was 'Tomorrow Never Dies' Rushed Into Production?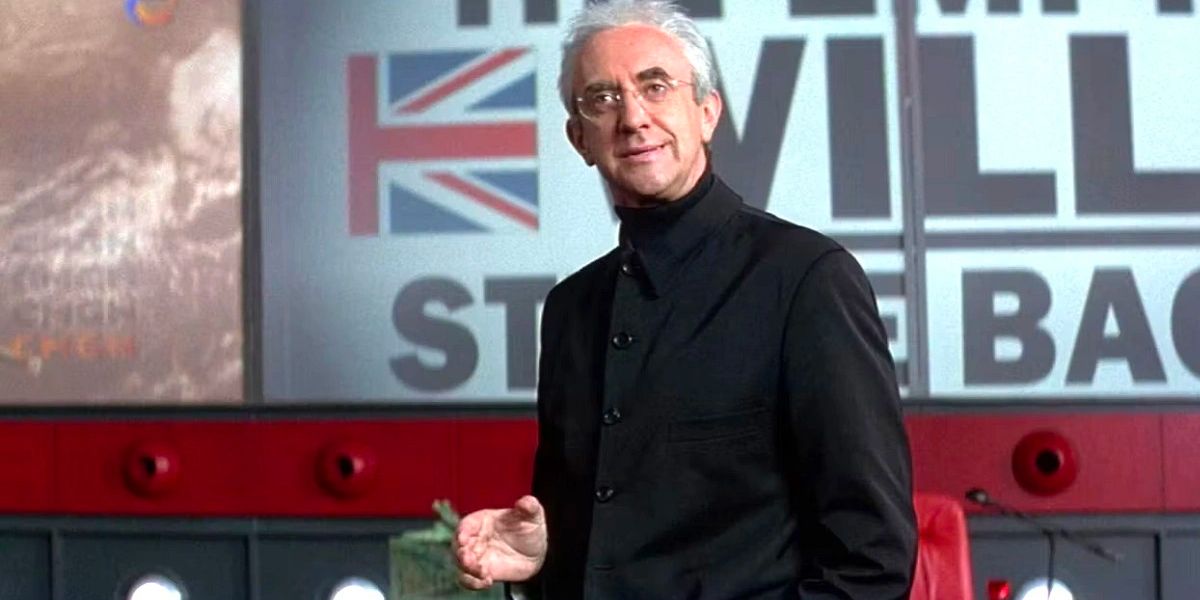 The primary cause of Tomorrow Never Dies' problems stemmed from its truncated production cycle. Prompted by a positive response to GoldenEye's initial trailer in the spring of 1995, Frank Mancuso and John Calley (the CEO of MGM and President of United Artists, respectively), fast-tracked Bond 18 into development to facilitate a court-mandated sale from MGM from the French bank Crédit Lyonnais (who had become the studio's owner following its bankruptcy in 1992). A release date of late 1997 was decided upon – not an unreasonable timeframe, but not ideal either. GoldenEye had only recently wrapped filming, and with post-production set to dominate Wilson and Broccoli's time for the remainder of the year, it left minimal room for error. Bond 18 would have to do in two years what GoldenEye had done in six, and while it's worth noting that this hadn't been of the producers choosing (legal disputes concerning the Bond film rights had ground things to a halt for some time), it had allowed for a comparatively smooth production once work was underway.
Still, Wilson and Broccoli were keen to confront this challenge headfirst. Rather than waiting for GoldenEye to reach theaters before starting work on its successor, the producing duo began commissioning treatments for potential storylines as soon as their marching orders were on their desk ("You don't wait until 17 is a success to say, 'Oh, we'd better do another one,'" as a spokesperson for Danjaq, the holding company that manages the James Bond films, exclaimed in 1996). Prolific writer Donald E. Westlake was their first port of call (a decision made at the behest of Calley), and given that many of his novels already had an air of Ian Fleming-inspired espionage to them, he happily accepted. The idea he came back with surprised no one – James Bond in Hong Kong.
In 1995, talk of the impending '97 Hong Kong handover was dominating news in the United Kingdom. After 156 years of rule, Britain would be returning sovereignty of the city to China, marking the definitive end to their colonial presence in the region. It was destined to be a monumental time for both nations, and it was also irresistible to thriller writers everywhere. From films (Hong Kong '97) to novels (The Last Six Million Seconds), it was hard to find anyone working in the genre who wasn't letting their imaginations run wild with alternate scenarios for this event, but it was Bond who was best suited for such an excursion. After all, dissecting the British national character as it watches its glory years recede into the past has long been a recurring theme across the franchise, so basing his latest appearance on the symbolic collapse of the British Empire was a no-brainer (not to mention the opportunities it presented for villainous mayhem).
Understandably, Westlake jumped at the opportunity, and returned a few months later with a pitch centered around Bond facing off against a rich American businessman (the delightfully named Gideon Goodbread) as he planned to rob Hong Kong's banks before sinking the whole city. Even from this one-sentence summary, it was clear that Westlake's pitch had all the makings of a classic Bond adventure: exotic locales, evil villains with laughably overinflated goals, and a basic plot that would allow for an explosive – and poignant – winter blockbuster.
It was during this period that Bruce Feirstein (who had recently struck gold by co-writing GoldenEye) was also developing his own treatment for Bond 18 – one that coincidently also concentrated on Hong Kong. The premise drew heavily from Feirstein's experience as a journalist working under such business magnates as Ted Turner and Rupert Murdoch, and revolved around a media tycoon (based on the disgraced UK media baron Robert Maxwell) who planned to weaponize the handover to his twisted advantage. Wilson and Broccoli responded positively to his pitch, and after passing on Westlake's proposal, gave Feirstein the greenlight to expand his concept into a full-length screenplay (Feirstein has since confirmed to Collider that, due to the similar nature of their ideas, he was prohibited from viewing Westlake's treatment to prevent any credit issues). With GoldenEye having just taken the world by storm and work on its sequel progressing swiftly, things were looking up for the Bond franchise as it strolled into 1996.
Why Was the Original 'Tomorrow Never Dies' Script Scrapped?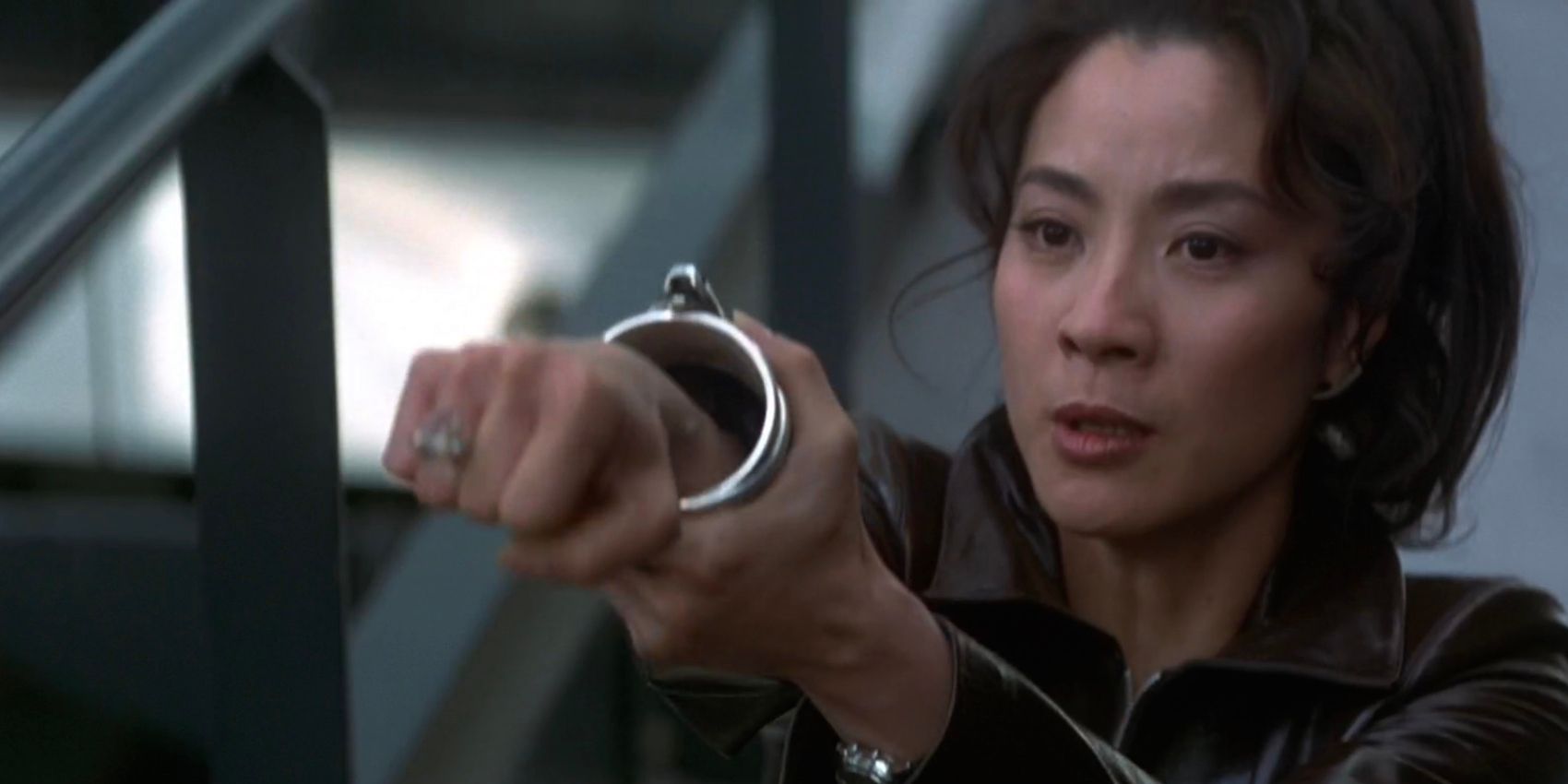 Of course, it was never going to stay perfect. The issues started in mid-1996 when self-made billionaire Kirk Kerkorian reacquired MGM for the third time in almost thirty years and promptly installed a fresh suite of board members to manage the company. The most prominent name was former U.S. Secretary of State Henry Kissinger, who strongly advised removing the Hong Kong angle from the script. In hindsight, it's easy to see why he would demand this. James Bond films may have touched on real-world topics before, but they had never aligned themselves so closely to one event as what Wilson and Broccoli were proposing for Bond 18, putting it in uncharted territory. Additionally, the sensitive nature of the handover was ill-suited to a crowd-pleasing blockbuster – a problem exacerbated by no one knowing if the events of 1 July 1997 would even proceed as smoothly as the world hoped. Everyone agreed with Kissinger's proposal. By the time Feirstein submitted his next draft, this once crucial plotline had been axed completely.
In September 1996, Roger Spottiswoode came on board as director, and one daren't imagine the enormity of the task that lay before him. Bond 18 was set to premiere in fifteen months and was still several months away from having a completed script, leaving him with a minuscule window for filming and post-production that was growing smaller by the hour. One of his first directives was to fly Feirstein and seven other Hollywood screenwriters – among them Mrs. Doubtfire screenwriter Leslie Dixon and Star Trek regular Nicholas Meyer – to London for a three-day brainstorming session at the Eon Productions offices in Mayfair. No writing was done during this period, with the most substantial change coming from Spottiswoode himself – the addition of a Chinese agent who would serve as Bond's female counterpart (and would later become Michelle Yeoh's Wai Lin). Feirstein was given one month to fulfill his requests, and while he succeeded in doing so, Spottiswoode was still unsatisfied with the script.
A few days later, provoked by the impending start date of principal photography, Spottiswoode fired Feirstein and enlisted Meyer as his replacement, presumably hoping that having a writer of his choosing on the project would make for an easier process. It didn't turn out as expected. According to Feirstein, Meyer's changes were so extensive that they amounted to a new film – replacing the media mogul concept in favor of one focused on population control in China. Upon reading his draft in January 1997 (the same month the film's second unit began shooting material in the French Pyrenees for the opening action scene), Wilson and Broccoli abandoned his script and immediately replaced him with Dan Petrie and David Wilson, who would perform yet more rewrites over the next two months. Feirstein would be rehired on the cusp of filming to complete his script, and would retain this position for the remainder of production (ultimately earning sole credit for his contributions).
If it wasn't already obvious, the writing process for Bond 18 was far from easy. In a retrospective interview in 2004, Spottiswoode made no attempt to hide the mayhem when he described the studio as having a completed script in January 1997 that they simply couldn't use, resulting in everyone "start(ing( almost from scratch at T-minus zero." Feirstein – tasked with pleasing Spottiswoode, two producers, the studio, and a multitude of actors alike – found himself writing seven days a week for months on end, with his final draft carrying a date of 18 August (nineteen days before production ended). It was a stressful time for everyone, and while those involved have spoken highly of the final film, no one has uttered similar praise for the process that led them to it. "It's just a terrible position to be in," Wilson later admitted in his Richard Ashton interview – a thought that Brosnan echoed when he said it was "a joke" to begin filming under such conditions. The pressure was high and deadlines were looming, and things were only getting started.
Why Was Filming 'Tomorrow Never Dies' a Nightmare?t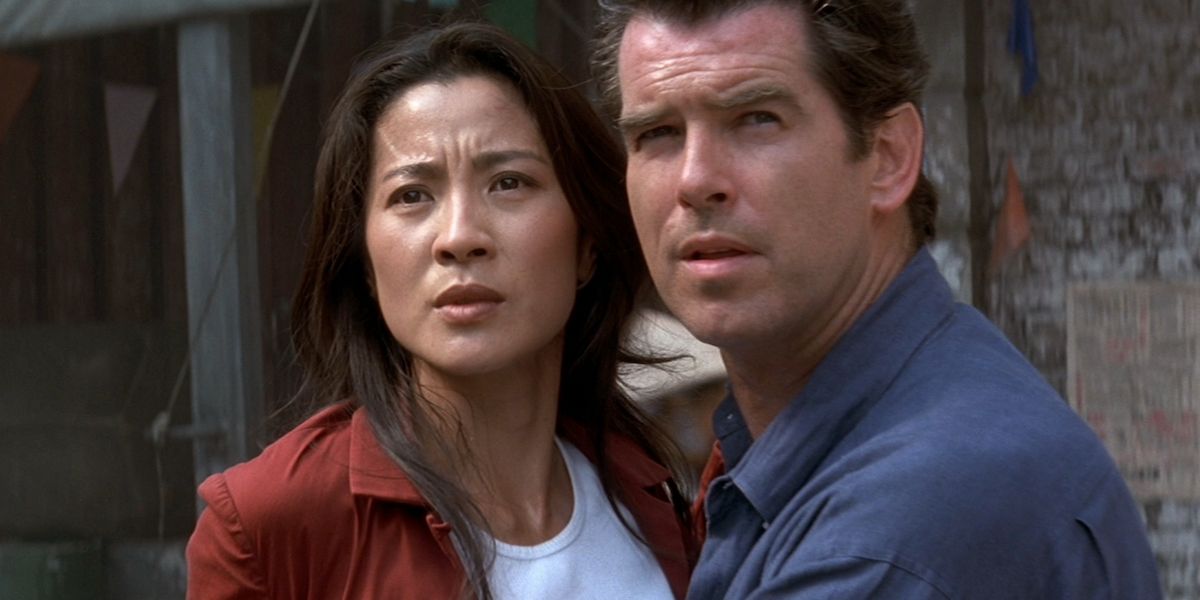 You'd hope that crisis would have been averted by the time cameras were rolling, but even putting aside the issues that come from a continually morphing script, problems were rife. When Tomorrow Never Dies (a misprint of Feirstein's original title, Tomorrow Never Lies, that MGM ended up preferring) began principal photography on 1 April, there were little over 250 days left until the film's premiere at The Odeon Theatre in Leicester Square, London – not exactly desirable. Still, Spottiswoode had a job to do and the stubborn willpower necessary to get it done, making him the ideal captain to weather this ship through the storms ahead. Good thing too, because there certainly wasn't a shortage of waves.
For instance, one such misfortune was so large it threatened to thwart the entire second half of production. Spottiswoode had intended to shoot much of the film in Vietnam, which would have made it the first Hollywood production to shoot there since the Vietnam War. However, despite having obtained permission to film in Hanoi months earlier, the film's agreement was rescinded moments before Spottiswoode and his crew were set to board a flight to Ho Chi Minh City. "We were stuck at the airport with sixty people and we were supposed to start shooting in three weeks," as Spottiswoode later recalled, adding that "a third of the movie was (now) on locations we no longer had." Why this was done has never been confirmed (a Vietnamese spokesperson merely said it was due to "many complicated reasons"), but Spottiswoode wasn't about to let that derail his film. Thailand – which had previously been used for The Man with the Golden Gun – was hastily deployed as Vietnam's replacement, and considering how tremendous its locales were utilized in the final product (Bond and Wai Lin's handcuffed motorcycle chase is still one of the best chase sequences in the series), it's a snap decision that worked out beautifully.
It's a shame that such (comparatively) easy fixes couldn't be bestowed upon every problem. Once again, conflicts originating from the permanently evolving script reared their ugly head, only this time from the people in front of rather than behind the camera. Jonathan Pryce and Teri Hatcher – appearing as Elliot and Paris Carver, the film's villain and sacrificial lamb, respectively – were reportedly infuriated with the number of changes that had occurred between signing the dotted line and arriving on set, requiring further revisions that accentuated the complexity of Feirstein's assignment. Having a script that was more liquid than solid would frustrate any actor ("It was very off-putting indeed to have learnt the script, and at a quarter to ten the night before to get a loud knocking on the door by the courier with a new script," as the illustrious Judi Dench commented after the fact), but everyone was understanding of Feirstein and Spottiswoode's position.
The contentious relationship between Brosnan and Hatcher only exacerbated the tense mood. The reason for this was twofold: one, Hatcher had nabbed the role over Brosnan's preferred choice of Monica Bellucci (who would later appear in Spectre), and two, because Hatcher was sometimes late to set, leaving Brosnan waiting around for upwards of nine hours until cameras were rolling (although Brosnan was overflowing with apologizes upon learning that this was due to her being pregnant). It didn't take long for murmurings of a difficult production to reach the UK press, with rumors ranging from Hatcher slapping Brosnan to Feirstein and Spottiswoode's relationship having deteriorated so much that they were no longer speaking. It's worth acknowledging that countless people involved with the film (including the four just mentioned) have derided such reports as overblown nonsense, but such is the way of tabloid journalism. After all, to quote Elliot Carver, there's no news like bad news.
Tomorrow Never Dies called wrap on 5 September, just 95 days before its scheduled premiere date. Spottiswoode and company worked day and night to complete the film, and in what must be one of the greatest turnarounds in cinema history, they did it… but only to within an inch of their lives. Constraints were so tight that Spottiswoode was allowed just one test screening, while composer David Arnold was so pressed for time that he was still conducting music even after the official soundtrack was available to buy (the CD included just two-thirds of the full score). How Spottiswoode managed to pull off the impossible is a question worthy of Newton, but somehow he did it, and he deserves immense credit for doing so without letting these problems taint the final product (something that Quantum of Solace, which also endured a hectic production, failed to do). It may have pushed them to their breaking point, but Wilson and Broccoli had their film. Here's hoping they'd learned more than a few lessons to make the next film a smoother ride.
'Tomorrow Never Dies' Has Undergone a Re-Evaluation in Recent Years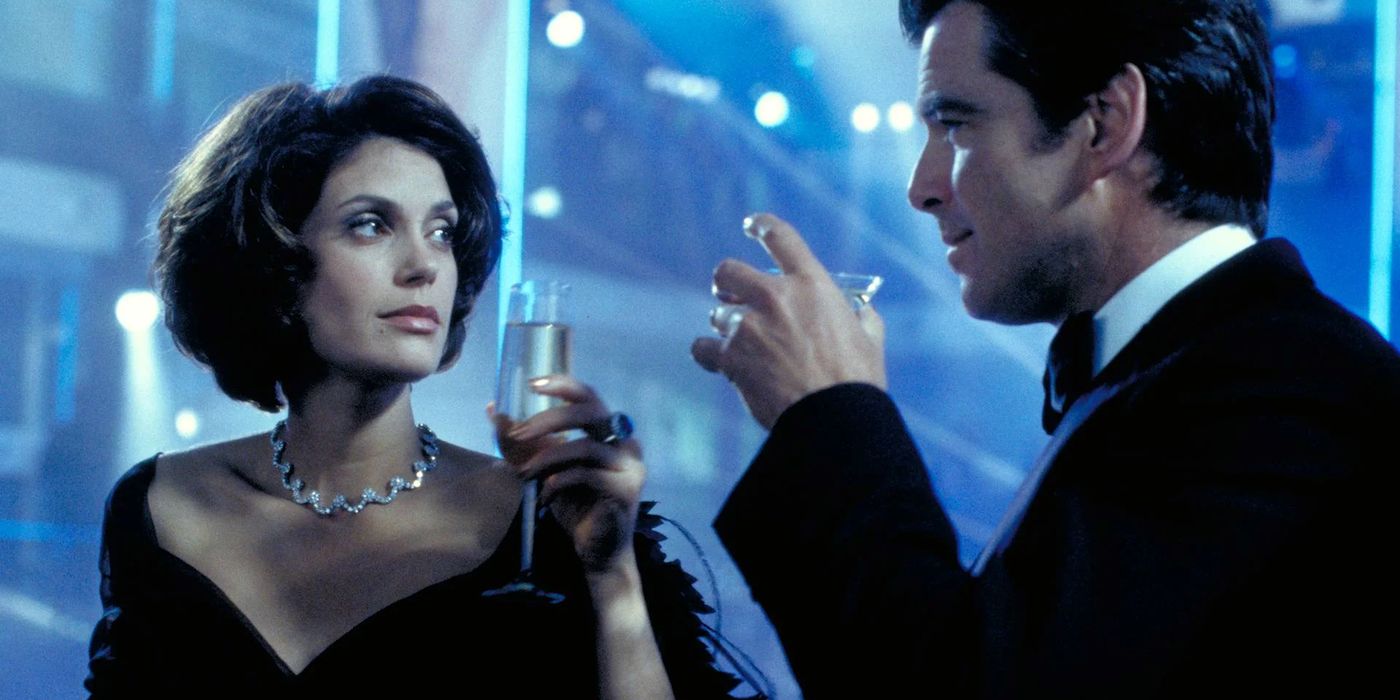 It would be nice to end this tale with a happy ending, but sadly, that can only be half delivered. Initial reactions to Tomorrow Never Dies were decidedly mute, with critics deriding its formulaic plot and uninspired design (one reviewer compared it to watching an Elvis Presley concert circa 1976). Similarly, its box office ambitions were squashed by the enormously popular Titanic (which opened in the United States on the same day), resulting in a final gross of $333 million – a fine enough number until you realize that GoldenEye grossed $23 million more on a budget half the size of its successor's. Tomorrow Never Dies would go down as the lowest-performing film of the Brosnan years, confirming its status as among the franchise's most overlooked entries.
But there is a light at the end of this tunnel. It never ceases to amaze how the changing winds of the political and socioeconomic landscape can alter our perspective on a work of art long after all critical analysis should have been exhausted, and Tomorrow Never Dies is one such example. The prophetic nature of its plot – an egotistical billionaire weaponizes the power of disinformation to exert control over the media – has made the film undergo one of the biggest re-evaluations in the series, while the characters of Wai Lin and Elliot Carver have since become staples on all "Greatest Bond Girl" and "Greatest Bond Villain" lists. Tomorrow Never Dies isn't perfect, but it is fascinating, and contains all the ingredients one needs for a solid James Bond adventure. Knowing that such an opinion is slowly becoming the consensus must be heartening for Wilson, Broccoli, Spottiswoode, Feirstein, and everyone else who no doubt enjoyed many a sleepless night bringing it to theatres to hear. If only it had come twenty years earlier.