The Big Picture
Tobey Maguire returned as Peter Parker in Spider-Man: No Way Home, reinvigorating his interest in performing and forming a real brotherhood with Andrew Garfield and Tom Holland.
Maguire's Peter Parker serves as a mentor to his successors, helping Holland's Spider-Man find hope and guiding Garfield's Peter through his grief.
Maguire also made a cameo appearance in Spider-Man: Across the Spider-Verse, along with Garfield's Spider-Man, showing the influence of his portrayal on the Spider-Man franchise.
For many fans, Tobey Maguire's version of Spider-Man has continued to be the definitive movie version of the webslinger. Audiences were treated with seeing Maguire play the character once again in the 2021 Marvel Cinematic Universe film Spider-Man: No Way Home. In the Spider-Man: No Way Home – The Art of the Movie book (via The Direct), Maguire talked about what it was like to play the superhero once again. He also discussed what it was like working alongside his two successors.
Prior to Spider-Man: No Way Home, Maguire's Spider-Man was last seen in 2007's Spider-Man 3. Although a fourth movie was planned with both Maguire and director Sam Raimi returning, the film was canceled in 2010. Instead, the series was rebooted with 2012's The Amazing Spider-Man, which starred Andrew Garfield. Although it had been more than a decade since Maguire had played Spider-Man, he was ready to return as the character in No Way Home. "When they called initially… I was like, 'Finally!' I just feel grateful – I was really open, immediately, about coming to do this," said Maguire. "Not without nerves! But to get to show up with talented, creative people and play together–it's just a yes."
In the film, Maguire's Spider-Man teamed up with both Garfield's version and Tom Holland's Spider-Man. "Working with Andrew (Garfield) and Tom (Holland) was so dear to me, it really was special – a very rich experience, all around," said Maguire. "It kind of reinvigorated my interest in performing. It felt like a real brotherhood, which was what we were aiming for, too, for us and for the characters. But then to have those dynamics play out – feeling a real connection and love for these guys, and having fun and having a laugh – all of that was energizing and reinvigorating for me." As the oldest Spider-Man, Maguire's Peter also served as a mentor to his two successors in the film. For Holland's Spidey, Maguire's version helped him not go down a dark path and murder the Green Goblin (Willem Dafoe) for killing his Aunt May (Marisa Tomei). Maguire's Peter also offered hope to Garfield's version about finding someone special. Garfield's Peter was still mourning the death of Gwen Stacy (Emma Stone) from 2014's The Amazing Spider-Man 2.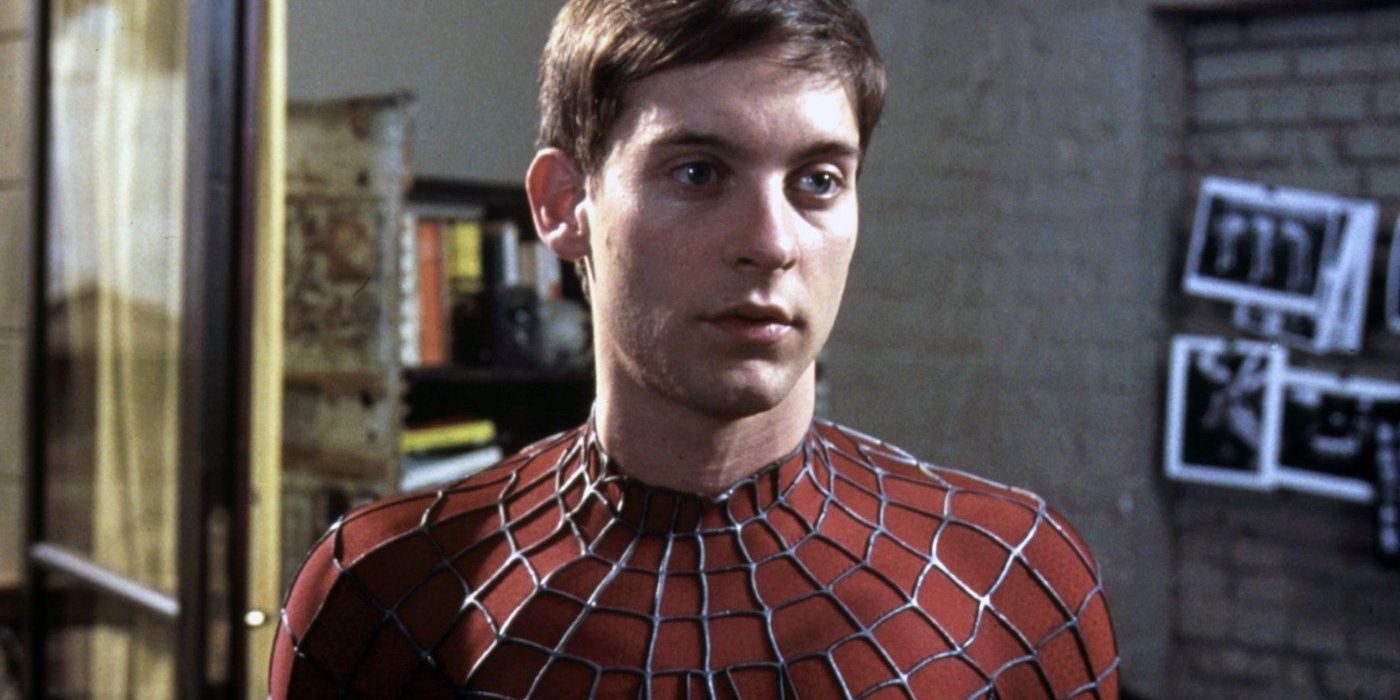 Maguire's Other Appearance in a Recent Spider-Man Movie
While many fans are hoping that Maguire will return as Peter Parker in a Spider-Man 4 or another MCU movie, he did make an appearance in the most recent Spider-Man movie. In Spider-Man: Across the Spider-Verse, footage of Maguire's Peter Parker from 2002's Spider-Man was shown when Miguel O'Hara (Oscar Issac) was explaining canon events to Miles Morales (Shameik Moore). The scene also featured footage of Garfield's Spider-Man from 2012's The Amazing Spider-Man. Josh Keaton's version from The Spectacular Spider-Man animated series also made an appearance in the scene.
The Spider-Man trilogy starring Maguire is currently available to stream on Disney+. A trailer for the 2002 Spider-Man movie can be watched below: