Cult classic Gilmore Girls, known for its lightning-fast dialogue, pop culture references, and small-town charm, is not widely known for its sexiness. In fact, it's probably one of the tamest CW dramas of its day. To paraphrase Rory (Alexis Bledel), while the show has alluded, insinuated, and tiptoed to the brink of impropriety, most of Gilmore Girls' steamy moments happen behind closed doors. However, that doesn't mean that the residents of Stars Hollow didn't get to enjoy some sultry excitement once in a while, and Lorelai (Lauren Graham) and Rory have had their fair share of flirtatious moments over the seasons. But between supermarket smooches and simmering stares with bad boys, what moment stands out as Gilmore Girls' hottest scene?
RELATED: 'Gilmore Girls' Kirk Deserves Our Love
Lorelai and Luke's First Kiss Was the Hottest Moment on 'Gilmore Girls'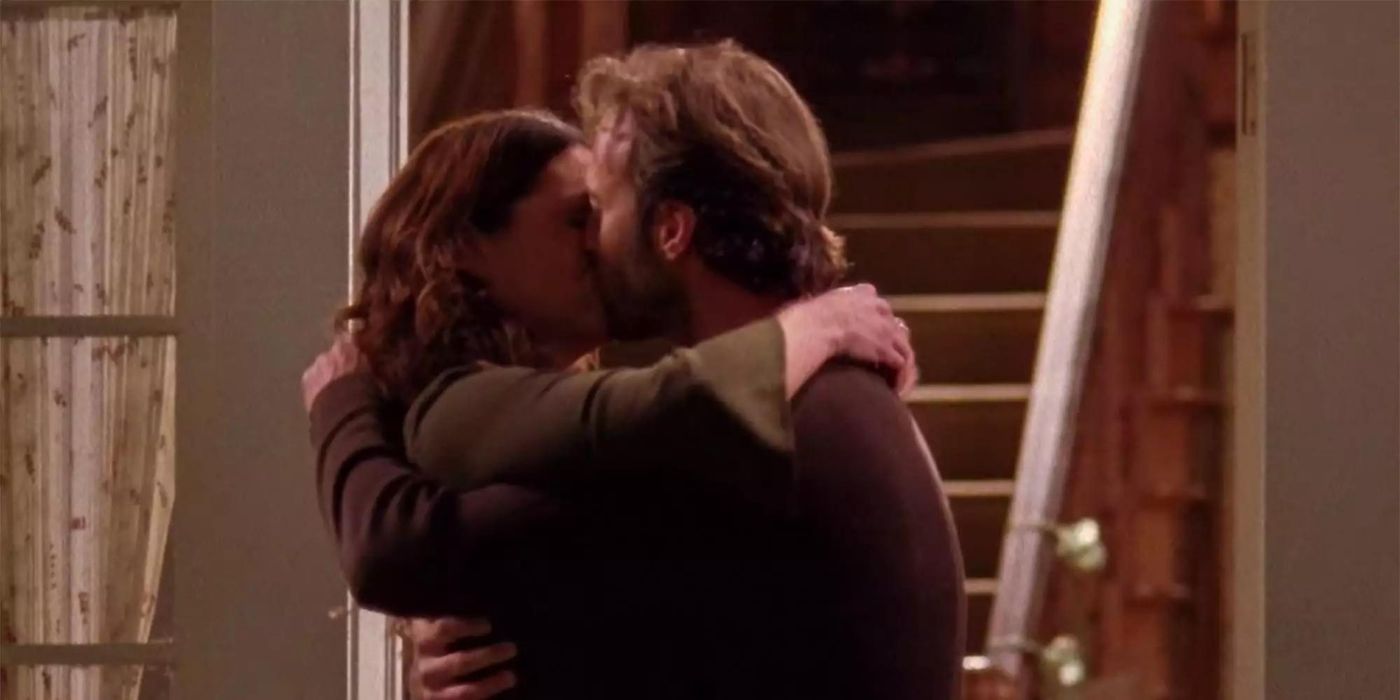 Undeniably, Gilmore Girls' sexiest moment was Luke (Scott Patterson) and Lorelai's first kiss in Season 4, Episode 22, "Raincoats & Recipes." While the episode is well-remembered as the beginning of Rory and Dean's (Jared Padalecki) sordid extra-marital affair, it also features the long-awaited culmination of Lorelai and Luke's will-they-won't-they romance. Throughout the whole season, Luke and Lorelai have been hinting at starting a relationship. They go to Luke's sister Liz's (Kathleen Wilhoite) wedding together, share an intimate slow dance in the moonlight — who knew that Luke could waltz? — and make future plans for a movie date. Unfortunately, with Lorelai's persistent ex-boyfriend, Jason "Digger" Stiles (Chris Eigeman) still lingering around and the opening of the Dragonfly Inn keeping her busier than ever, sealing the deal becomes increasingly difficult for the longing lovers.
The madness comes to a head during the test run of the Dragonfly Inn, when all of our favorite Stars Hollow residents congregate for one big, wild sleepover. Luke is in charge of ensuring that Kirk's (Sean Gunn) violent night terrors stay under control, and Lorelai is in charge of everything else as she tries to work out the kinks of this new business endeavor. As Lorelai weighs her feelings for the grumpy diner owner, she begins falling over tables and walking face-first into doors every time she's flustered, a.k.a every time Luke enters the room. Luke's chivalrous arrival with a bouquet of fresh flowers does nothing to quell her conflicting feelings, and we see her falling harder and harder for her friend. Things get even more confusing when Jason shows up at the inn and refuses to leave, telling Luke that he and Lorelai are still together (which isn't true), and this, for obvious reasons, makes Luke a little testy. Lorelai's newly separated parents Richard (Edward Herrmann) and Emily (Kelly Bishop) are also stirring up trouble, spewing their marital strife all over the inn's lobby before leaving in a huff.
Luke and Lorelai Had an Epic Slow-Burn Romance on 'Gilmore Girls'
The miscommunication only gets messier as the night goes on, and Luke confronts Lorelai about Jason, asking her why she allowed Luke to be so forward if she was seeing another man. As Lorelai struggles to confess her true feelings and Luke struggles to conceal his hurt, they take their verbal sparring match out onto the Dragonfly's front porch. The two continue to bicker heatedly, voices rising and tension building, until Luke finally takes charge, grabbing the ever-moving Lorelai firmly by the waist and asking "Will you just stand still?" Finally, almost five seasons of pent-up feelings and desires erupt in one moment of much-anticipated lip-locking, and Luke and Lorelai share their first kiss. They eventually break apart, but Lorelai returns Luke's impatient line back to him, and the kiss continues to escalate. Alas, only seconds later, a naked and semi-conscious Kirk runs down the inn stairs screaming, bursting between the couple and forcing Luke to chase after him before he lands butt-first in a thorny rose bush. Although the moment was short-lived and nudely interrupted, Luke and Lorelai's first kiss was a major win for Gilmore Girls fans rooting for the epic slow-burn romance.
Lorelai Had Her Fair Share of Steamy Moments on 'Gilmore Girls'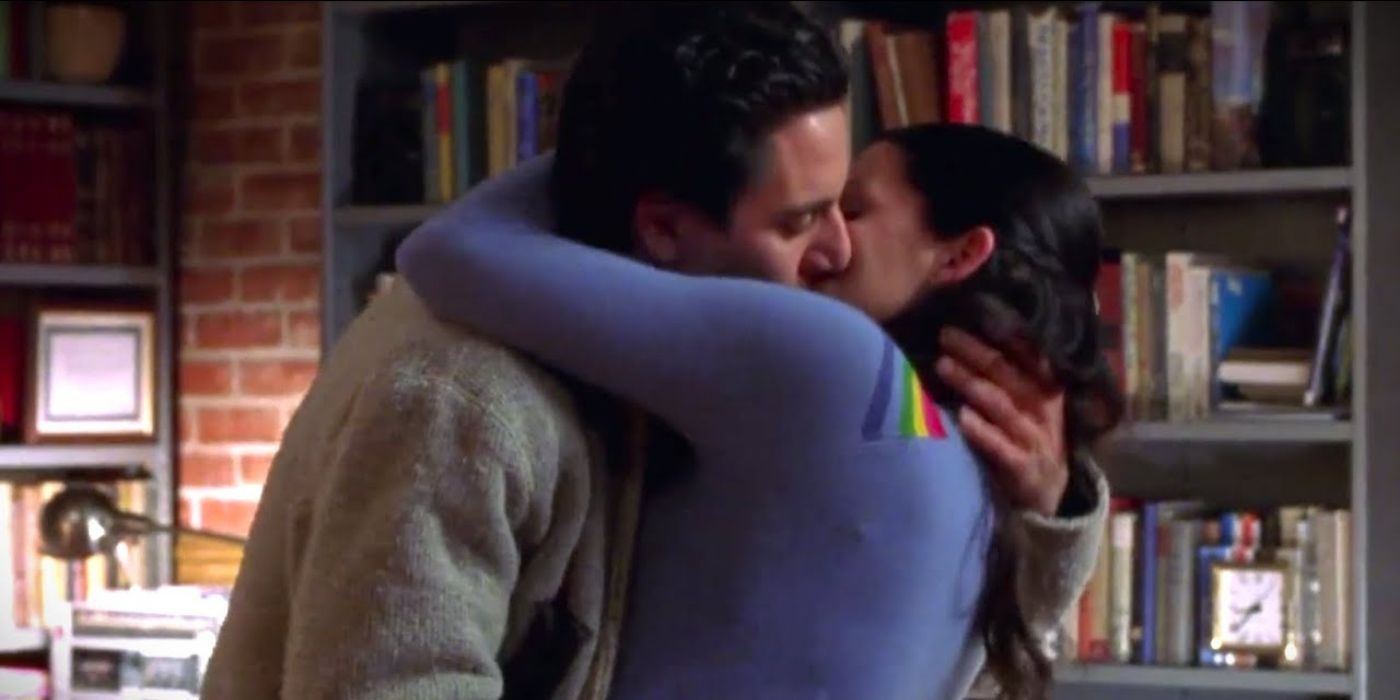 Now in terms of hot makeout sessions, this scene in Gilmore Girls did have some stiff competition. Between tantalizing teacher Max Medina (Scott Cohen) and bold baby daddy Christopher Hayden (David Sutcliffe), Lorelai's had some solid romantic moments with the show's other leading men. While neither guy ended up being the right fit for Lorelai in the end, that didn't stop the couples from sharing some salacious scenes over the years. Honorable mentions for Gilmore Girls' sexiest moment can definitely be made for Lorelai's secret classroom makeout sesh with Max, or her tequila-laced balcony hook-up with Chris in Season 1. Nevertheless, neither moment can hold a candle to her first kiss with Luke, whom any Gilmore Girls fan knows she was always destined to end up with.
While the excitement of the diner and inn owner finally professing their adoration for one another was dampened by the inn owner's scummy daughter sleeping with a married man, nobody can deny that Lorelai and Luke's kiss was a great moment, and stands as one of the best first kisses in TV history. Lorelai's best friend Sookie (Melissa McCarthy) is obviously just as thrilled about this moment, as she eagerly digs for dirty details and insists that Lorelai let Luke know that she's invested in their budding relationship. Lorelai does just that, sitting in a closet on the phone next to a Pomeranian eating a leather shoe, and Luke-lai (Lore-luke?) is officially official.
Now that we were recently given the hotly-anticipated revival, Gilmore Girls: A Year in the Life, it was a relief to know that all these years later, Luke and Lorelai have continued to foster their love and build a life together in Stars Hollow. While Gilmore Girls may have kept its romances strictly PG, it still managed to inject ample heat into its sparingly spicy scenes, and Lorelai and Luke's first kiss stands as by far the show's hottest moment — nude Kirk and all.
The Big Picture
Lorelai and Luke's first kiss in Season 4, Episode 22, is the hottest moment in Gilmore Girls.
The long-awaited culmination of Lorelai and Luke's will-they-won't-they romance finally happens during a wild sleepover at the Dragonfly Inn.
While Lorelai had steamy moments with other leading men on the show, her first kiss with Luke remains one of the best first kisses in TV history.