If you're a film fan, you can't get around the never-ending talk of box office receipts. Headlines rave about how well Barbie and Oppenheimer do, while also looking at the failure of the latest sequel or superhero film like Indiana Jones and the Dial of Destiny or The Flash. When a film is a hit, its dominance usually only lasts a week or two. With the Cineplex being like an assembly line, there's always something new and shiny to catch our attention right around the corner. Every now and then a movie comes along that takes over cinemas not just for a few weeks but for months. In 1982 this happened with Steven Spielberg's E.T. the Extra-Terrestrial. E.T. wasn't just a hit of the month. At the time, it was the biggest box office haul of all time, spending sixteen whopping weeks at number one. More impressively, those weeks weren't all in a row either.
RELATED: All the Spielberg Films Harrison Ford Almost Appeared In, From 'E.T' to 'Jurassic Park'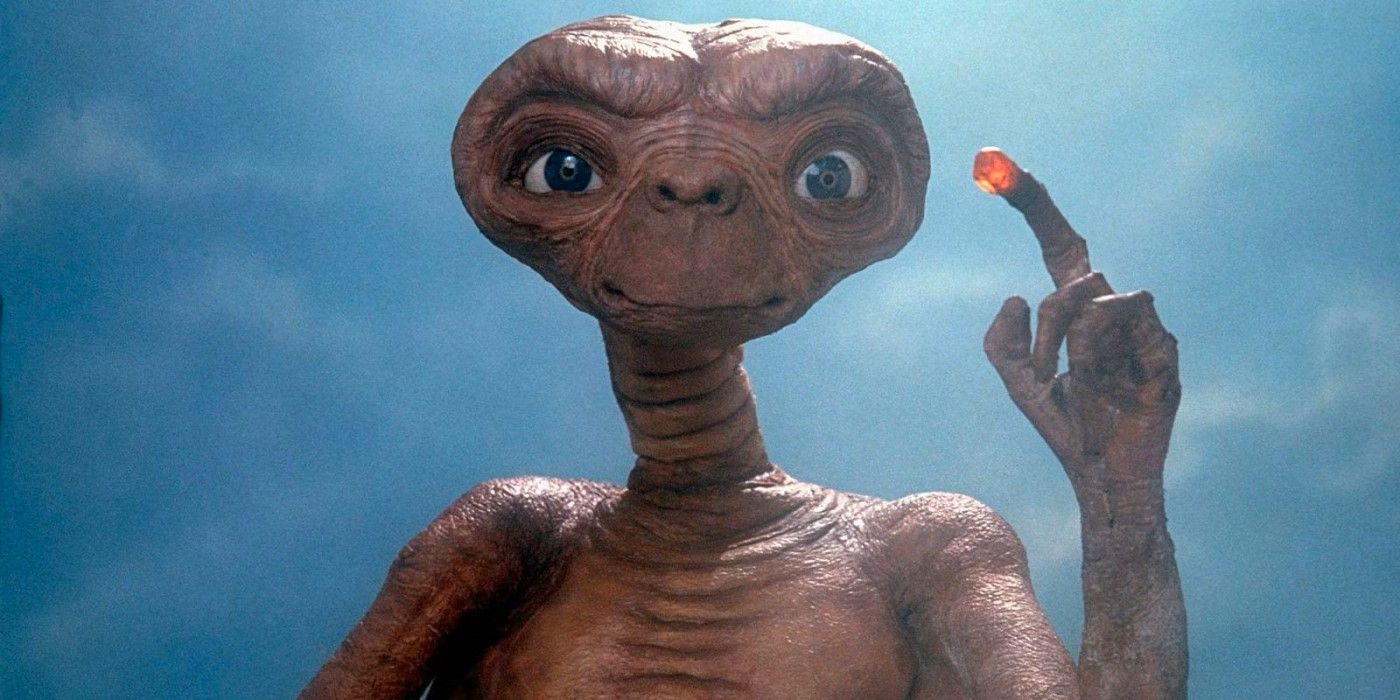 Seven years before E.T., Spielberg created the summer blockbuster with Jaws in 1975. Audiences were riveted by this tale of a great white shark terrorizing a beach town. It became the biggest money earner in American history and paved the way for how films were released. Studios used to avoid releasing big movies during the summer. That's when people were out and going on vacations. A theater is the last place they'd want to be. The studios were wrong. Making a trip to the theater is going out. It's part of the experience of escapism, and even more so, it's when kids are out of school.
E.T. was released in theaters on June 11, 1982. This wasn't a film like Jaws, but it was no less fascinating. Both of these Spielberg works thrive on their sense of wonder and adventure. Here, the killer shark is replaced by a friendly alien who accidentally gets left behind on Earth. It's then up to Elliott (Henry Thomas), the little boy who befriends him, to reunite him with his kind before it's too late. It was the epitome of "a movie for the entire family" and we went to see it over and over and over again. By the end of 1982, the shark was sunk. E.T. The Extra-Terrestrial was the biggest film of all time. It held that record for 11 years before Spielberg would outdo himself once again with 1993's Jurassic Park.
Which Movies Did 'E.T.' Toppled Along the Way to Box Office Success?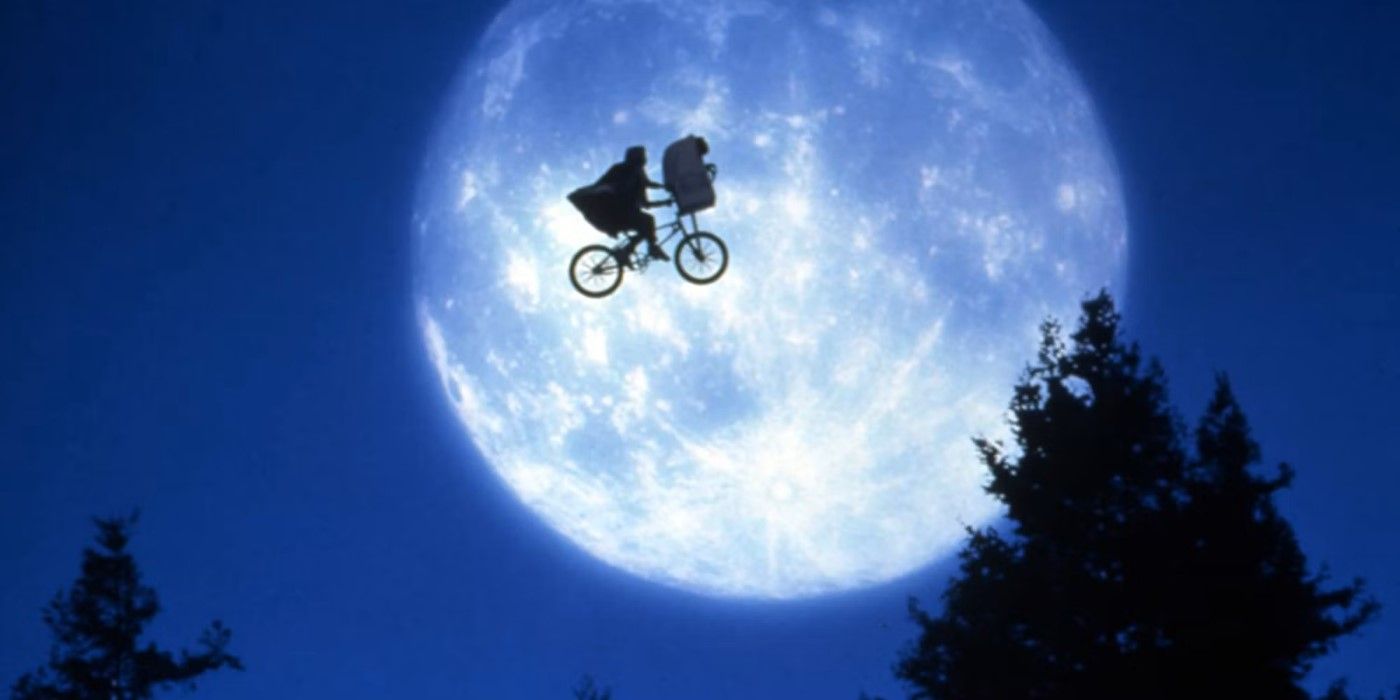 E.T. didn't succeed by thriving on a massive opening weekend haul and then dwindling away. No, E.T. won because of its staying power. It held the number one spot at the box office for sixteen weeks. Forty-one years later, it's a record E.T. has held onto. Those sixteen weeks weren't all in a row. That would have been very impressive on its own. E.T. was beaten here and there during its stay, but it's how long that stay lasted that made E.T. king. The movie was in theaters for an entire year! E.T. ended its run on June 9, 1983, 363 days after it first came out. While it didn't stay number one for a year, even in December, six months after it debuted, there were still weeks when E.T. was the most popular movie at the multiplex.
Perhaps that would be harder to achieve today. We live in a different world now with a barrage of movies coming out every week that we can barely keep up with. In the 1980s, that wasn't the case. That could have also made it a much more difficult achievement in 1982 than an easier one. In the early 80s, we went to the movies more. There of course was no internet, no streaming services. Even video stores weren't really a thing yet, and many households didn't have cable. There wasn't a plethora of new releases every Friday, but usually one, perhaps two, battling for our attention. These weren't movies that were here and gone either. 1982 saw some big-name classics released.
Sylvester Stallone's Rocky III came out two weeks before E.T. The friendly little alien knocked him out. An Officer and a Gentleman came out later in the summer. It didn't matter. There was also Arthur, Star Trek II: The Wrath of Khan, Poltergeist, Annie, Chariots of Fire, and First Blood. E.T. outlasted them all. By the end of 1982, it had collected $314 million, a number that would be mightily impressive even today. The next closest was Rocky III at $124 million, almost a third of what E.T. had done.
'Titanic' Almost Beat the Box Office Record 15 Years Later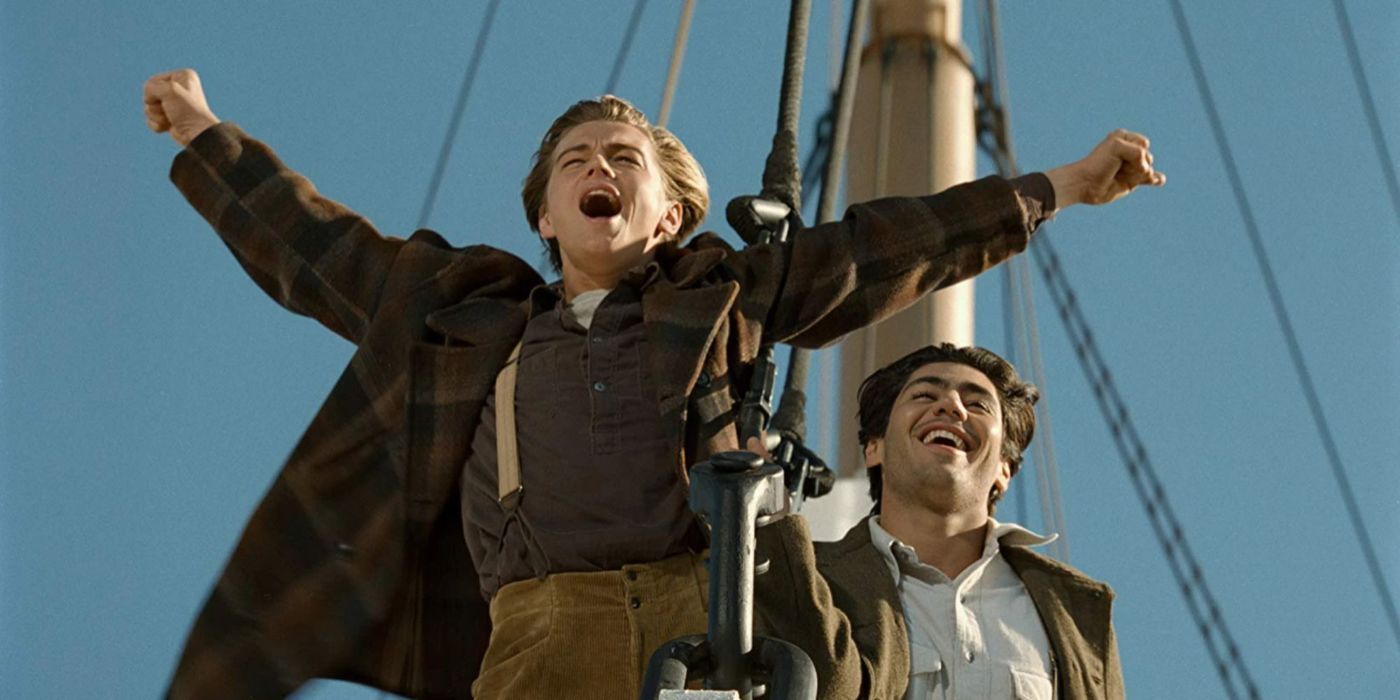 Throughout the '80s and '90s, Spielberg ruled Hollywood. The same year E.T. was in theaters, it was actually coming off the heels of Spielberg's own Raiders of the Lost Ark. Though it was released in the summer of 1981, it kept going until the next spring. There were two more Indiana Jones and two Jurassic Park films that took over the box office, but none of them, not even eventual box office champ Jurassic Park, could beat E.T.'s sixteen weeks at number one record.
Then came 1997 and the pop culture phenomenon Titanic. James Cameron's film would make Jurassic Park's record extinct as it became the new king of the world as the biggest movie of all time. But could it topple another record Spielberg held and beat sixteen weeks at number one? Titanic was in theaters for 287 days, an extreme rarity in the changing Hollywood of the '90s where movies were gone after a few months. Along the way, it racked up $600 million and was number one week after week. It refused to sink, but it came up just short of E.T.'s dominance. Titanic had fifteen non-consecutive weeks at number one.
In 2002, 20 years after it debuted, E.T. returned to movie theaters with a controversial new cut (among other things, Spielberg replaced guns in scenes with walkie-talkies). In its short stay, it took in another $68 million. The top box office draw changes every few years. Cameron defeated himself with Avatar in 2009, before Star Wars: Episode VII – The Force Awakens became the new and current champ in 2015. None of these films has been able to top sixteen weeks at number one though, and with how much movie theaters have changed, no movie probably ever will. E.T.'s record is here to stay.
The Big Picture
E.T. the Extra-Terrestrial held the record for the biggest box office haul of all time, spending a whopping 16 weeks at number one.
Spielberg's Jaws paved the way for summer blockbuster releases, proving that people still go to theaters during the summer.
E.T. achieved its success in a different world where there were fewer movies released and people went to the movies more frequently. Its record of 16 weeks at number one is unlikely to be surpassed in today's movie landscape.