There is a low-key, somewhat sparse feel to The Passenger, director Carter Smith's (The Ruins, Midnight Kiss) engaging and thought-provoking hostage thriller. With Blumhouse behind this film, one might expect equal amounts of grit and action. There's plenty of the former, less of the latter. The script, penned by Jack Stanley (Lou), delivers a major blow in the film's first 20 minutes, then eases back, becoming a hostage thriller that slowly builds to its final moments, offering plenty of twists in between.
Kyle Gallner and Johnny Berchtold headline the film playing two characters dealing with past traumas in different ways. Gallner is Benson, a tightly wound burger shack employee who loses it one morning. The ripple effects of his actions send the film into deeply disturbing psychological waters where these two very different characters ultimately must both confront their troubling pasts.
It's High Stakes All the Way
Director Carter Smith establishes the tension early on in The Passenger. Randy (Berchtold) arrives at the burger joint he works at. He gets pulled aside by the manager who suggests Randy could nab a manager spot at another store. Randy is intrigued. He's a shy fella, perhaps too attached to his mother. He's not all that in sync with his coworkers, either. Chris (Matthew Laureano) is a toxic alpha male prone to bullying. Coworker Jess (Jordan Sherley) loves to flirt with Chris. Then there's Benson, off to the side, mopping the floors.
It's just another typical morning before opening, until Chris' bullying goes a bit too far. Something about Chris's interchange with Randy triggers Benson, who calmly sets about remedying the situation. A triple murder later — bloody, gruesome, very Blumhouse — and Benson spares Randy's life, opting to take him hostage to nowhere.
Related: Filmmaker Carter Smith Discusses Queer Horror Film Swallowed
It's here where Joe Stanley's script weaves in an intense underlayer to the story as Benson begins grilling Randy about his life. Meanwhile, Randy, emotionally frail, succumbs to another kind of bully, feeling powerless. It's a feeling he's grown used to, and as this offbeat road trip rolls along, it's Benson that insists Randy deal with some of his past traumas, the most significant of which centers around a horrible accident that involved his teacher when he was in grade school. Randy isn't all that into this brand of turbo therapy, but with a gun pointing at him and Benson barking out orders, he succumbs.
The Actors Drive The Passenger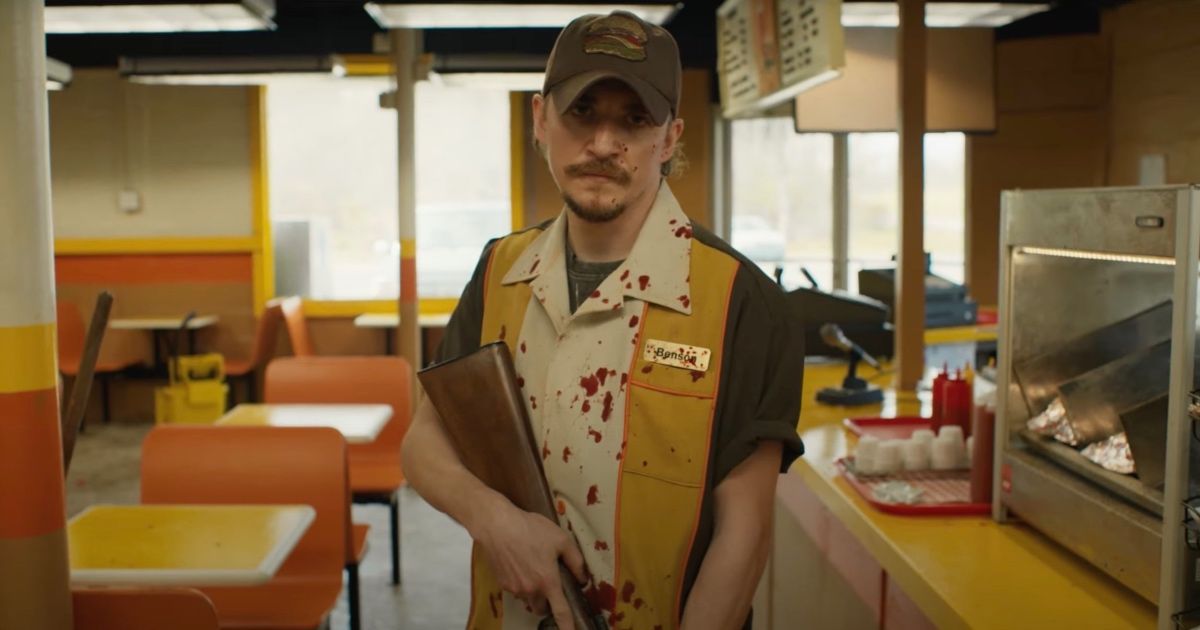 The Passenger pivots when Benson and Randy return to Randy's grade school in an attempt to find Randy's former teacher. There is a required suspension of logic that follows as to how they get the teacher's address — and on a Saturday morning no less — but this sojourn takes yet another dark turn when Benson cannot control his anger. What ultimately follows delivers another tragedy and sets the film venturing off to its second half, where Randy, feeling as if he has no leverage, must find the courage he's so long to have.
Related: Exclusive: The Passenger Director Carter Smith Says Kyle Gallner Was Fearless
Lisa Weil (The Cleaning Lady, How To Get Away With Murder) arrives more than midway through the film, playing Randy's former teacher, Miss Beard. It's here Randy shakily confronts one of the biggest traumas of his childhood. But even in doing so, Benson isn't all that satisfied. Randy is doing everything Benson ought to be doing. Maybe that realization fuels Benson's inner fire all the more.
Performance wise, director Carter Smith's film is in great hands. Kyle Gallner broods well; you forget the actor knows how to smile. In watching The Passenger, it's clear that he's on the path to landing an Oscar someday. From Smile to Scream 5 to the recent indie film, Mother, May I?, Gallner effective captures the gritty depths of unresolved grief and trauma. Johnny Berchtold delivers a fine turn as timid Randy. You may have caught this fine actor in supporting roles in Gaslit and Tiny Beautiful Things. He's exceptional here, and with a relatable presence.
As for the film's final 15 minutes, it ultimately becomes a desperate grasp for control between Benson, Randy, and, in some ways, Miss Beard. What ultimately becomes fascinating to watch — aside from how well this director establishes great tension throughout — is how each of these characters dealt with their past trauma. It's a clever creative kaleidoscope to spin around in. So, stay buckled in. The Passenger takes you on an unpredictable thrill ride.
The Passenger will be available on digital and on demand Aug. 4, and will hit MGM+ later this year.