Take a little breather from reality.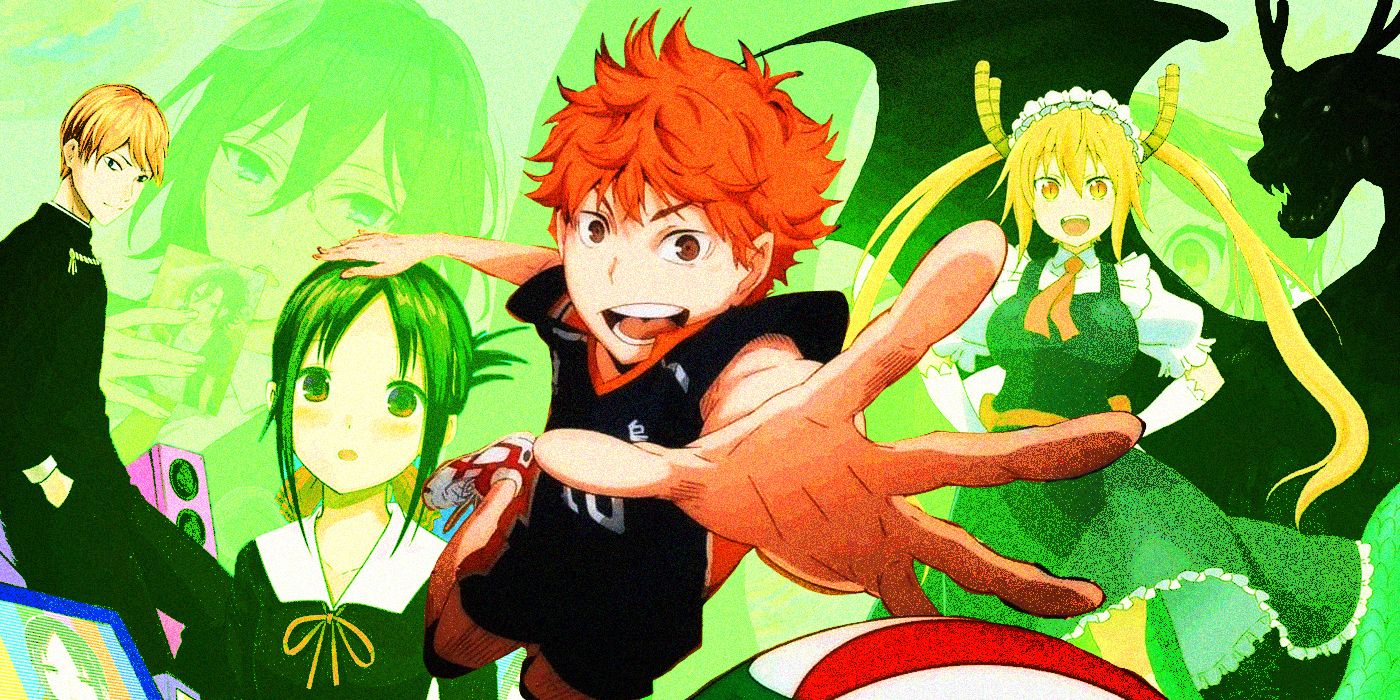 In the world of anime, there's a genre that beautifully captures the essence of everyday experiences, celebrating the simple joys, friendships, and challenges we all encounter. "Slice-of-Life" anime immerses viewers in relatable and heartwarming stories depicting ordinary characters navigating daily life's ups and downs.
If you want to unwind and immerse yourself in delightful tales that resonate with your experiences, Crunchyroll offers a treasure trove of captivating slice-of-life anime series. From heartwarming friendships to small-town adventures, we've curated a list of the 15 best slice-of-life anime available on Crunchyroll that will captivate your heart and leave you with a warm and fuzzy feeling.
RELATED: The Best Romance Anime on Crunchyroll
Horimiya
Seasons: 1 | Episodes: 13 | Studio: CloverWorks
Cast: Haruka Tomatsu, Kouki Uchiyama
Horimiya is an anime that follows the unlikely friendship between Kyouko Hori (Tomatsu) and Izumi Miyamura (Uchiyama). On the surface, they appear to be complete opposites, with Hori being a popular and academically successful student, and Miyamura being a quiet and unassuming otaku. However, a chance encounter reveals their hidden sides: Hori's responsibility for her younger brother and household chores and Miyamura's hidden tattoos and piercings. Despite their differences, they quickly form a close bond, spending time together and sharing their true selves, which they have never shown to anyone else. As they break out of their shells, their friendship deepens, and they navigate the complexities of high school life together.
Watch on Crunchyroll
My Teen Romantic Comedy SNAFU
Seasons: 1 | Episodes: 13 | Studio: Brain's Base
Cast: Takuya Eguchi, Saori Hayami
Get ready for a hilarious and heartwarming ride with My Teen Romantic Comedy SNAFU! Meet Hachiman Hikigaya (Eguchi), a high school student who couldn't care less about making friends and sees the whole "joyful youth" thing as a total joke. But when he's forced to join the Volunteer Service Club, run by the stunningly brilliant Yukino Yukinoshita (Hayami), his world is turned upside down. From solving students' quirky problems to navigating the ups and downs of social dynamics, Hachiman's sarcastic wit and Yukino's ice queen persona make for a delightfully entertaining duo. Can they use their unconventional approaches to turn the chaos of high school life into something truly unforgettable? Join them on this wild and hilarious adventure, where cynicism meets unexpected camaraderie, and laughter is always the best solution!
Watch on Crunchyroll
Your Lie in April
Seasons: 1 | Episodes: 22 | Studio: A-1 Pictures
Cast: Natsuki Hanae, Risa Taneda
For a long time, music plays a central theme in anime. Prepare to be swept away by the enchanting melody of Your Lie in April! Meet Kousei Arima (Hanae), a former piano prodigy who lost his passion for music after a tragic loss. His days became dull and gray until he crossed paths with the vibrant and free-spirited violinist Kaori Miyazono (Taneda). With her unconventional playing style and infectious energy, Kaori shakes up Kousei's monotonous existence and reawakens his love for music. Together, they embark on a journey of friendship, healing, and artistic expression. As Kousei's world fills with color once again, join them on a soul-stirring symphony that will touch your heart and bring tears of both joy and sorrow. Get ready to experience the power of music and the transformative power of love in this extraordinary tale!
Watch on Crunchyroll
ReLIFE
Seasons: 1 | Episodes: 13 | Studio: TMS Entertainment, Double Eagle
Cast: Kenshō Ono, Ryōhei Kimura
Welcome to the weird world of do-overs in ReLIFE!. Meet Arata Kaizaki (Ono), a 27-year-old who finds himself at rock bottom after several failures. Just when he's about to give up, a peculiar opportunity arises. Ryō Yoake, a member of the ReLife Research Institute, offers Arata a chance to turn his life around using a mysterious pill. With nothing to lose, Arata takes the pill and wakes up the next day as a 17-year-old high school student! Arata quickly realizes that this transformation is part of a grand experiment. He must navigate the challenges of high school life all over again, from exams to friendships. However, his seemingly superior life experience proves to be more of a hindrance than a help. With Ryō assigned to keep an eye on him, Arata's journey becomes filled with hilarious mishaps and unexpected discoveries.
Watch on Crunchyroll
TONIKAWA: Over The Moon For You
Seasons: 1 | Episodes: 24 + 2 OVA | Studio: Seven Arcs
Cast: Junya Enoki, Akari Kitō
Nasa Yuzaki's (Enoki) life suddenly turns when he falls in love at first sight with the captivating Tsukasa (Kitō). Surprisingly, she agrees to be his girlfriend, but only if they get married. With unwavering determination and an overwhelming desire to be with Tsukasa, Nasa embarks on a whirlwind journey towards marriage, defying societal norms and embracing the extraordinary. As Nasa and Tsukasa navigate the joys and challenges of their unique relationship, they discover the beauty of love and the power of unwavering commitment. From heartwarming moments of tenderness to hilarious escapades, TONIKAWA: Over The Moon For You captures the essence of pure romance and the thrill of embarking on an extraordinary love story.
Watch on Crunchyroll
Toradora!
Seasons: 1 | Episodes: 25 | Studio: J.C.Staff
Cast: Junji Majima, Rie Kugimiya
In Toradora!, Ryuji Takasu's (Majima) high school life takes an unexpected turn on his first day as a junior. Sitting between his secret crush, Minori Kushieda, and his only friend, Yusaku, he thinks his luck is finally changing. However, fate has other plans for him when he unwittingly becomes the archenemy of the most feared girl in school, Taiga Aisaka (Kugimiya). To make matters worse, Taiga, who happens to be Minori's best friend, moves in next door to Ryuji. Ryuji Takasu may have a stern face, but deep down, he's a gentle soul with a love for housework. On the other hand, Taiga Aisaka, known as the "Palmtop Tiger," may be small in stature but possesses a feisty personality and wields a wooden katana. When a mishap brings them together, Ryuji discovers a sweet side of Taiga that she hides from the world. Join Ryuji and Taiga on their journey of self-discovery and romance as they navigate the complexities of teenage emotions and form bonds beyond appearances.
Watch on Crunchyroll
Haikyuu!!
Seasons: 4 | Episodes: 85 + 5 OVAs | Studio: Production I.G
Cast: Ayumu Murase, Kaito Ishikawa
There's no actual science to it, but there's a reason why we love watching anime characters play sports. Based on the popular manga series by Haruichi Furudate, Haikyuu!! follows the journey of Shoyo Hinata (Murase), a passionate and determined volleyball enthusiast. Inspired by a skilled player known as the "Little Giant," Hinata forms a volleyball team in his last year of middle school. However, their dreams are shattered when they face Tobio Kageyama's (Ishikawa) team, the "King of the Court," and suffer a crushing defeat. Fueled by the desire to surpass Kageyama, Hinata enters high school, only to find that his former rival is now his teammate. With unwavering determination and a burning love for the sport, Hinata sets his sights on Karasuno High School, the alma mater of the Little Giant. Despite the school's faded glory, Hinata remains steadfast in his quest to prove that his height is no obstacle to his dreams of becoming a professional volleyball player. However, to achieve greatness, he must first reconcile his differences with Kageyama and learn the true meaning of teamwork. If you're new to the world of anime, Haikyuu!! is the perfect entry point.
Watch on Crunchyroll
Miss Kobayashi's Dragon Maid
Seasons: 2 | Episodes: 25 + 2 OVAs | Studio: Kyoto Animation
Cast: Mutsumi Tamura, Yūki Kuwahara
Meet Kobayashi (Tamura), an ordinary office worker leading a mundane and solitary life in her small apartment. Everything changes when she encounters a distressed female dragon in need of help. In a twist of fate, the dragon named Tohru (Kuwahara) becomes Kobayashi's roommate and is determined to repay her debt of gratitude, even if it means turning into an adorable human girl with horns and a tail. With Tohru's presence, nothing is ever easy, and Kobayashi's life is about to venture into uncharted territory. From Tohru's enthusiastic attempts to fulfill her maid duties to the arrival of other mythical beings, Miss Kobayashi's Dragon Maid is a delightful blend of comedy, fantasy, and heartwarming moments. Kobayashi's quiet life transforms as she learns to embrace the whimsy and unconventional charm of having a dragon as a roommate.
Watch on Crunchyroll
Kaguya-Sama: Love is War
Seasons: 3 | Episodes: 37 | Studio: A-1 Pictures
Cast: Makoto Furukawa, Aoi Koga
Prepare for a hilarious and strategic battle of love with Kaguya-sama: Love is War! At the prestigious Shuchiin Academy, Miyuki Shirogane (Furukawa) and Kaguya Shinomiya (Koga) are regarded as the school's top students. Miyuki, the brilliant student council president, and Kaguya, the wealthy vice president, are the envy of their peers, and it seems like the perfect couple. However, behind their composed exteriors, fierce competition rages. Both Miyuki and Kaguya have developed feelings for each other, but their pride and honor prevent them from confessing. In a high-stakes game, they believe the first one to confess their love will be disadvantaged. Determined to come out on top and unwilling to be seen as the lesser, Miyuki and Kaguya engage in elaborate schemes and mind games, strategizing to make the other person confess their feelings first.
Watch on Crunchyroll
Bocchi the Rock!
Seasons: 1 | Episodes: 12 | Studio: CloverWorks
Cast: Yoshino Aoyama, Sayumi Suzushiro
Get ready to rock out with Bocchi the Rock! Hitori Goto (Aoyama), also known as Bocchi-chan, is a lonely and introverted high school girl whose passion lies in her guitar. With her heart yearning to join a band and overcome her shyness, Bocchi practices her guitar skills tirelessly, spending countless hours perfecting her craft all by herself. Despite her dedication and talent, Bocchi struggles to find bandmates and make friends. As her dream of performing at her school's cultural festival concert seems distant, she loses hope. On the brink of becoming a shut-in, a ray of light enters Bocchi's life in the form of Nijika Ijichi (Suzushiro), the drummer of the Kessoku Band. When Nijika reaches out to Bocchi, a new chapter begins for her. Gradually, Bocchi's life starts to change as she forms connections and discovers the power of friendship. With the support of Nijika and the band, Bocchi's once-lonely world starts to resonate with the vibrant energy of music and camaraderie.
Watch on Crunchyroll
Shikimori's Not Just a Cutie
Seasons: 1 | Episodes: 12 | Studio: Doga Kobo
Cast: Shūichirō Umeda, Saori Ōnishi
Anime has been celebrating love for decades, and Shikimori's Not Just a Cutie is no exception. Meet Yuu Izumi (Umeda), a high school student who attracts mishaps wherever he goes. Despite his streak of bad luck, Izumi's one wish is to spend more time with his girlfriend, the popular and adorable Micchon Shikimori (Ōnishi). Shikimori is not just a pretty face; she possesses a kind heart and a beautiful smile that lights up Izumi's world. However, there's more to Shikimori than meets the eye. When Izumi finds himself in trouble, Shikimori transforms remarkably into a super cool "heartthrob girlfriend" ready to protect and support him.
Watch on Crunchyroll
Hyouka
Seasons: 1 | Episodes: 22 + 1 OVA | Studio: Kyoto Animation
Cast: Yuichi Nakamura, Satomi Satō
Indulge in the captivating world of Hyouka, a mesmerizing blend of high school romance and captivating mysteries. Hotaro Oreki (Nakamura) is a disenchanted student who reluctantly joins his school's Classic Lit Club. Little does he know his life is about to take a thrilling turn when he encounters Eru Chitanda (Satō), a kind-hearted and endlessly curious girl with a knack for drawing him into all sorts of trouble. Houtarou Oreki's goal is simple: to lead a life devoid of excitement and conserve his energy. However, his peaceful existence is disrupted when his older sister, Tomoe, compels him to save the memberless Classics Club from disbandment. Reluctantly stepping into the clubroom, Oreki discovers that Eru Chitanda has already become a member. Although his obligation is fulfilled, Oreki finds himself irresistibly drawn to Chitanda's infectious curiosity, leading him to join the club willingly.
Watch on Crunchyroll
Non Non Biyori
Seasons: 3 | Episodes: 36 + 3 OVA | Studio: Silver Link
Cast: Rie Murakawa, Kotori Koiwai
Immerse yourself in the tranquil and heartwarming world of Non Non Biyori! When Hotaru Ichijou (Murakawa) leaves bustling Tokyo behind and relocates to the serene Asahigaoka village, her life takes a delightful turn. Her new school has only five students, spanning different grade levels, all sharing a single classroom. In this rustic countryside, convenience stores are nowhere to be found, and buses can take hours to arrive. Despite the peaceful and secluded setting, Hotaru finds herself enchanted by the unique charm of the countryside, thanks to her four extraordinary schoolmates. At the center of it all is Renge Miyauchi (Koiwai), a perceptive and spirited first-grader whose wisdom belies her age. Alongside Renge are the Koshigaya siblings. As Hotaru becomes a part of this close-knit group, their ordinary days in Asahigaoka become filled with joy and laughter.
Watch on Crunchyroll
Barakamon
Seasons: 1 | Episodes: 12 | Studio: Kinema Citrus
Cast: Daisuke Ono
Step into the charming world of Barakamon, where the journey of Seishu Handa (Ono), a talented but self-centered calligrapher, unfolds. After a heated altercation with a veteran artist, Seishu's ego takes a blow when his work is dismissed as unoriginal. As a form of punishment and an opportunity for self-reflection, Seishu's father exiles him to the tranquil Goto Islands, far removed from the bustling streets of Tokyo. In this rural setting, Seishu is forced to confront his shortcomings and seek inspiration to develop his own unique artistic style. However, his quest for solitude is quickly disrupted by the lively and eccentric residents of the island. From the spirited Naru Kotoishi and her mischievous group of friends to fujoshi middle schoolers and spirited elderly individuals, Seishu's house becomes a hub of unexpected encounters and meddling neighbors.
Watch on Crunchyroll
RELATED: The Best Movies on Crunchyroll Right Now
Flying Witch
Seasons: 1 | Episodes: 12 | Studio: J.C.Staff
Cast: Minami Shinoda, Ai Kayano
Embark on a whimsical and enchanting journey with Flying Witch! In a world blessed with the wonders of nature, the extraordinary becomes ordinary as 15-year-old Makoto Kowata (Shinoda) embraces her role as a professional witch. Leaving Yokohama behind, she ventures to Aomori, where she will undergo training to hone her magical abilities. Guided by her trusty black cat companion, Chito (Kayano), Makoto immerses herself in the magical world of witches. While her powers may currently be limited to flying through the sky, she finds joy and adventure in the simplest of spells.
Watch on Crunchyroll