Jack Lemmon is the legend of classic Hollywood. He wasn't exactly the heartthrob like Carey Grant or a brooding, mysterious man like Humphrey Bogart, but he was a national treasure, nevertheless. His balance of comedic and dramatic roles paired well with his everyman on-screen persona. Lemmon was loved by actors and audiences alike; how great he was shows the account that he was the only one to get along with Marilyn Monroe on the set of Some Like It Hot.
Jack Lemmon has 100 acting credits on IMDb, but which ten have been ranked the highest by Rotten Tomatoes? The Apartment, interestingly, hasn't made the list of the ten most-rated, but many of his greatest movies have.
10
"Some Like It Hot" (1959)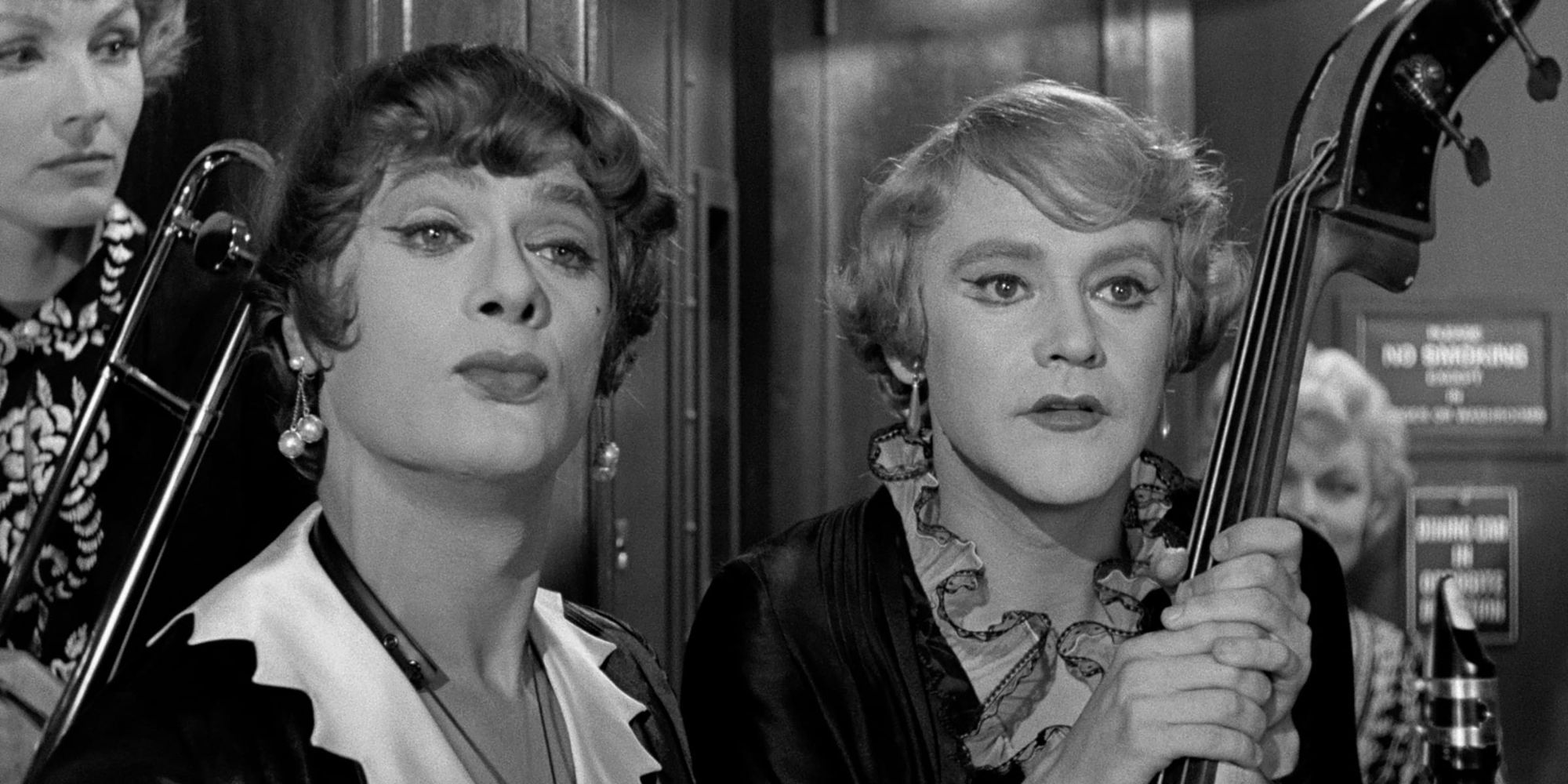 Rotten Tomatoes Score: 94%
One of the all-time great comedies is the tenth-best Jack Lemmon film on Rotten Tomatoes. It's still exceptionally rated and shows how well Lemmon picked movies to star in. Some Like It Hot is special for many things, but its most extraordinary part is Lemmon and his co-star Tony Curtis's openness to be in drag during the 1950s.
RELATED: The 10 Best Billy Wilder Movies, Ranked by IMDb
Jack Lemmon agreed to be Daphne without ever reading a page of the script. Billy Wilder, the director of Some Like It Hot, explained the premise, and Lemmon dropped an immediate "yes." Wilder's idea and script made Lemmon see something big in the role, and he was right, too — he received a nomination for Best Actor at the Oscars.
9
"Missing" (1982)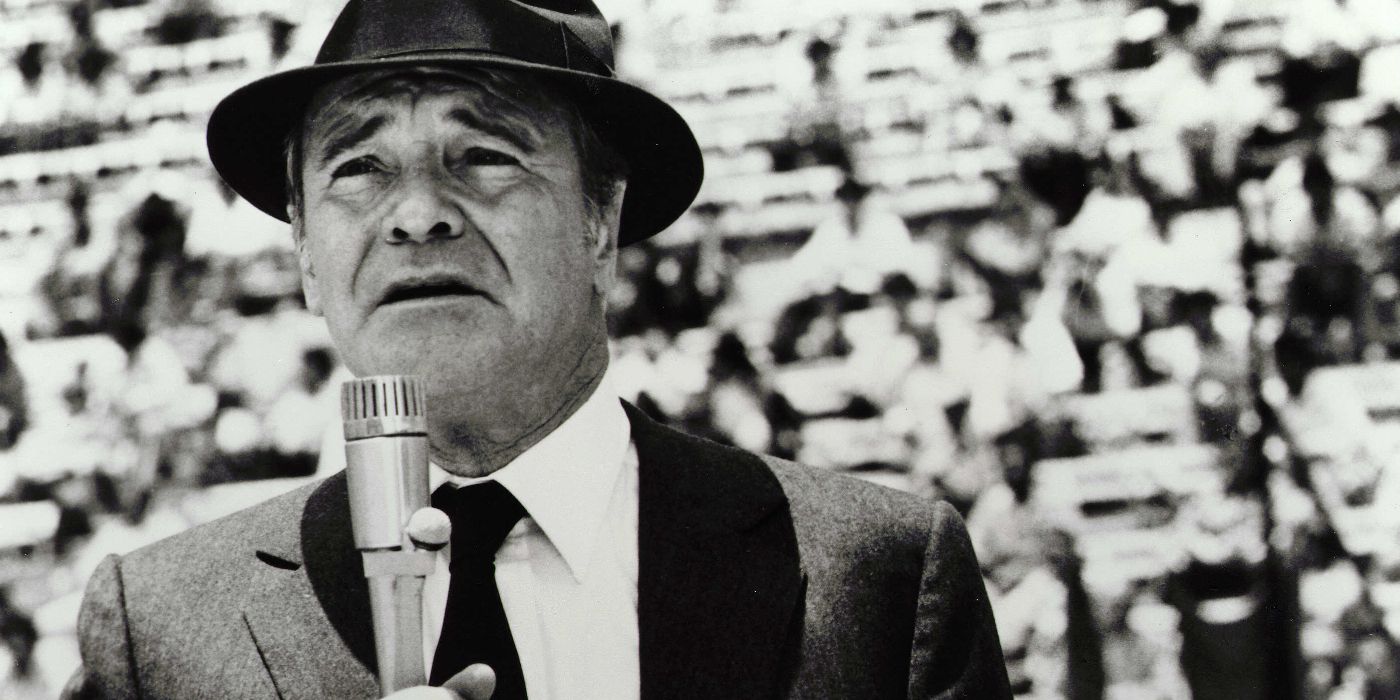 Rotten Tomatoes Score: 94%
Costa-Gavras's Missing is one of the more serious features on Lemmon's roster. Often underestimated because of his comedic roles, Jack Lemmon shines in Missing, a story based on real events in Chile in 1973. The infamous Chilean coup d'etat was gruesome and saw thousands of people dead or missing. Costa-Gavras's story was lauded for its bravery.
Lemmon plays Ed Horman, the father of a missing journalist based in Chile. While on the search for answers and his son, Ed deepens his relationship with his daughter-in-law Beth (Sissy Spacek). This role as Ed brought Jack Lemmon another Best Actor Oscar nomination in 1983.
8
"Short Cuts" (1993)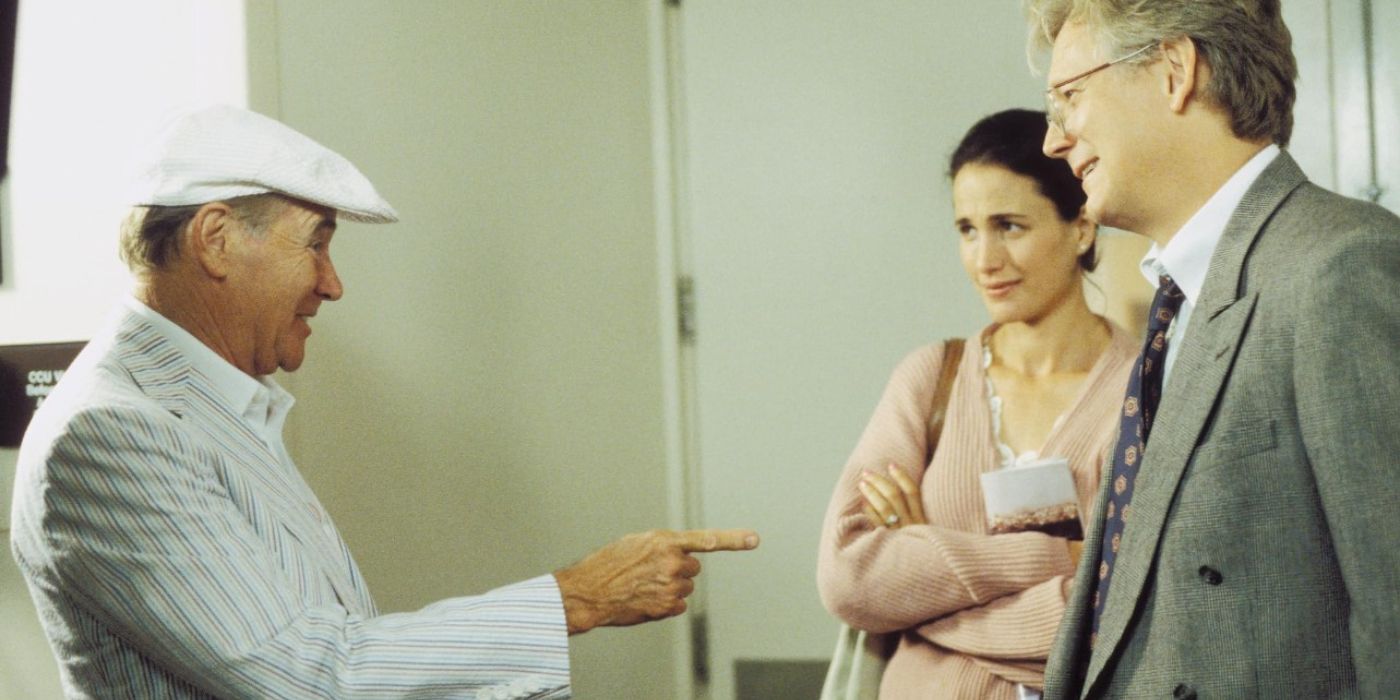 Rotten Tomatoes Score: 95%
Short Cuts is one of the most exceptional films of the 1990s. With a runtime of just over three hours, this Robert Altman dramedy dives deep into the everyday lives of seemingly random LA residents. As their stories and lives intertwine, the characters show emotional depth, allowing the actors portraying them to display their best acting skills.
Lemmon plays Paul, the estranged father of Bruce Davison's Howard. Critics have praised this film, and so have many award shows, but the one thing that stands out for many is Jack Lemmon's gripping emotional performance. His casting was seemingly the best choice for Short Cuts, though the movie doesn't lack talent whatsoever.
7
"Hamlet" (1996)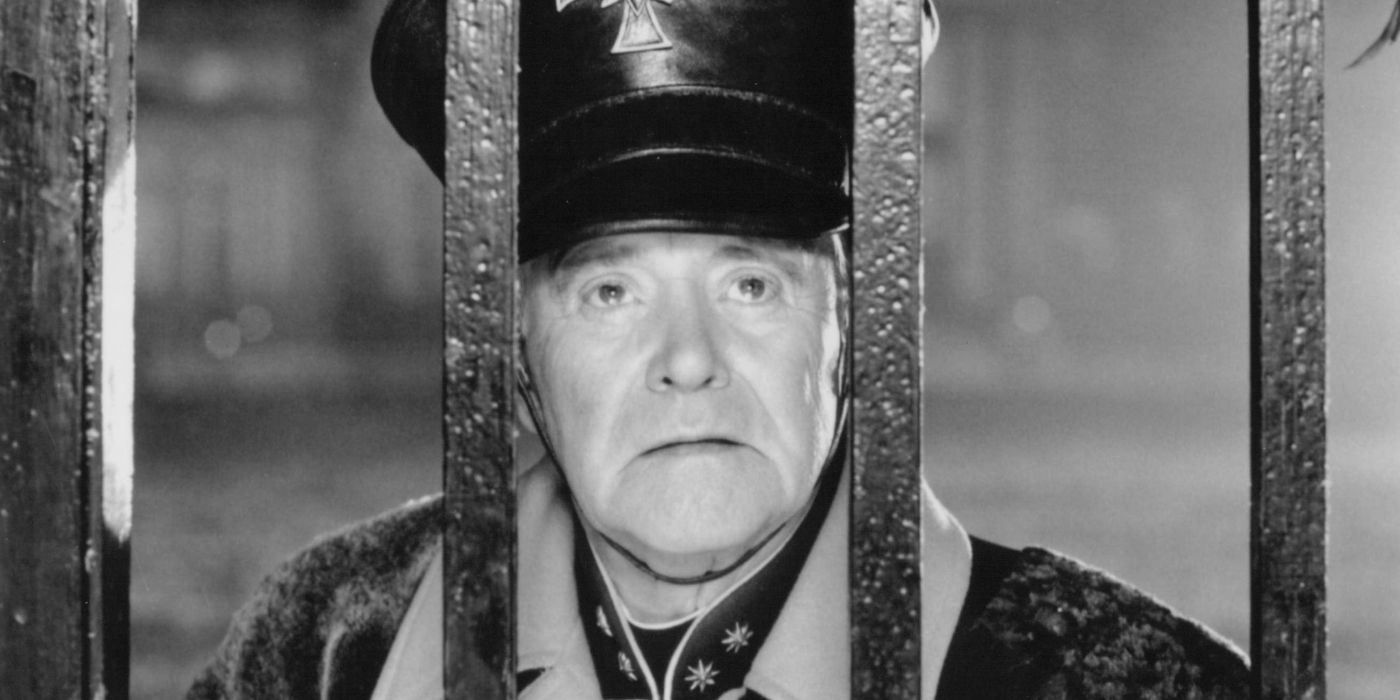 Rotten Tomatoes Score: 95%
If any classic actors haven't tried their hand at a Shakespearean drama, were they even an actor? Fortunately for Lemmon, he didn't just give it a go — he excelled in one. Kenneth Branagh's fantastic rendition of Hamlet is an unabridged adaption of play with incredible production values and set design.
RELATED: The Top 10 Kenneth Branagh Films, Ranked
The cast is pretty star-studded here, too. Lemmon makes a cameo more than actually giving a gripping performance, but he was a force of nature even at an older age. 1996's Hamlet is one of the best adaptations out there, although some casting choices, like Robin Williams and Billy Crystal, seemed a little unorthodox based on the film's tone and material.
6
"Glengarry Glen Ross" (1992)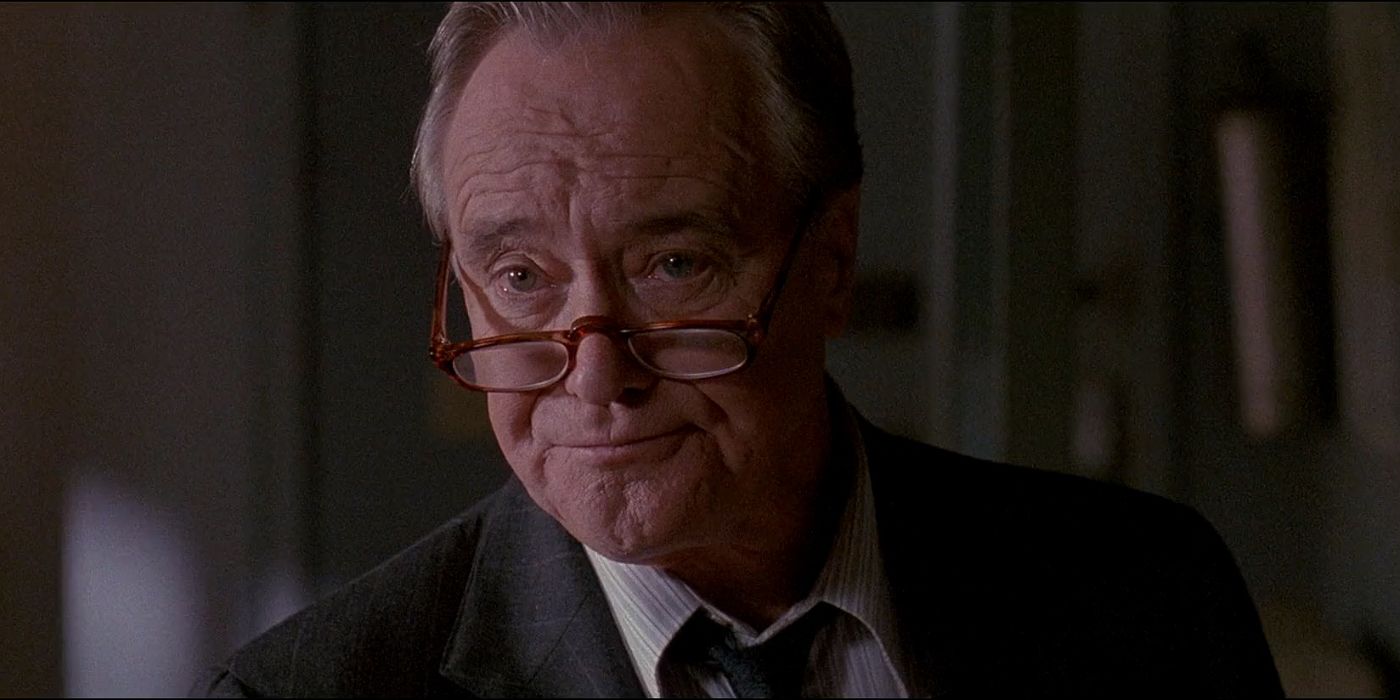 Rotten Tomatoes Score: 95%
Before The Wolf of Wall Street, there was Glengarry Glen Ross. Well, they're not on the same level, but for stories about salesmen full of toxic confidence, this David Mamet film does an exceptional job. If stories about real estate sales don't sound like someone's idea of fun, one look at the fantastic cast could.
Jack Lemmon plays Shelley, a meticulous salesman on the verge of concluding a massive sale. Al Pacino plays his rambunctious colleague, while the rest of the cast includes Alan Arkin, Alec Baldwin, and Ed Harris. The cast fantastically portrays the stress and addiction of landing just one more sale.
5
"The Fortune Cookie" (1966)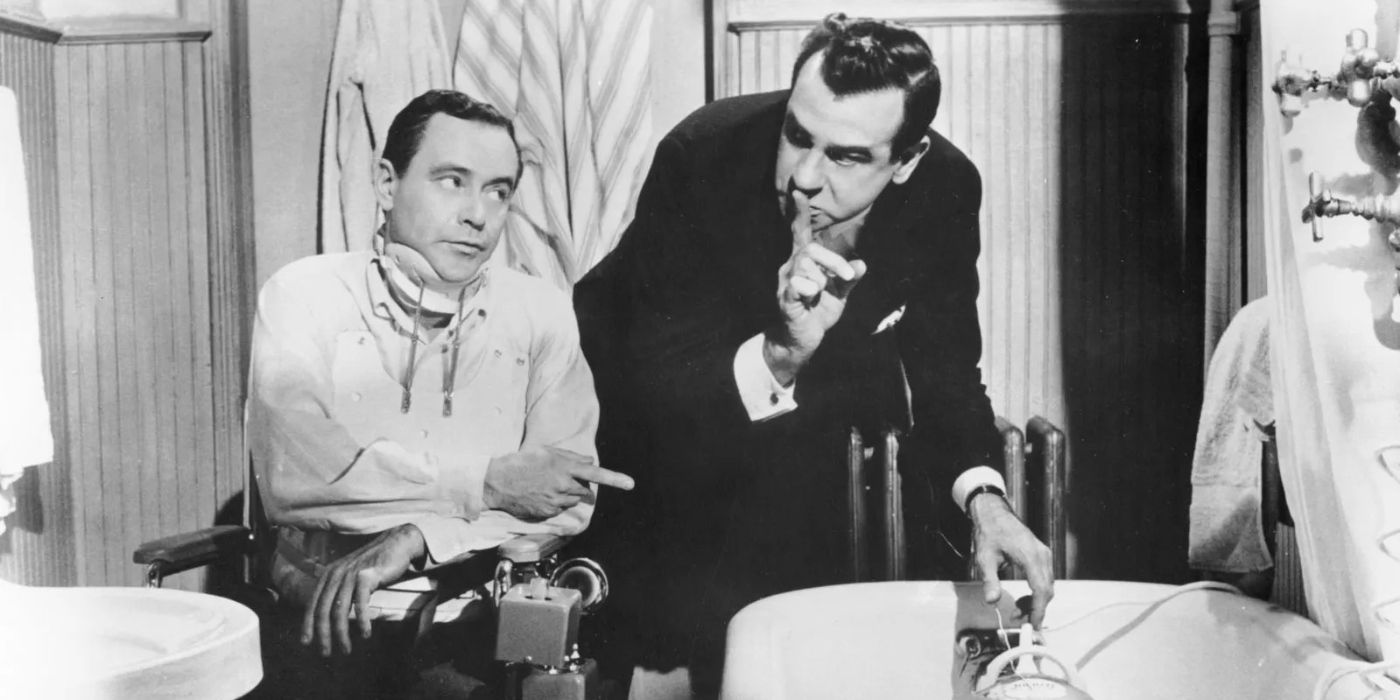 Rotten Tomatoes Score: 96%
The first of about a dozen Jack Lemmon and Walter Matthau movies was The Fortune Cookie. Lemmon and Matthau bonded and remained friends for the rest of their lives, bringing palpable chemistry to the screen.
The Fortune Cookie is a dark comedy about Harry (Lemmon), a journalist who gets injured on the job, and his brother-in-law William (Matthau), who convinces him to overstate his condition for a larger insurance claim. What was widely considered Walter Matthau's most exceptional role, Lemmon wasn't far behind in accolades and praise.
4
"The Odd Couple" (1968)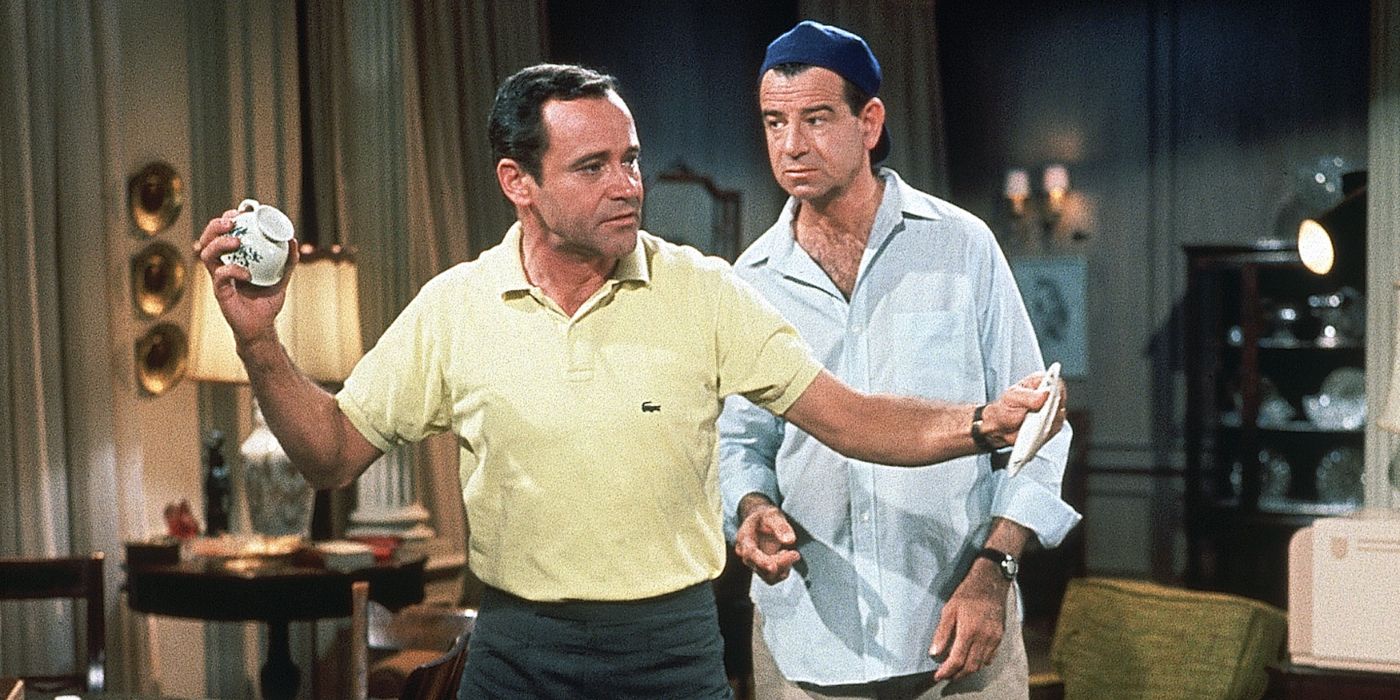 Rotten Tomatoes Score: 98%
Lemmon and Matthau's friendship was in its first years when they filmed The Odd Couple. Considering how well they bonded immediately upon meeting, this comedy works in all the right ways. Lemmon plays Felix and Matthau is Oscar: Felix's wife leaves him, and he becomes depressed. Oscar, his close friend, invites Felix to stay with him until he feels better.
RELATED: The 10 Best 1960s Movies, Ranked According to IMDb
Felix and Oscar's living situation starts nicely, but soon realize they're opposites in daily life. Felix is jittery, neat, and shy (a character often played and mastered by Lemmon) while Oscar is a fun-loving slob. Both manage to portray their characters honestly and with so much life, that it's tough not to relate to each of them during the movie's runtime.
3
"Mass Appeal" (1984)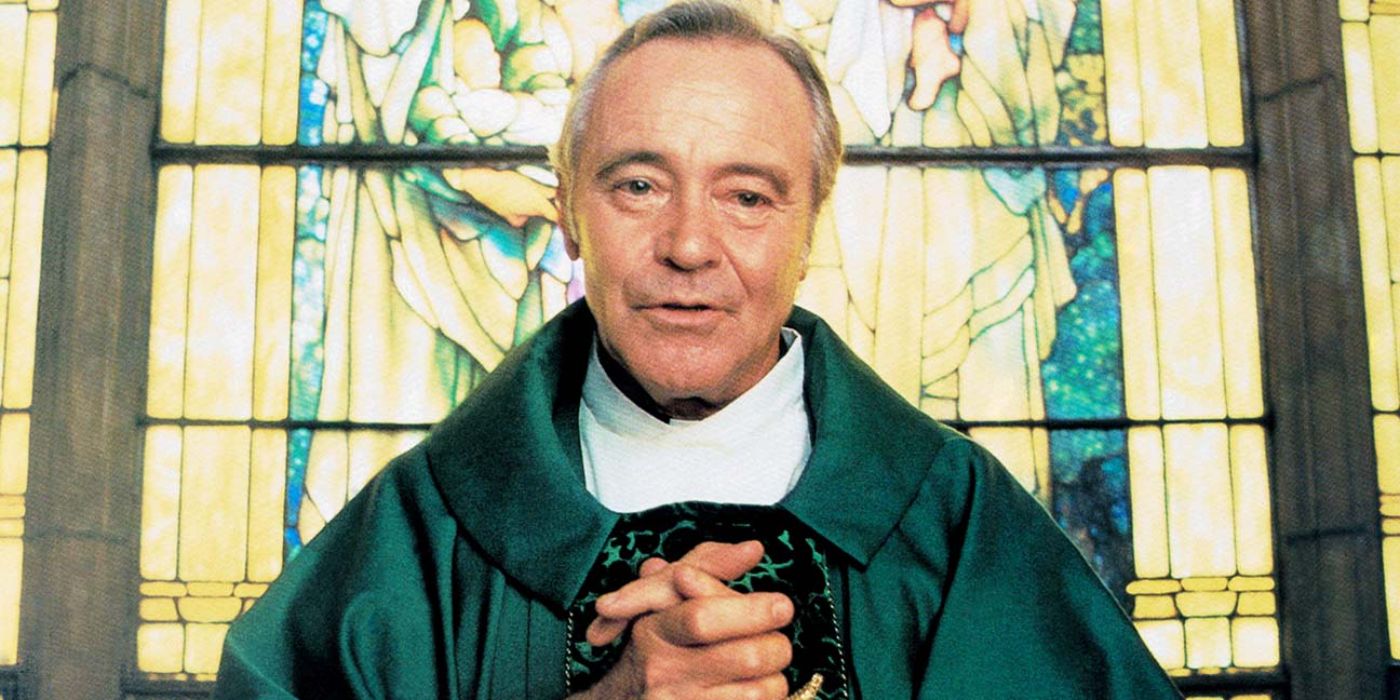 Rotten Tomatoes Score: 100%
Although Mass Appeal hasn't been rated by audiences as any more special than Lemmon's other films, Rotten Tomatoes shows the highest rating for it, likely due to Lemmon himself. He plays Father Tim Farley, a beloved priest in his congregation who gets tasked with preparing young Mark (Željko Ivanek) for the priesthood.
This task becomes too arduous at times for Farley, as Mark is heavily opinionated and his beliefs often contradict the Church. But, Farley sees something in Mark and decides to help him after all. If anyone's making a list of heartwarming movies that get them thinking, Mass Appeal is a pretty interesting watch.
2
"It Should Happen to You" (1954)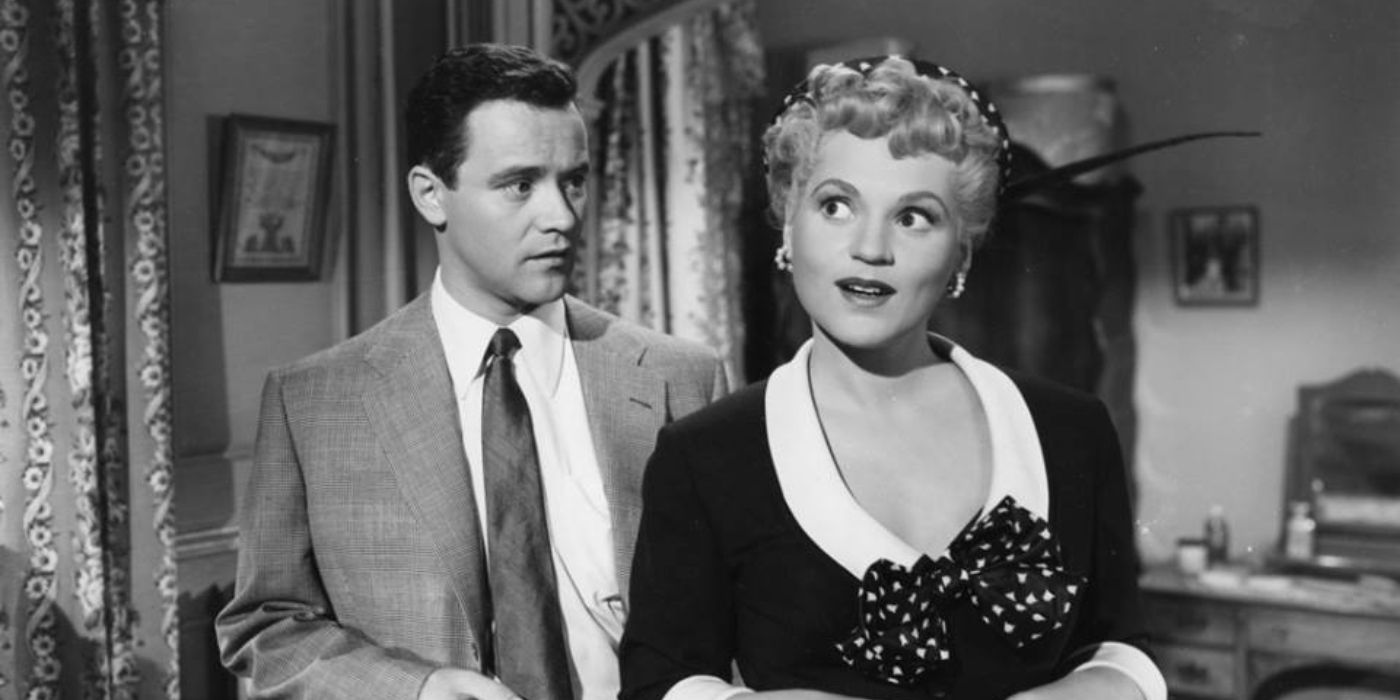 Rotten Tomatoes Rating: 100%
Lemmon's first role as a leading man was in one of the most praised romantic comedies of all time, It Should Happen to You. Directed by the legendary George Cukor, Lemmon leads alongside Judy Holliday. Here, Holliday plays a young actress Gladys looking for ways to become famous; Lemmon plays her suitor, Pete.
The theme is no different from today's many shows and movies about wanting to be famous by all means. The allure of fame has always been strong, and in It Should Happen to You, Pete serves as the grounding point for Gladys while she fantasizes about "being above the crowd". This romantic comedy elevates the genre, providing the feeling that it's way ahead of its time.
1
"Days of Wine and Roses" (1962)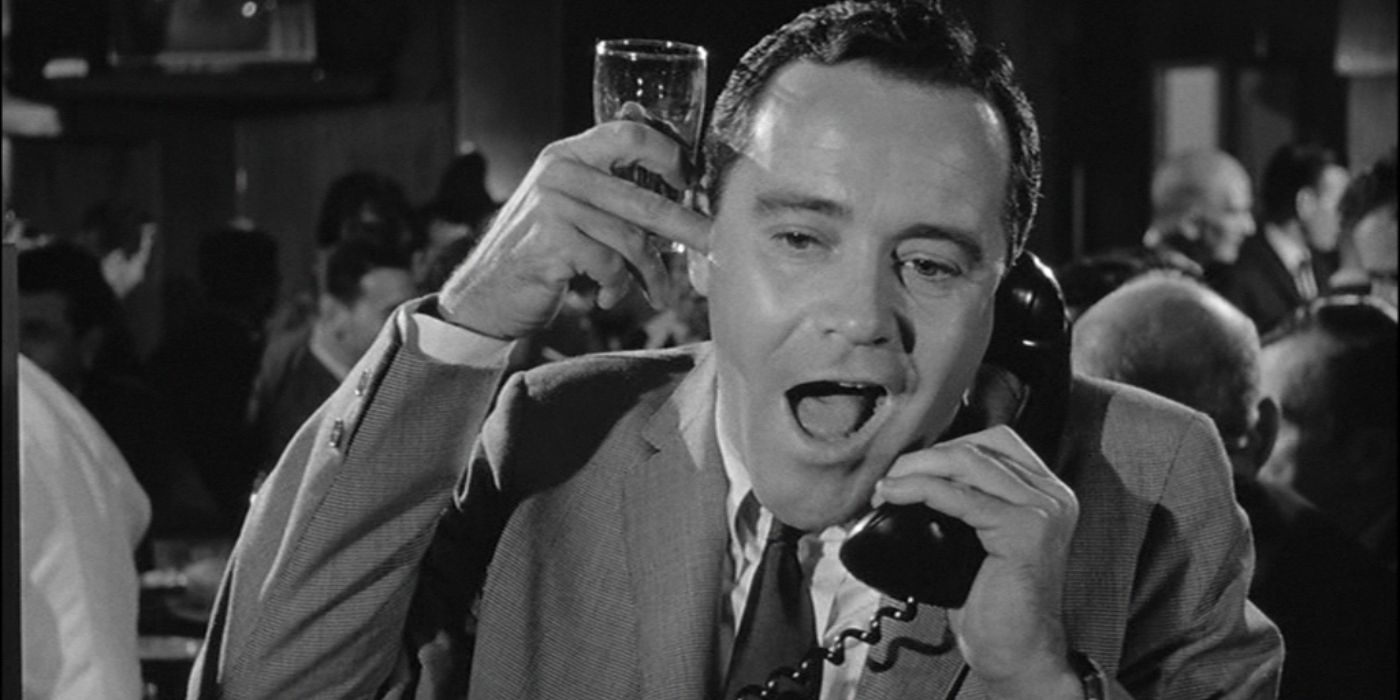 Rotten Tomatoes Score: 100%
Days of Wine and Rosestells the story of a man who likes drinking so much, he gets his girlfriend to start drinking, too. This is a very simplified film synopsis that uncovers how society is conditioned to drink and consume alcohol constantly — from small-time celebrations to big events.
Lemmon plays Joe, a salesman whose line of work often consists of getting drunk. When he meets Kristen (Lee Remmick), their relationship blooms before it inevitably starts wilting. The film offers a stark look at the effects of alcoholism and its normalization in society, and is supported by the leads' incredible performances.
KEEP READINGFrom 'Some Like It Hot' to 'All About Eve': The Essential Marilyn Monroe Performances