The Big Picture
Spielberg and Hepburn's collaboration in Always may seem strange given their different career peaks, but it's worth paying attention to this charming film.
Always showcases Spielberg's talent for directing airplane sequences and character interactions, reminiscent of Star Wars, with John Williams' score adding to the vibe.
Hepburn's final role in Always as Hap is striking and inspiring, and her performance reminds us of her captivating presence from her earlier years.
There are some matches that seem like they were made in Heaven, and Steven Spielberg directing Audrey Hepburn is certainly one of those. At first glance, this partnership may seem strange, given that the legendary director started making waves with his movies in the 1970s, while the iconic actress had the height of her career between the 1950s and early 1960s. So if you like dates, it may feel even weirder that they only got to collaborate in 1989, when Spielberg directed the firefighter pilot movie Always – the last movie released in Hollywood in that decade.
Always is certainly not one of Spielberg's most famous movies. It came out the same year as one of his greatest classics, Indiana Jones and the Last Crusade, so it's understandable that both the box office and media were more engaged with that one – say what you will, every Indy movie is a classic, we don't make the rules. But Always is not without its charm, too, and we can see that just by looking at the cast: not only is it Audrey Hepburn's final credit as an actress, but it also stars Richard Dreyfuss, Holly Hunter, and John Goodman. It certainly deserves our attention.
What Is 'Always' About?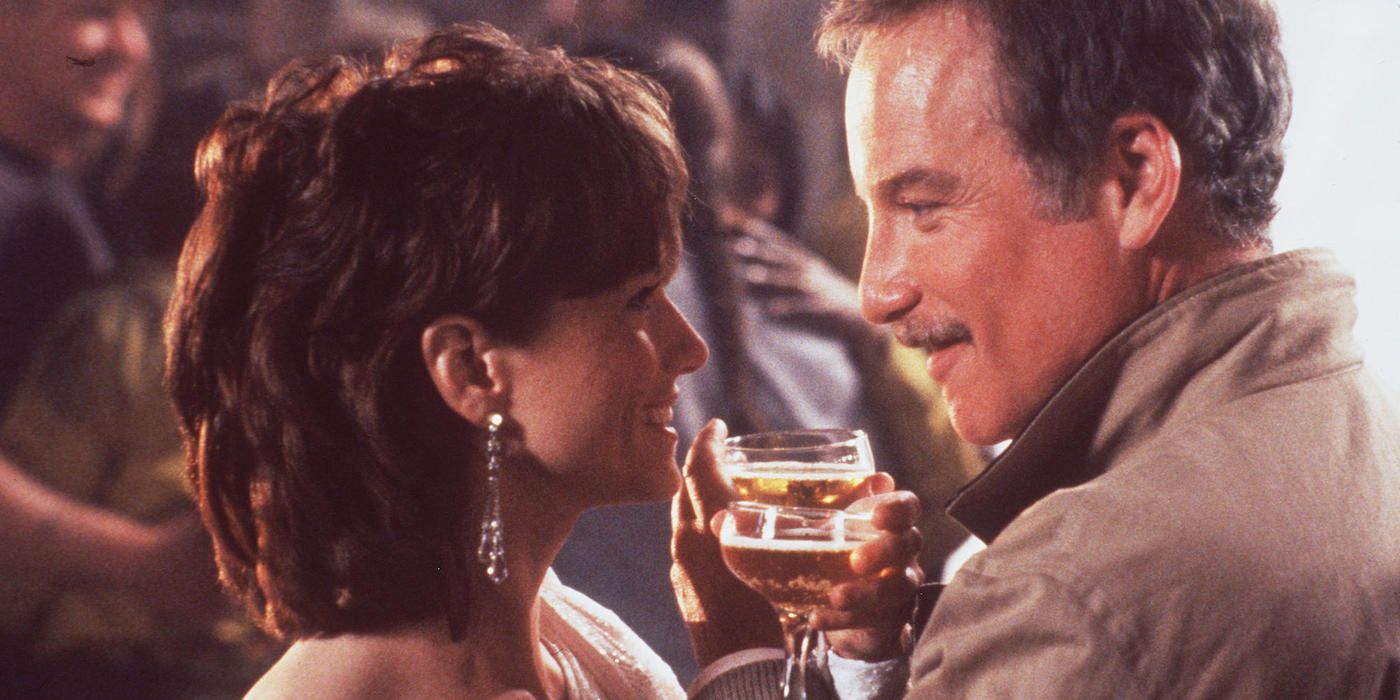 In a way, Always feels like a rather tender answer to another pilot movie of the 1980s, Top Gun. While Tony Scott's movie is all about the action and excitement of fighter jets and American exceptionalism, though, Spielberg's pilots' lives are completely different. They are essentially firefighters with wings, working with ground teams to douse wildfires. It may not seem that exciting at first, but the airplane sequences are all very well-directed, of course, and Spielberg manages to imprint a vibe that's very reminiscent of a rebel base in Star Wars, with character interactions taking center stage instead of the action itself (well, maybe John Williams' score has something to do with that feeling, too).
There's a lot of concern about how those pilots fly, though, and that's the main driver for Always' plot. Richard Dreyfuss plays Pete, a daredevil pilot who often does way more than what's actually needed in his missions, which leaves his girlfriend, Dorinda (Hunter), extremely distressed every time he's in the air. It also doesn't help that his mission partner, Al "the Pal" (Goodman), is a big enthusiast of his stunts. So it's no surprise that, after a mission in which Al's engine catches fire mid-air, Pete manages to save his friend at the expense of his own engine, which blows up mid-flight and kills him. And right when he had agreed to settle down with Dorinda to work as an instructor instead of a pilot!
But that's not the end of his story. In a way, Pete has always known he'd perish in the sky, and Dorinda even had a gloomy premonition the night before his final mission. In the afterlife, he learns about Spiritus, the divine inspiration that influences people to do what they do as if a voice at the back of their heads were telling them to do it. Pete's to provide this inspiration to Ted Baker (Brad Johnson), who starts off as a student at Al's flight academy (which Pete was supposed to take over before dying). To Pete's anguish, Brad's not only his talented substitute in the air but eventually falls in love with Dorinda, whom Al couldn't leave behind after a whole year of grieving for Pete. As the fantasy drama unrolls, Pete has to come to terms with his condition while providing inspiration to those he left behind.
Who Does Audrey Hepburn Play in 'Always'?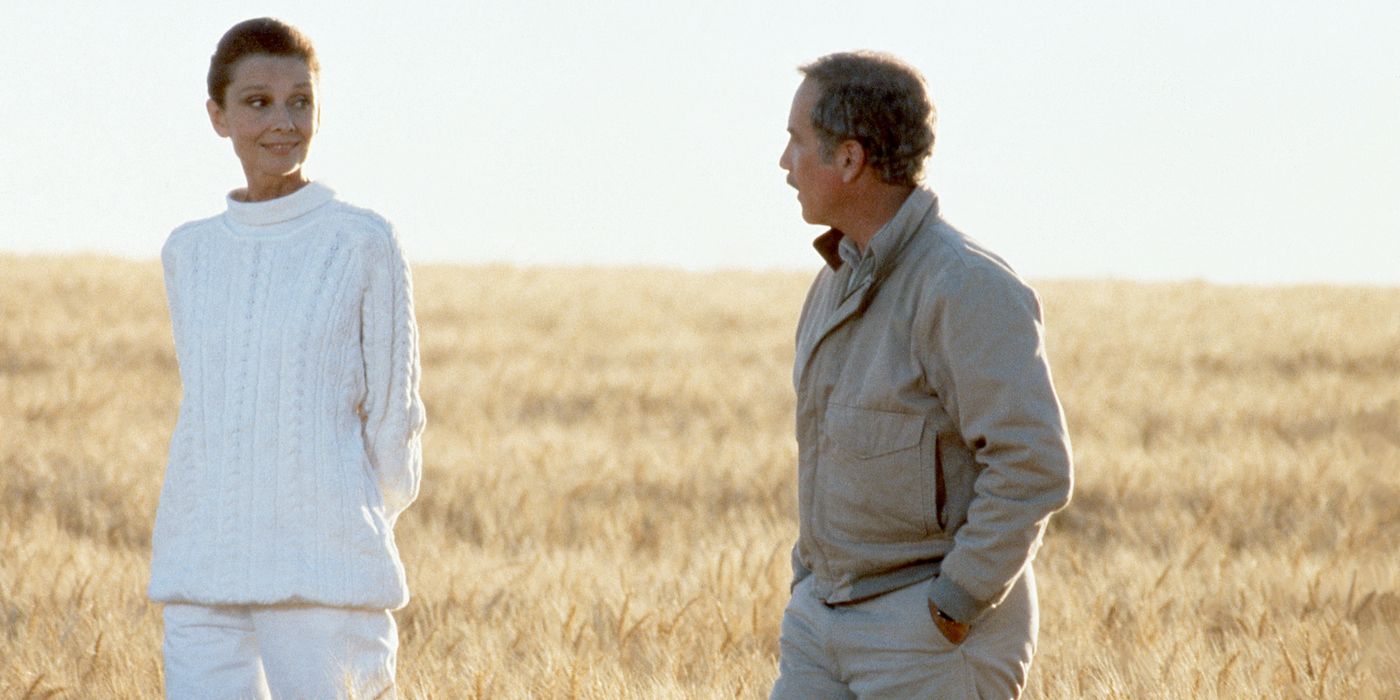 Always is Audrey Hepburn's final movie role before passing in 1993. She plays Hap, the supernatural entity that instructs Pete in the ways of the afterlife, as well as how to provide inspiration for the living. She is the one who assigns Pete to Ted as the person in need of such inspiration, leaving him clearly distraught once he connects the dots about what's happening on Earth. Although technically a cameo, Hap plays an important part in turning Pete into an unseen guide to Ted. She is also responsible for helping Pete accept his condition as a soul in the afterlife, not a living person with worldly possessions anymore.
Needless to say, although short, Audrey Hepburn's Always performance is striking in every imaginable way, even if not one of her most recognized ones. She makes her first appearance in Pete's first scene after dying when he's wandering the ashes of the forest he helped save before his plane blew up. "Hello, Pete!" she says in her typical lively and energetic way, enough to make every movie buff get chills. She may be older, but her presence is still the same as it was in the 1950s and 1960s, and we can catch that from the way she talks with Pete. Seeing two actors as good as Hepburn and Richard Dreyfuss share a scene is fabulous by itself, but one can't help but marvel at how she fills the screen with a lighthearted and joyful performance, like a true angel giving Dreyfuss' character the time and space to understand that, well, he's dead, but without ever saying so.
Hap is the perfect final role for someone as inspiring as Audrey Hepburn. It's simple but essential and gives her the opportunity to leave us with a brilliant piece of advice: In the movie, she makes it clear to Pete that inspiration is a cycle, and as much as we get it when we need it, we have to give it back once our time is up. It's been decades since we lost her, but we know that Audrey Hepburn is one of those people that embody the spirit of a whole age in cinema and inspire millions of people through time. She just wants us to know that we can do it, too, even if inspiring one person at a time.
Hepburn continued to provide inspiration even after she was done with the movie industry. She donated most of her earnings from Always to UNICEF, for which she had been appointed a Goodwill Ambassador the same year the movie came out. In 1994, one year after her death, she also achieved EGOT status, winning an Emmy and a Grammy for her work between, 1989 and 1993.
RELATED: 10 Movies From the 1950s Everyone Should See At Least Once
'Always' Also Has an Interesting Connection to Audrey Hepburn's Career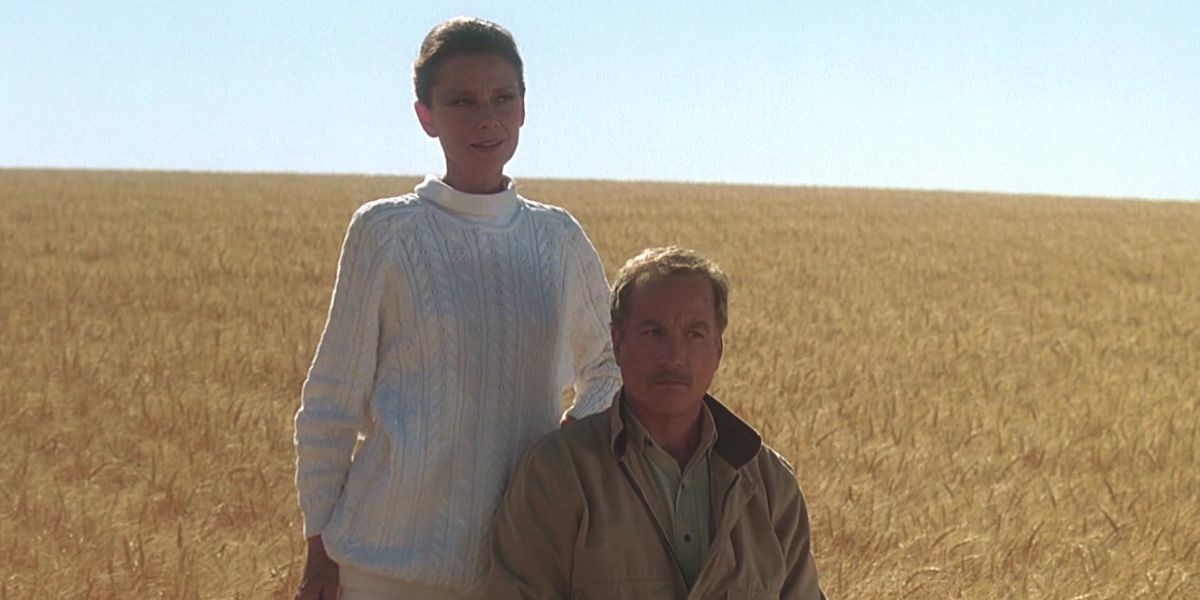 When we think about Audrey Hepburn, Always is never the movie that comes to mind (no pun intended). Same thing with Steven Spielberg, but this story had already given him plenty of inspiration when he was young, as Always is an adaptation of A Guy Named Joe, a classic 1941 movie written by Dalton Trumbo. Adapting it was a sort of passion project for Spielberg and Dreyfuss, who would quote lines from the original to each other in the set of Jaws. Of course, the original was set in World War II, but Always certainly carries its own weight using the aerial firefighting operation as a setting.
But A Guy Names Joe represents another link between Spielberg and Hepburn. In 1953, Hepburn won the Academy Award for Best Actress for her role as Princess Ann in Roman Holiday. And who also won an Oscar for Roman Holiday? Dalton Trumbo! He won his Oscar for Best Story despite being blacklisted at the time. It's rather poetic that he would write both Hepburn's most iconic and awarded role and her final one since he originally wrote A Guy Named Joe, too. In the original, the angelic entity who guides Pete is known as "The General" due to its wartime setting, but his and Hap's essence and purpose are the same.
Although Always didn't get any major awards (again, it faced tough competition that year), it did influence the industry. A year later, in 1990, another ghost love story came out with Ghost, and even though it may have been a hit and started a trend, it never had the appeal of featuring Steven Spielberg and Audrey Hepburn's only collaboration.