With countless spin-offs, worldwide merchandise, and even its own fully-fledged language, it is no surprise that Star Trek has one of the largest fan bases in the world and has more than earned its iconic status. Fans from across the globe tune into the plethora of Star Trek-related media and spin-offs from Picard to Discovery to get the latest fix of this ever-expanding universe. From its inception back in the 1960s to now, Star Trek has rarely wavered in its popularity, however, a recent run of wonderful spin-offs has led to the current era of the franchise being one of its best-loved. With Star Trek: Discovery airing its fifth and final season in 2024, and the continued success of the current sophomore season of Star Trek: Strange New Worlds, it can be easy to forget just how much other brilliant Star Trek content we have to look forward to. One such show, which recently aired its third Season back in 2022 to great public acclaim, is Star Trek: Lower Decks, the adult-animated spin-off created by Mike McMahan (Solar Opposites). So, with the third outing now in the rearview mirror, and with a fourth Season officially on the horizon, here is everything we know about Star Trek: Lower Decks Season 4 so far.
When Is Star Trek: Lower Decks Season 4 Coming Out?
At this year's San Diego Comic-Con, fans were treated with plenty of exciting information regarding the upcoming fourth season. One such piece of information, released alongside a neat Star Trek IV-inspired poster, is the official release date for Season 4. It was announced that Star Trek: Lower Decks Season 4 would launch on September 7, 2023. This means there really is hardly any time to wait for fans to get their next fix of the lower-deckers.
Watch the Star Trek: Lower Decks Season 4 Trailer
Another wonderful surprise at the recent San Diego Comic-Con was the release of a trailer for Star Trek: Lower Decks Season 4. Alongside a special screening of the Strange New Worlds crossover episode, the trailer, packed full of Easter eggs, was shown and met with great appreciation from the fan base. You can watch it in all its intergalactic glory in the player above.
Where Can You Watch Star Trek: Lower Decks Season 4?
Just like many other Star Trek shows such as Voyager and Deep Space Nine, Star Trek: Lower Decks will continue to be featured on Paramount+. The crew of the USS Cerritos will return to streaming on the service on the aforementioned release date, with fans also hoping for the same Blu-Ray, DVD, and digital release treatment that Season 3 has recently been given. While you wait for Season 4, you can now catch up on the first three seasons on Paramount+ as well.
Related:'Star Trek: Strange New World' Season 2's Showrunners on Setting the Tone for the 'Lower Decks' Crossover
What Is Star Trek: Lower Decks Season 4 About?
We have a synopsis for Star Trek: Lower Decks Season 4, thanks to the official website, which reads as follows:
"In Season 4 of Star Trek Lower Decks, an unknown force is destroying starships and threatening galactic peace. Luckily, the crew of the USS Cerritos isn't important enough for stuff like that! Instead, Ensigns Mariner, Boimler, Tendi, Rutherford, and provisional Ensign T'Lyn are keeping up with their Starfleet duties, avoiding malevolent computers and getting stuck in a couple of caves- all while encountering new and classic aliens along the way."
Already, fans will be delighted with this synopsis as, alongside an exciting new trailer, it suggests that there will be more of the same laugh-a-minute dialogue and wacky storylines from the writers. Given how successful the previous seasons of the show were, it was sensible to maintain the same tone and style for Season 4, but add in a dash of jeopardy in the form of the "unknown force", and a whole new main character, with Gabrielle Ruiz (Orange is the New Black) playing the Vulcan T'Lyn.
Who's In the Cast of Star Trek: Lower Decks Season 4?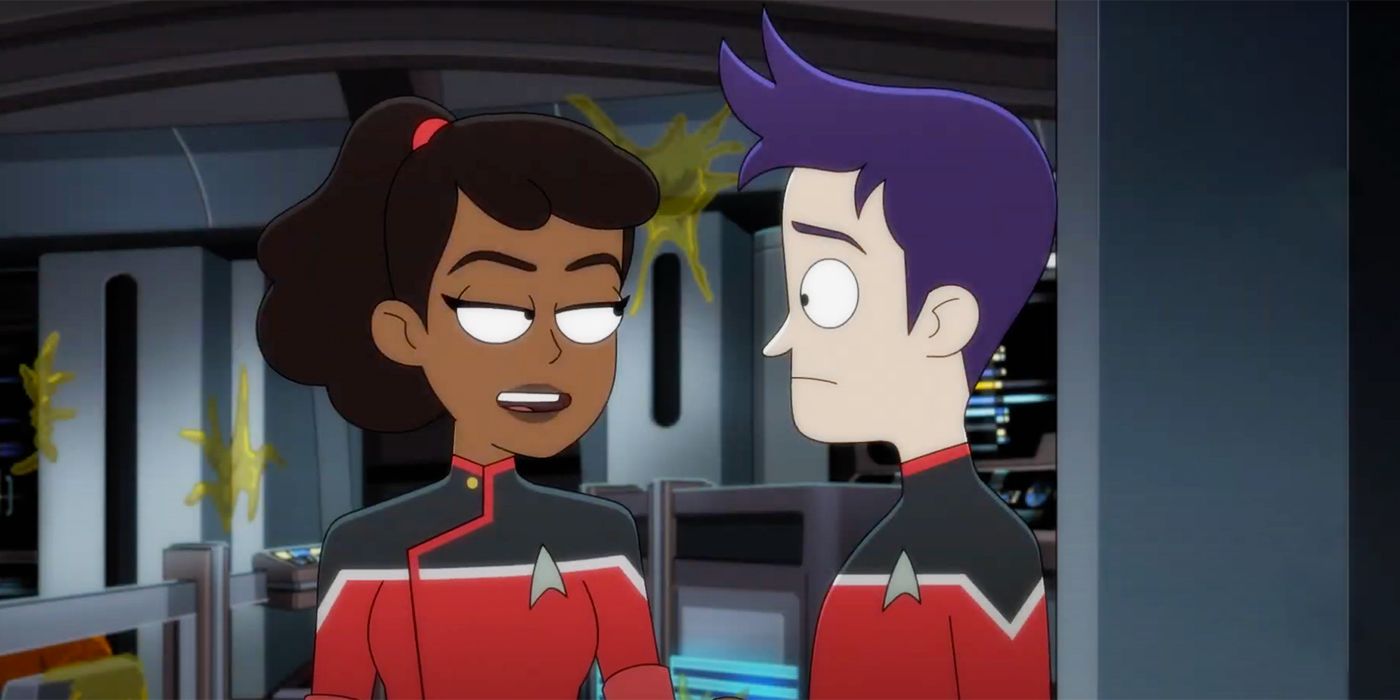 Luckily for fans, all the previous cast members who voice the now-beloved characters are returning to the sound booth. This includes the likes of Tawny Newsome (Brockmire) as Beckett Mariner, Jack Quaid (Scream) as Brad Boimler, Noël Wells (Mr. Roosevelt) as D'Vana Tendi, Eugene Cordero (Loki) as Sam Rutherford, Dawnn Lewis (Dreamgirls) as Carol Freeman, Jerry O'Connell (Stand By Me) as Jack Ransom, and Fred Tatasciore (Team America: World Police) as Shax. Of course, Lower Decks is also now famous for its guest stars and cameo appearances, with the likes of Armin Shimerman (BioShock) and James Cromwell (The Green Mile) appearing in Season 3. With that in mind, there is certainly hope that some more talented voices may drop by in Season 4, which only adds to the heaps of anticipation that currently surrounds the show. As mentioned, Season 4 will also be adding Gabrielle Ruiz to the main cast as the Vulcan T'Lyn.
Who Are the Creators of Star Trek: Lower Decks Season 4?
The series writing credits of course go to show creator Mike McMahan, who is joined by many fellow writers including the likes of Garrick Bernard (Single Drunk Female) and Ben Rodgers (Emily the Criminal). Directing credits across the show go to Barry J. Kelly (The Venture Bros.) and others, with executive producer credits going to the likes of Aaron Baiers (Salvation), Heather Kadin (Sleepy Hollow), and Katie Krentz (Steven Universe). Of course, with a show of this nature, the appreciation behind the scenes would not be complete without a nod to the infinitely talented animation team, including the likes of art director Nollan Obena (Ben 10) and color designer Angela Victoria Llerena (Axe Cop).
Related:'Star Trek Lower Decks' Season 3 Finally Gives 'Deep Space Nine' Some Love
How Many Episodes Will Star Trek: Lower Decks Season 4 Have?
Paramount+ has officially announced that there will be a total of 10 episodes in the upcoming fourth season, the same amount as the previous three Seasons. With so much hilarious content to come, fans can hardly contain their excitement.
Will There Be a Star Trek: Lower Decks Season 5?
To the delight of fans, it was officially announced months ahead of Season 4 that a fifth season of the show had been greenlit by Paramount+. Clearly, and rightly, Paramount has enormous faith in this animated brilliance, and it is the show's dedicated fans that are reaping the rewards.