The Big Picture
Queen Charlotte: A Bridgerton Story has become Netflix's crown jewel, with over 80.3 million views to date.
The prequel series follows Queen Charlotte in two timelines, focusing on her early years of marriage to King George.
The series received acclaim for its intertwined timelines, great performances, and exploration of Charlotte's past, as well as showcasing the franchise's first queer relationship.
Bridgerton fans rejoice as Queen Charlotte: A Bridgerton Story has been declared Netflix's crown jewel. The series has turned out to be one of the most popular English-language TV series of all time. With a massive 80.3M views to date, the Shonda Rhimes-created series replaced The Watcher at the number 10 spot on the charts. The prequel series joins previous seasons of the original series on the honor list with Bridgerton Season 1 at No. 4 and Season 2 at No. 8.
What Makes Queen Charlotte: A Bridgerton Story So Special?
The made prequel series follows Queen Charlotte in two separate timelines, in present when the death of the royal heir causes the Queen to pressure her children to marry and produce more royal heirs, while the other timeline is set in 1761 with Charlotte meeting and marrying King George. However, the focus of the series is on King George (Corey Mylchreest) and Queen Charlotte's (India Amarteifio) early years of marriage as the two come to love.
The young adult drama took Bridgerton fans by storm upon its premiere and made it to the top of Netflix charts in the first week finding a global audience. The intertwined timelines, great performances, coupled with the franchise's signature hot and heavy moments, and an insight into the past that shaped Charlotte to become the Queen we know her to be, got acclaim from both fans and critics. Netflix recently adjusted its viewership metrics and extended its measurement window from 28 days to 91 days to give enough room for the series to make it onto its coveted Most Popular List.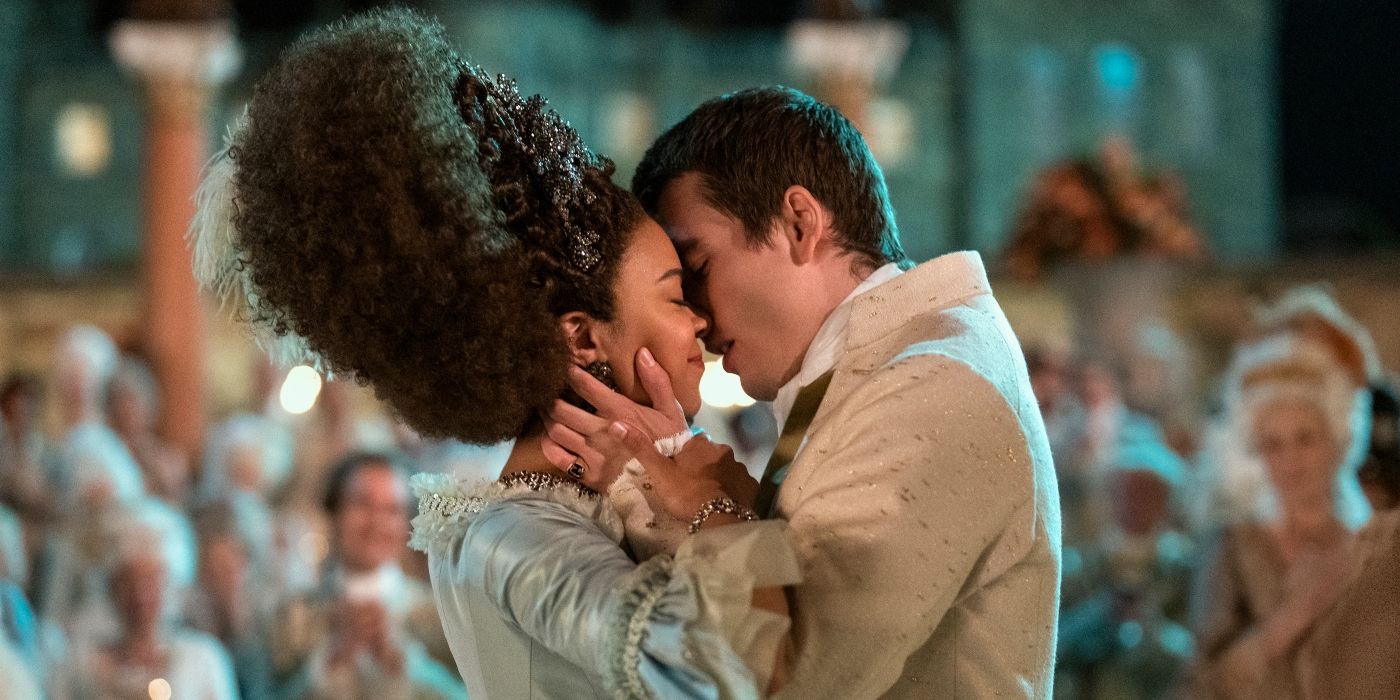 RELATED: The 10 Best Shows to Watch if You Loved 'Queen Charlotte'
Since its premiere, the series has set and broken numerous viewing records cementing its position as another piece of art by Rhimes and co. While the fans of the original series were naturally interested in the prequel new fans were on the horizon after power-packed performances by Mylchreest and Amarteifio. The series also showcased the franchise's first queer relationship with the heartbreaking romantic subplot between a young Brimsley and Reynolds, the King's secretary.
The series sees Golda Rosheuvel return as the older Queen Charlotte, Arsema Thomas as young Lady Agatha Danbury, while Adjoa Andoh returns as the older Lady Danbury. Further rounding off the cast are Ruth Gemmell as Violet, Michelle Fairley as King George's mother Augusta, Sam Clemmett as young Brimsley, Hugh Sachs as older Brimsley, along with Freddie Dennis as Reynolds.
Queen Charlotte: A Bridgerton Story is available to stream on Netflix. You can check out the trailer down below: