This review was written during the 2023 WGA and SAG-AFTRA strikes. Without the labor of the writers and actors currently on strike, the series being covered here wouldn't exist.They've faced serial killers, grave robbers, and personal demons aplenty, but our brave and bold true crime podcasters are up against their biggest problem yet in Only Murders in the Building Season 3. Starring Selena Gomez, Steve Martin, and Martin Short, the Hulu original series returns with what may just be its final season. While there are plenty of new mysteries, one thing is clear: do not miss this show.
Created by Martin and John Hoffman, Only Murders in the Building, or OMITB as it is affectionately (and much more easily) called, is a murder mystery series following three true-crime podcast fans, played by Gomez, Martin, and Short, who all live in the same iconic New York building, the Arconia. The series premiered its first season in 2021, dropped a second one in 2022, and pulled in critical and audience acclaim with both. And with Season 3, it feels like the show has truly come into its own.
Related: First 'Only Murders in the Building' Season 3 Trailer: A Cast Full of Killers
The Arconia Remains Central to the Mystery in 'Only Murders in the Building' Season 3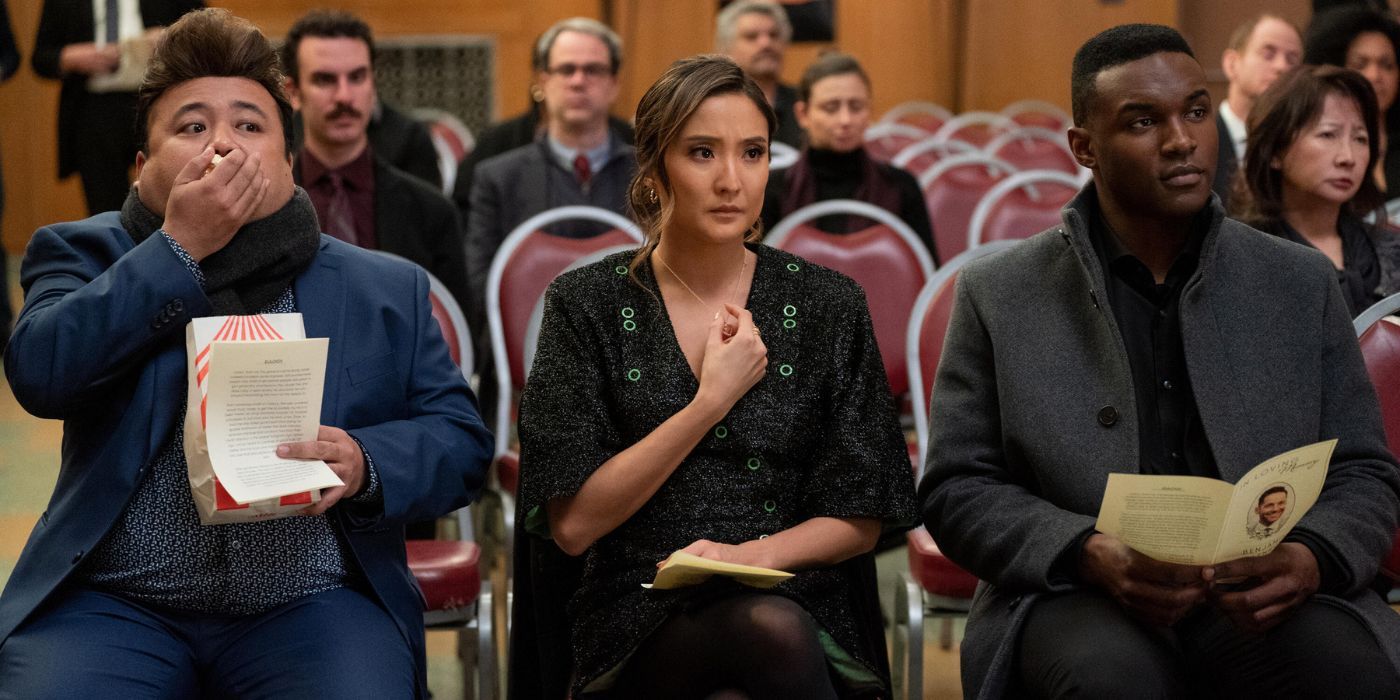 Let's not forget that the show is supposed to be about murders "in the building." At the end of Season 2, when the show teased the plot of the next story, it seemed like the narrative may finally leave the Arconia behind. I am happy to report that this is not the case and the beautiful Upper West Side apartment complex does become an integral part of the story. How that happens is a whole other matter which I'll let you find out for yourself. This review won't be getting into spoilers, but we can tell you the basic premise of the season is that it's the opening night of Oliver Putnam's (Short) new Broadway show and the leading man drops dead. Tragedy, or a new podcast opportunity?
Now, while every word of that statement above is true, it hides a mystery of surprising complexity. With Season 3, the creative team of Only Murders in the Building has crafted a narrative that's more self-aware than ever before. The only thing about the season's plot that stands out as a negative is that it does spend a lot of time going around in circles. Almost the entire first half of the season goes by without any really solid leads. However, things do get progressively more interesting from that point onward. Season 3 carries a lot more emotional weight and personal drama than previous seasons, and it can at times feel as if the mystery is taking a back seat to that. It's a good thing we've got such a great cast to anchor the series.
Of course, it wouldn't be OMITB without Olimabel (the "Charles", as you should know, is silent). All three of our leading characters are facing a time of transition, especially Mabel Mora (Gomez). Over the previous seasons, Mabel's grown and matured, but now she has to find out what sort of person she's actually going to be. More than ever, she is facing significant changes in the third season, but then so are Oliver Putnam and Charles-Haden Savage (Martin).
The Characters Face a Crossroads in 'Only Murders in the Building' Season 3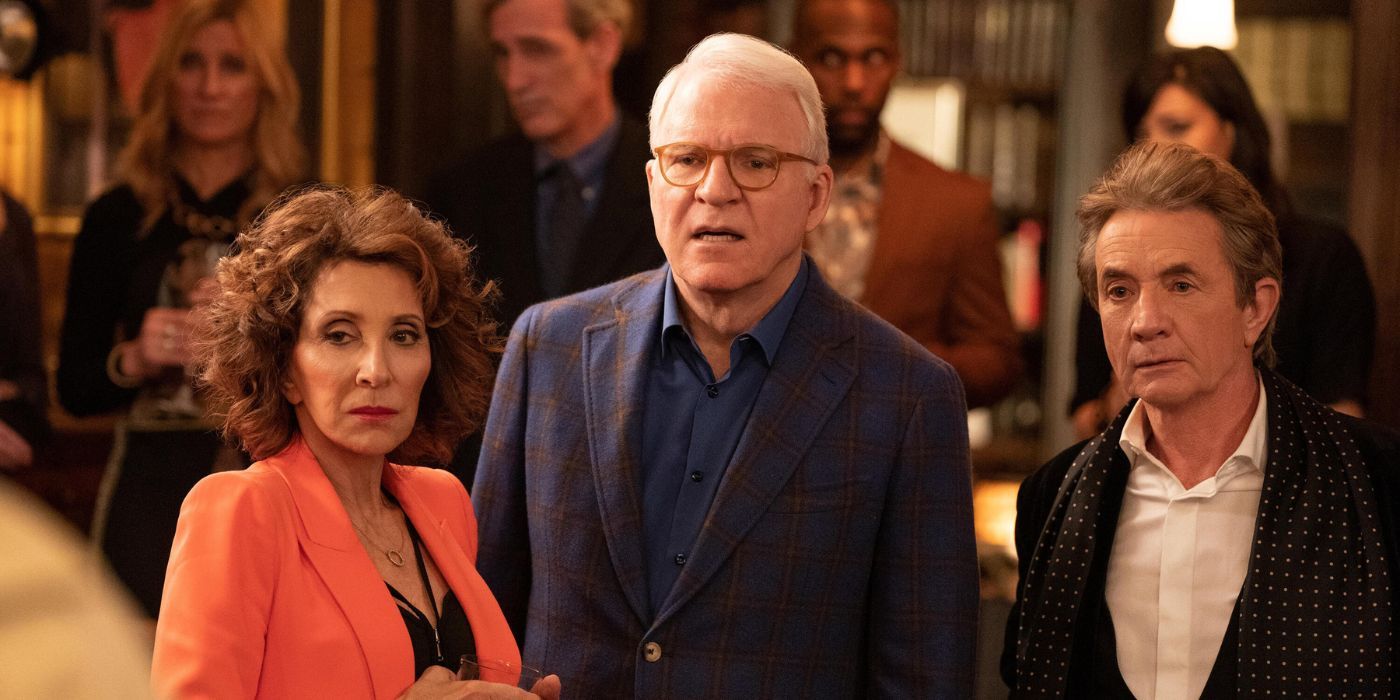 Oliver's arc in the season should be easy enough to deduce. What happens to a Broadway director when his leading man dies on opening night? His whole life goes to hell. But then, what if that tragedy happens on the opening night of your comeback play, 15 years after your last one also ended in disaster? Oliver, meet rock bottom. If you ever wondered just how good an actor Short is, you need to look no further than this season. Short balances fear, desperation, hope, romance, and Oliver's trademark never-say-die energy to deliver a rousing and at times heartbreaking performance.
As for Charles, he has his own struggles as he's adjusting to his new relationship with Joy (Andrea Martin). And that's just the tip of the iceberg, as he continues to struggle with his abysmal sense of self-worth and his anxiety, which leads to some surreal sequences that are both comical and worrying. Essentially, all three of our leads are in a place where their futures seem uncertain, and there's every chance that said futures may not include each other. There's a vibe that runs through the season that this could be the end of the road for our lovable trio. But we'll get back to that.
Meryl Streep Leads a Stellar Supporting Cast in Season 3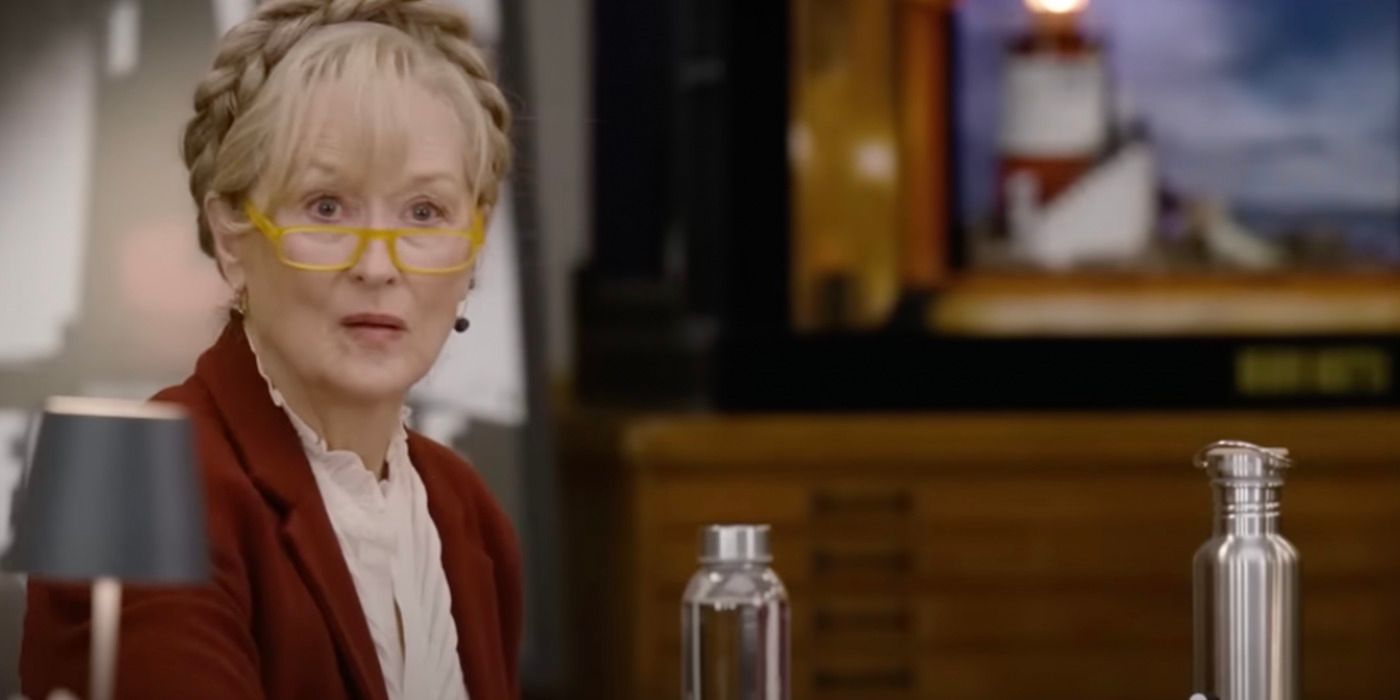 Season 3 also brings in more new stars than the previous seasons, with Meryl Streep and Paul Rudd's names at the very top. Loretta and Ben, the characters they play, can be seen as two sharply contrasting pictures of what an actor looks like, one brash and successful, the other quiet and struggling. Yet both of these characters, at first, seem to be motivated by the same fundamental desire: to be seen and appreciated. And that's just the first impressions. Both of them reveal new layers as the story gets on, with Streep and Rudd delivering characteristically brilliant performances.
And they're not the only ones. Ashley Park's ambitious young actor Kimber, Jesse Williams as the mysterious documentarian Tobert (with a T), Michael Cyril Creighton's Howard Morris (newly bumped up to series regular), and many other memorable characters take the stage, and all of them show potential to be the killer. There are also two delightful cameos, one by a certain Broadway legend and the other by a comedy icon. The talent in this season is sizzling and at least one nomination in future awards seems likely.
Only Murders in the Building Season 3 is not without its issues. The plot meanders a bit, but the performances and sheer heart of the series make up for it. Everyone involved has really given it their all, taking some big swings that do ultimately pay off. It may not be perfect, but it is a hell of a show, speaking to and of a love of Broadway and showmanship. And behind all that, there's still a strong emotional core that carries you to the end. Now, as for whether this could be the actual end of the road for the series, I can't answer that just yet. The show does seem to be building to a natural ending point, but only time will tell. What's clear is these characters have had a remarkable run and the fans would surely want to see as many of their stories as they can. If this does end up being the end of Only Murders in the Building, at least the show can go out with a bang.
Rating: A-
The Big Picture
Only Murders in the Building Season 3 bring new character depth to its latest, and possibly final, mystery.
The season explores the personal struggles and transformations of the trio, highlighting their uncertainty about their futures and the possibility of moving on without each other.
The addition of new stars, including Meryl Streep and Paul Rudd, brings exceptional performances that enhance the show's already strong foundation, making it a must-watch for fans of true crime and Broadway.
Only Murders in the Building Season 3 premieres on Hulu on August 8.