It can be hard to wrap your head around how fast time moves, but somehow Chris Farley left this earth over a quarter of a century ago. On December 18, 1997, the life of the comedic genius was taken by his own demons. At only 32 years old, he left fans heartbroken and wondering how his acting career would have gone. He'd already been cast as the lead in Shrek and seemed destined to become an ever bigger star than he already was. While he will most be remembered for his physical antics on Saturday Night Live and his role in Tommy Boy with David Spade, he left behind other notable works as well, some better than others. One of his final films, which came out many months after his death, was a strange Western comedy with Matthew Perry of Friends fame called Almost Heroes.
RELATED: 10 Most Underrated Rom-Coms of the '90s, According to Letterboxd
Chris Farley Was at His Peak While Filming 'Almost Heroes'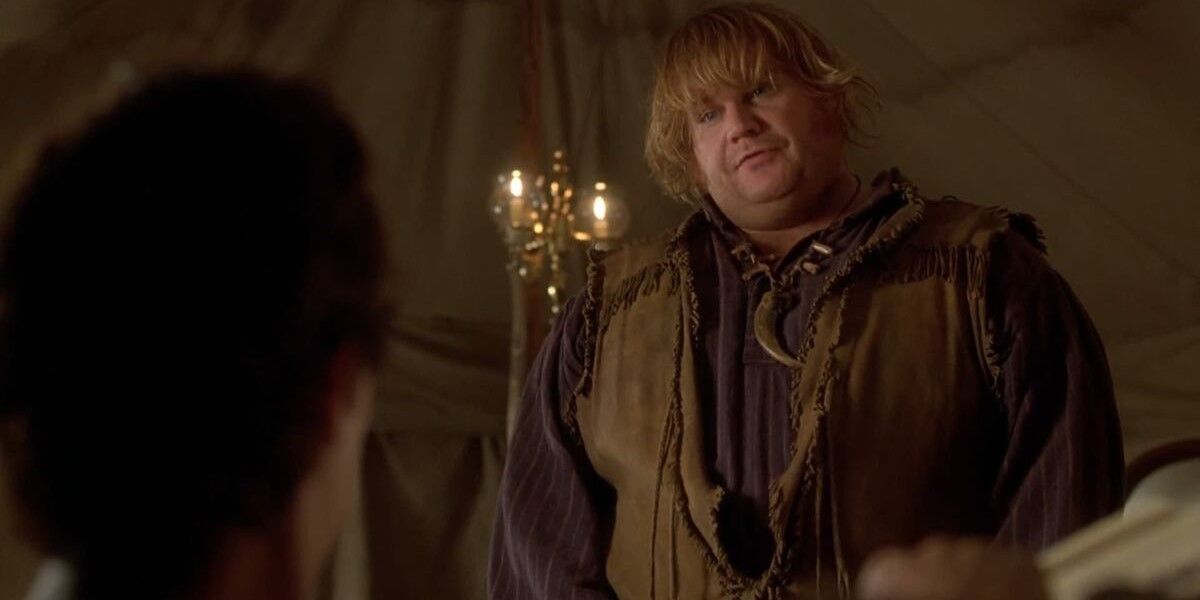 There were few bigger stars in the '90s than Chris Farley. His common man charisma and willingness to do anything for a laugh made him a beloved household name. His style and personality were so endearing that it's still celebrated all these years later by fans who knew him when he was alive and younger people just discovering him.
Almost Heroes was filmed during the summer and fall of 1996. At this point, Farley could do no wrong. He was just coming off of a very successful run on SNL, which ended in 1995. Few skits got bigger reactions than his. Just go back and watch "Matt Foley: Van Down By the River" and listen to the audience roar. Though he had small roles in feature films like Coneheads and Airheads, 1995 also saw Farley become a Hollywood movie star thanks to the success of Tommy Boy with his best friend, David Spade. If you loved his antics in five-minute bits on SNL, now you got to see him do his shtick for ninety minutes. Farley did more than fall over though. Tommy Boy is filled with some heartbreaking dramatic acting from him as well, a hint of what could have been. The next year came Black Sheep, where Farley and Spade reunited for a film that, while successful, felt like an uninspired remake of Tommy Boy, with Farley back to acting like a simpleton in the name of comedy.
'Almost Heroes' Sat on the Shelf for Almost Two Years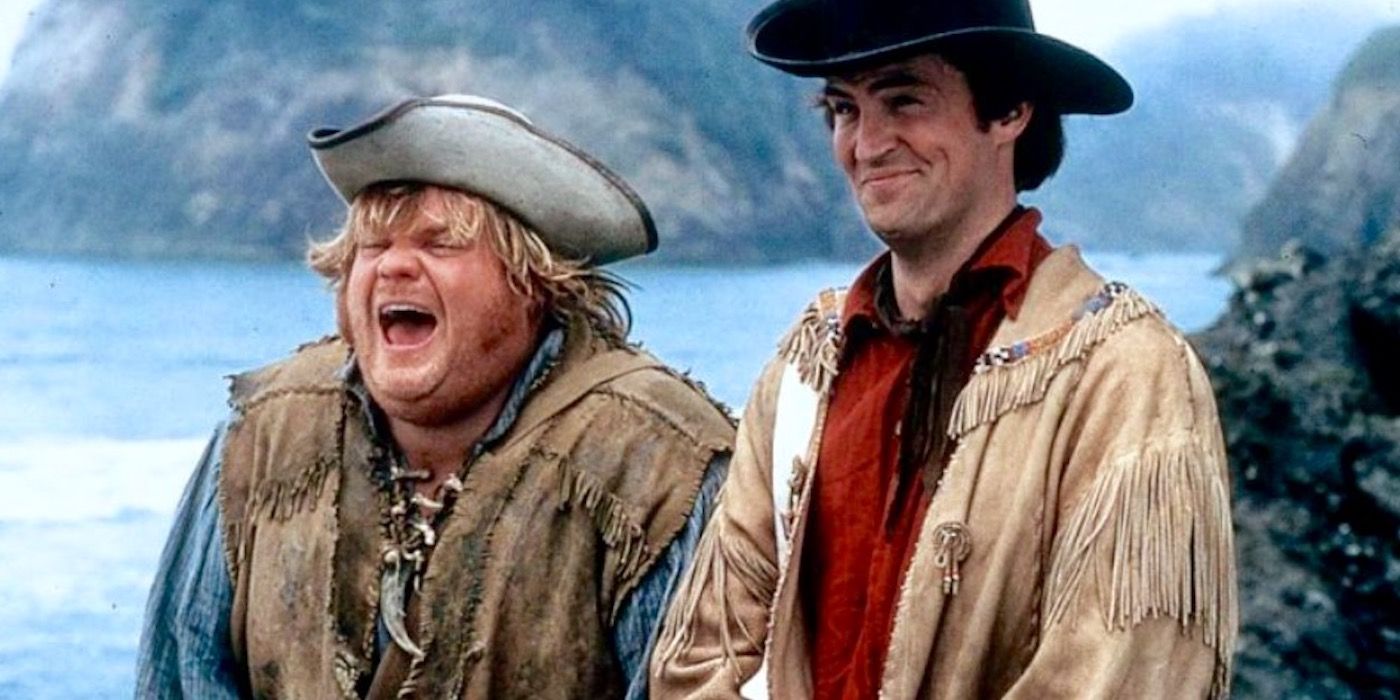 Chris Farley wasn't the only cast member of Almost Heroes enjoying massive success in 1996. So was his co-star, not David Spade this time, but Matthew Perry, who was finishing up his third season as Chandler Bing on the ratings juggernaut NBC series Friends. No matter how the film about two dolt explorers in 1804 trying to beat the famed Lewis and Clark to the Pacific Ocean turned out, Almost Heroes would at least certainly be a box office success due to the name power of its two leads.
Instead, Almost Heroes didn't come out for almost two years, in May 1998, due to a pending merger between Time Warner and Turner. During that time, the worst thing imaginable came to be; Chris Farley died of a drug overdose. During filming, Matthew Perry and Chris Farley became great friends. In an interview last year on The Late Show with Stephen Colbert to promote his memoir Friends, Lovers, and the Big Terrible Thing, Perry talked about his struggle with addiction. Colbert brought up Farley's addiction issues as well, and Perry admitted that was already an addict when working on Almost Heroes. Perry was asked if Farley's death scared him into wanting to change. "The first thing I did was punch a hole through Jennifer Aniston's dressing room. When I found out, I just put a whole hole in her dressing room." He said, "Of course, it scared me, but being scared of it isn't enough."
So, what was supposed to be a happy, fun, lighthearted little comedy was anything but. Its two leads were struggling, and before the movie ever even came out, one of them was gone. Almost Heroes ended up not being a fun time at the movies, but a wake, a way to say goodbye to Chris Farley six months after we'd already tried to mourn him.
Despite Its Cast and Director, 'Almost Heroes' Is Considered a Failure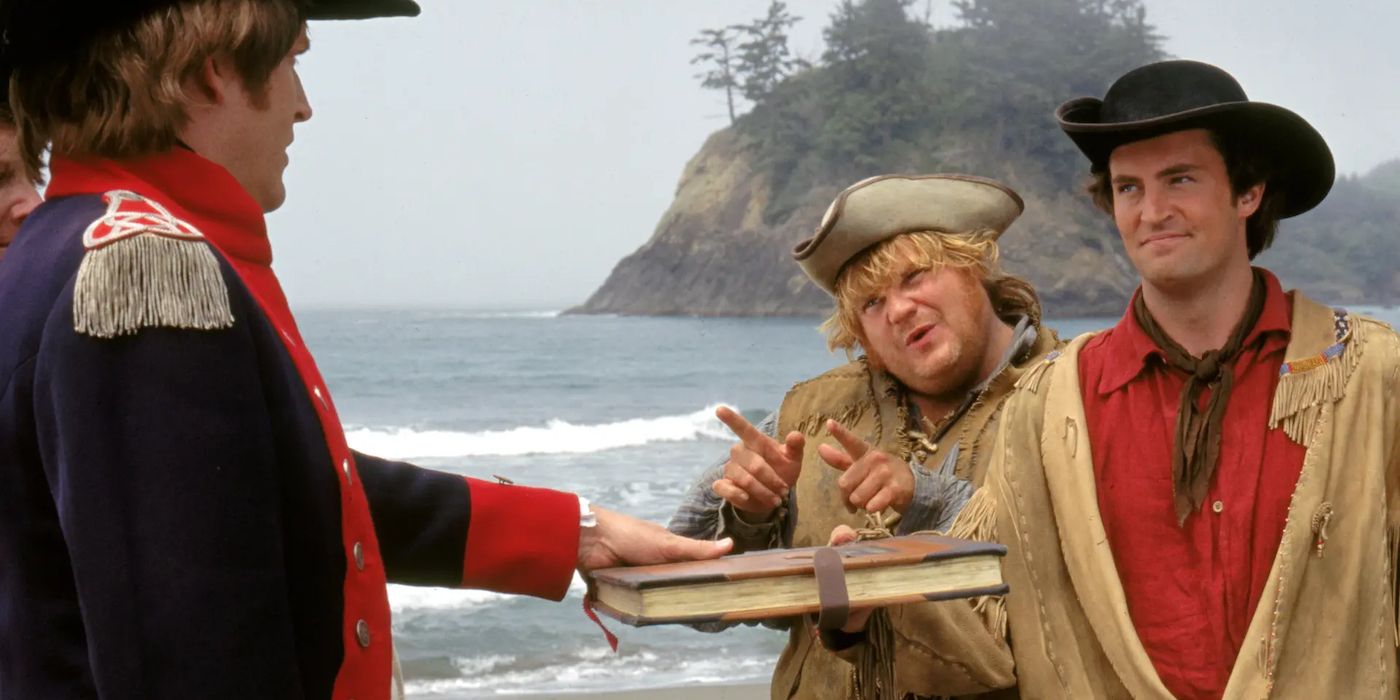 Almost Heroes was a colossal failure, making just $6 million at the box office. Compare that to Tommy Boy and Black Sheep, which both made five times as much, and you have a disappointing goodbye. Perhaps Farley's death is why it failed. It's different when someone like Heath Ledger dies. We flocked to The Dark Knight as tribute, to see this man awe us with his greatest performance, but how do you go to a movie theater and laugh at the star when he's no longer here and those wounds are still fresh?
It wasn't just the death of Farley that caused Almost Heroes to fail. The reviews ripped the film apart. It has a jaw dropping low 5% approval rating on Rotten Tomatoes. So why didn't it work? It should have. It not only had Farley and Perry, but the acclaimed Christopher Guest as its director, who was coming off the critical success of Waiting for Guffman. Almost Heroes failed because it turned into something it wasn't meant to be.
Watching Almost Heroes, you would never think it was helmed by Christopher Guest. It doesn't feel like his movies, which are more focused on an ensemble cast and broader, smarter humor. That wasn't Almost Heroes. It was lazy, having Chris Farley repeat himself. He did his big angry voice, he lumbered around, he fell, he played fat, and he was made fun of. One scene even has him punching a bird. It was cheap. He'd done that role so many times and audiences knew he could do more. We'd seen it in bits and pieces. Well, Almost Heroes was never meant to be any of that.
The failures of the film were discussed in the Tanner Colby book The Chris Farley Show: A Biography in Three Acts. There, one of the film's writers, Tom Wolfe said, "We thought Chris Guest would bring the right sensibility to the script, but then the notes about changes came from the studio. They saw it from the beginning as a buddy comedy between Edwards and Hunt, and less like the ensemble comedy we saw it as. In one meeting, someone from Turner called Lethal Weapon 'the greatest buddy film ever made,' and I thought, oh shit, this is not a good sign." Farley's assistant, Ted Dondanville, elaborated, saying, "You have to build a movie around 'the star.' They cut the ensemble scenes first, Matthew Perry's second, and Chris's never."
Almost Heroes did indeed become The Chris Farley Show. It was no longer about anything else but him. That's why it failed, but in a way, that's why it works. It is a fitting goodbye to Chris Farley because we get to see him in his element. In 1998, he was gone, but in 1996 when Almost Heroes was made, he hadn't yet become the morbidly obese man he was in 1997, all consumed by his addiction. In fact, he had a sobriety bodyguard with him on set. He looks happy and healthy like the Farley we know and love. Yeah, the studio pushed him into the trap of repeating himself rather than letting him evolve, but still, when you watch Chris fall and make fun of himself, you can't help but at least smile. He's a man stuck in time here, loving his job, the worst days not yet here. If it's how we had to see him off, there was no better way.
The Big Picture
Chris Farley's comedic genius left a lasting impact on fans who admired his common man charisma and willingness to do anything for a laugh.
Almost Heroes, one of Farley's final films, was supposed to be a lighthearted comedy but turned into a bittersweet farewell after Farley's untimely death.
Despite its star-studded cast and acclaimed director Christopher Guest, Almost Heroes failed due to studio interference and a focus on Farley's repetitive comedic persona.