The Big Picture
Karen criticizes Married At First Sight producers for editing her portrayal in Season 11, claiming they only showed her negative moments and left out the good things she said.
She reveals that a member of production texted the name of her spouse to a friend before the wedding, suggesting that the show tried to heighten drama by making her seem panicked.
Karen questions the credibility of the show's experts, claiming that they don't fully understand the psychology of singles today and that the psychological exams might not be as comprehensive as they claim.
Another one has bitten the dust in the Married At First Sight universe. The latest couple to call of their marriage was Karen and Miles from Season 11 in New Orleans. The New Orleans-based couple had a long and winding journey during their season as Karen always seemed hesitant, even before she ever met Miles. The two ended up staying together on Decision Day and remained together afterward until it all came crashing down. Karen revealed that the couple had an emotional split while appearing on the Curate For Women's Network on YouTube. While she shared the heartbreaking news, she also took it a step further by slamming the reality show's producers for their portrayal of her during Season 11.
Karen Claims Production Edited How They Wanted Her to Be Perceived
In the interview, Karen mentioned that fans have this "perception" of her where they believe they know who she is. She doesn't believe that to be the case because of how the edit made her out to be. Fans of the show will recall seeing Karen being the one who always seemed the least interested in the relationship, when in reality she says that wasn't the truth. She said watching it back opened her eyes, "How do you think I feel watching it back and saying 'Wait, I didn't say that in response to this' or 'Why didn't y'all show any of the good things that I said.'" she said in an interview, as reported by YouTube star Tamera Lynne Tales.
Related Content: 'Married at First Sight': Meet the Experts' Spouses
Karen understands that the public perception is the way it is because the fans were only shown a one-sided depiction of her, "Of course I look like a b–tch if you're only showing these bad things." Throughout the entire it was clear Karen was upset at how all of this ended, and hearing how she feels as though she was given a negative edit doesn't make the end result feel any better. One other point she made about production was the ordeal that place ahead of their wedding day when we saw her freaking out when she learned who she was marrying before the process actually began. She claims that a member of production texted the name of who she was being paired with to a friend of hers, and that's how that all came to. While that's already a serious claim, Karen also added that the whole scene never took place on the day she walked down the aisle, it was actually the day before. If this is true, it seems that the Married At First Sight producers attempted to heighten the drama for the audience at the expense of making Karen look panicked just moments before saying 'I do.'
Karen Doesn't Feel the Experts Are In Touch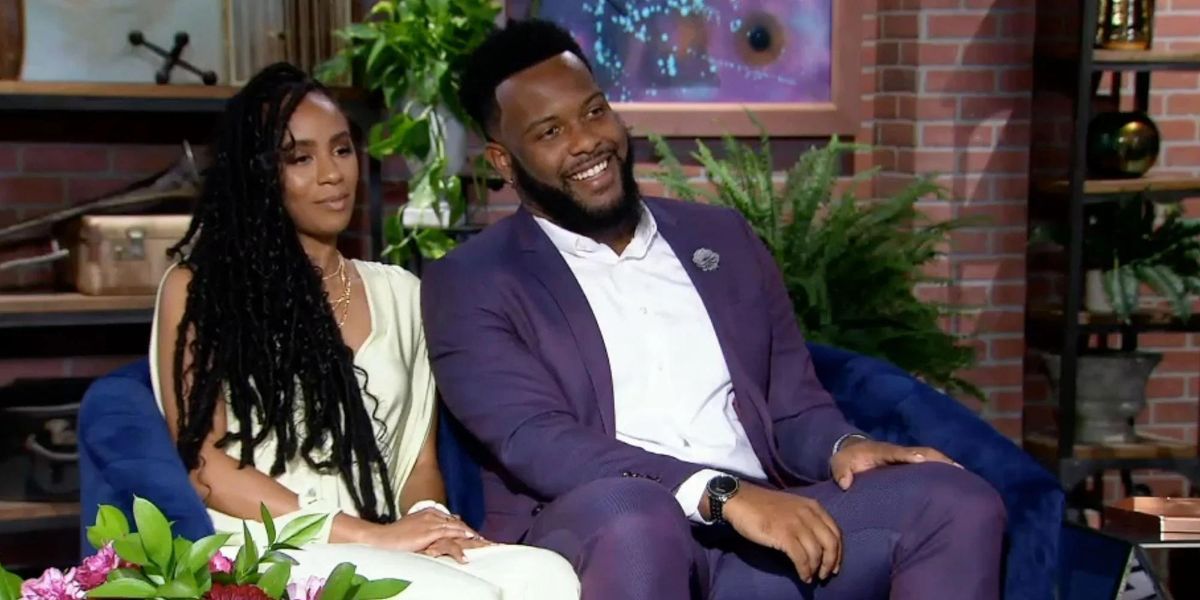 While she took aim at production, Karen also roped in the experts in Calvin Roberson and Pepper Schwartz. She shot down the idea that each candidate goes through a psychological exam as the experts say they do. This could explain some of the recent flameouts where one person from one of the matches seems to have zero interest in the show, or their spouse, or the capability of trying to work things out. It's never a good look when the show has a couple call things off while on their honeymoon or shortly after, which has become far too often of an occurrence. Karen also feels that the experts don't relate as much to this generation and how the dating scene of 2023 looks. None of these were aggressive or damning claims but the idea that the experts may not fully understand the psyche of a single person today could be plausible and is worth exploring more.
All in all, the entire interview shined a spotlight on Karen and her journey during and after the show. It's ultimately a disappointment to see her and Miles become another couple to call it quits from Season 11, but some of the concerns and issues she raised also could carry some weight. With Married At First Sight beginning to have a tough stretch of success stories, there may be some validation to her claims.