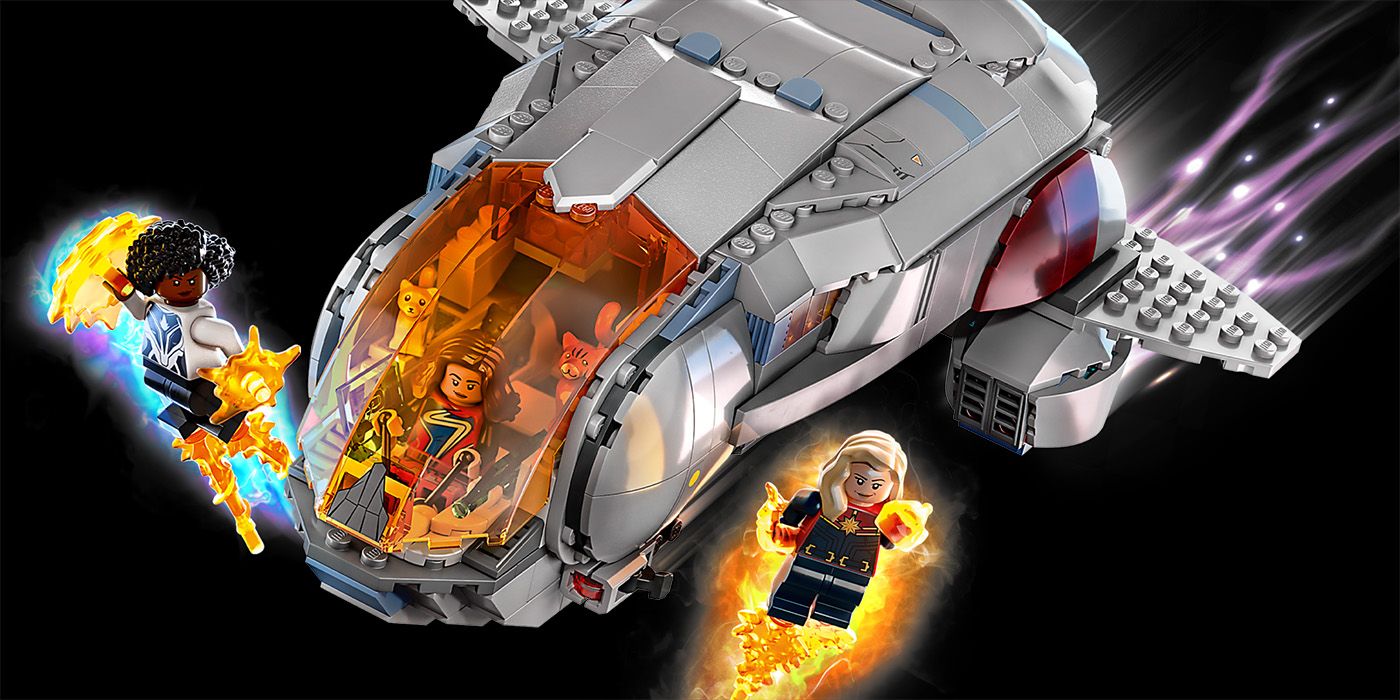 The Big Picture
"The Hoopty" Lego set offers a glimpse into the world of The Marvels, featuring the crew's new ship and Kamala Khan in the cockpit.
The new mini figurines of Carol Danvers, Kamala Khan, and Monica Rambeau are ready to take on cosmic challenges.
The Marvels comes to theaters on November 10.
We are months away from The Marvels, and the marketing is slowly and steadily rolling out. While the trailer and new images have fans excited to see the three heroes come together, a new Lego set sheds more light on the characters and their world. Dubbed 'The Hoopty,' based on the name of the new ship, the box features the crew's new ship with Kamala Khan sitting in the cockpit with a couple of Flerkens sitting behind her.
The new ship looks amazing and seems to be Kamala's vehicle to travel through space as Carol Danvers and Monica Rambeau don't need such assistance. The respective figurines of Carol, Kamala, and Monica see them in their new suits ready to take on any cosmic challenge that comes their way. Also, the box contains at least three Flerken figurines, Goose, and two additional kitties in grey and white colors.
What's The Marvels About?
The sequel to 2019s Captain Marvel, the upcoming feature will continue Carol's (Brie Larson) adventure but this time around she's not alone as her powers entangle with Kamala (Iman Vellani) and Monica's (Teyonah Parris) and three are seen witching places in the trailers. The movie will also introduce a new nemesis Dar-Benn (Zawe Ashton), who's a Kree warrior revolutionary wielding the Accuser's hammer and the other half of Kamal's bangle. She sees Carol as an enemy after she took revenge on the Supreme Intelligence, which left Dar-Benn and other Krees scavenging the universe for resources.
RELATED: The Marvels' Trailer Breakdown: Meet the MCU's New Super Team (Whether They Like It or Not)
By the looks of the promotional material, the movie looks quite fun with Vellani's Kamala Khan stealing every frame she's in. We also know Nick Fury will be back in the new feature after finishing his war with Skrulls during the Secret Invasion. Furthermore, The Marvels will also feature a whole litter of Flerkens, it would be hilarious to see the effect of cat-like creatures on Kamala and Monica.
Rounding off The Marvels cast are Park Seo-Joon as an ally of Danvers, Samuel L. Jackson as Nick Fury, while Zenobia Shroff, Mohan Kapur, and Saagar Shaikh reprise their roles as Kamala's family from Ms. Marvel series. Further, Daniel Ings portrays Ty-Rone, and Colin Stoneley portrays Papp-Tonn, a Kree scientist. Also cast are Gary Lewis, Shamier Anderson, Abraham Popoola, Ffion Jolly, Caroline Simonnet, and Jessica Zhou in undisclosed roles.
The Marvels hits theatres on November 10, later this year. You can pre-order the Lego set here and check out the trailer below: