The Big Picture
Directors at SDCC discuss the use of special effects in big-budget films, highlighting the vision vs. cost dilemma.
Justin Simien emphasizes the importance of practical in-camera effects and building the entire mansion set in Haunted Mansion.
Simien insists on having a Black lead in the film to accurately represent New Orleans, where the Disney theme park ride is set.
One of the conversations that has resurfaced time and again across this year regards the use of special effects by big-budget blockbusters. While we've been presented with extreme examples — the heavily criticized The Flash CGI and Christopher Nolan's Oppenheimer not using CGI at all – directors have been speaking out about their vision vs. the cost of bringing them to life as realistically as possible. During the Directors on Directors' panel at SDCC, Haunted Mansion's Justin Simien talked about the visual effects of the new family movie.
Of course, for a movie about ghosts terrorizing a big house, you'd expect a decent amount of CGI to be involved in the process. However, there are other elements that studios aren't always committed to making look as real as possible. As Simien told panel moderator (and our Editor-in-Chief) Steve Weintraub, Disney had no problem at all in building the entire mansion as a set:
"It is meticulously crafted. The details are so specific and they are everywhere. So, there were so many details… and there wasn't a fight. I think Disney more than anyone understood the power of those details. But I'll sum it up and say that I was really passionate about starting with practical in-camera effects, I think that's part of the magic of that ride…It is Pepper's Ghost and literal smoke and mirrors, and we went out there, and I was like 'Guys, I really don't… I want to build the mansion! I know that's a big ask, but I want to build these interiors and I want to actually drag Tiffany Haddish in the chair through this thing.' I don't want everything to be just play-pretend and make-believe, and I was really excited that they let me do that."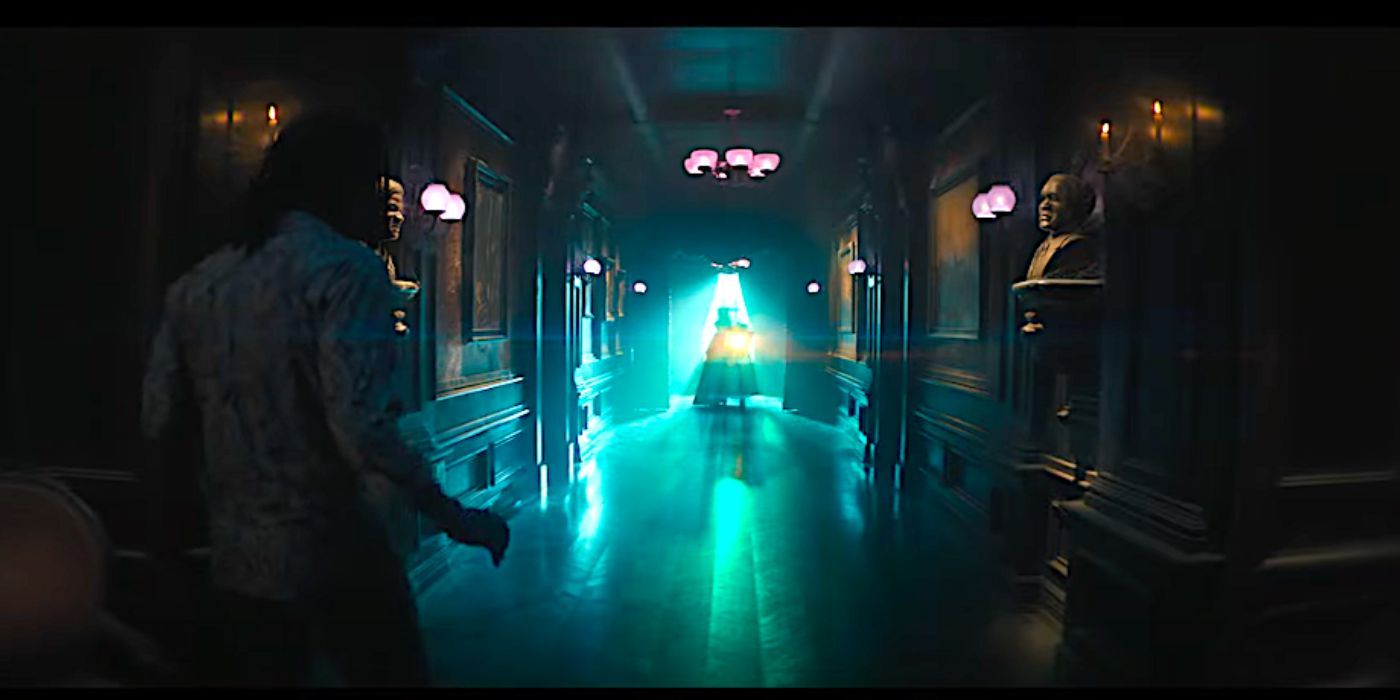 RELATED: 'Haunted Mansion' Cast Scares Up Laughs on 'Celebrity Family Feud' (Exclusive)
Justin Simien Reveals What He Was "Adamant" About Having in Haunted Mansion
Simien went on to reveal there was another element that he was "adamant" about when he was brought into the project. The director revealed that he really wanted a Black lead for the movie, not only because he values representation, but also because Disney's theme park ride is supposed to be situated in New Orleans, "which is an 85% Black town." Even though he loved the ride and Disneyland, it didn't make sense that there weren't "any black people" on the paintings on the walls. He capped it off by saying that he "felt pretty strongly that we had to do right by New Orleans in that movie."
Haunted Mansion centers around a mother and her hid after they move in to a mansion. When they realize it's haunted, they enlist the help of specialists to get rid of the ghosts and make the place not spooky. The star-studded cast features LaKeith Stanfield (Atlanta), Owen Wilson (Loki), Danny DeVito (It's Always Sunny in Philadelphia), Rosario Dawson (Ahsoka), Winona Ryder (Stranger Things), Dan Levy (Schitt's Creek), Jamie Lee Curtis (Knives Out) and Jared Leto (Morbius).
Haunted Mansion is in theaters now. You can watch the trailer below: