The Big Picture
Troy's character in Theater Camp defies expectations by becoming the heart of the movie and forming unexpected friendships.
Troy's cluelessness and curiosity add depth to his character, as he navigates the theater camp environment with openness and acceptance.
Jimmy Tatro's performance as Troy showcases both comedic timing and genuine moments of pathos, making him a fully-realized and relatable character.
One of the most enjoyable experiences while watching a movie is when a character ends up going in a vastly unexpected direction. Archetypes of certain characters are so deeply ingrained into the general psyche and the minds of artists that, sometimes, it's clear what trajectory a fictional figure will go down just based on their initial wardrobe. In real life, people go down unexpected directions, but in many movies, characters are static. Thankfully, a contrast to this norm is found in Theater Camp through the seemingly-abrasive and shallow character of Troy (Jimmy Tatro).
Viewers, including myself, may think they know exactly where a movie dedicated to a camp for adolescent outsiders may go when it comes to the character arc and plot function of Troy. Directors Molly Gordon and Nick Lieberman, who also wrote the project with Noah Galvin and Ben Platt, end up traveling down far more intriguing roads, though, with this selfie-obsessed "influencer." In fact, by the end of Theater Camp, Troy has emerged as the heart of this entire movie and one of its most entertaining assets. It's an impressive accomplishment made possible by the movie demonstrating a willingness to eschew expectations and go where the more interesting character beats (and jokes!) are.
What Role Does Jimmy Tatro's Troy Play in 'Theater Camp'?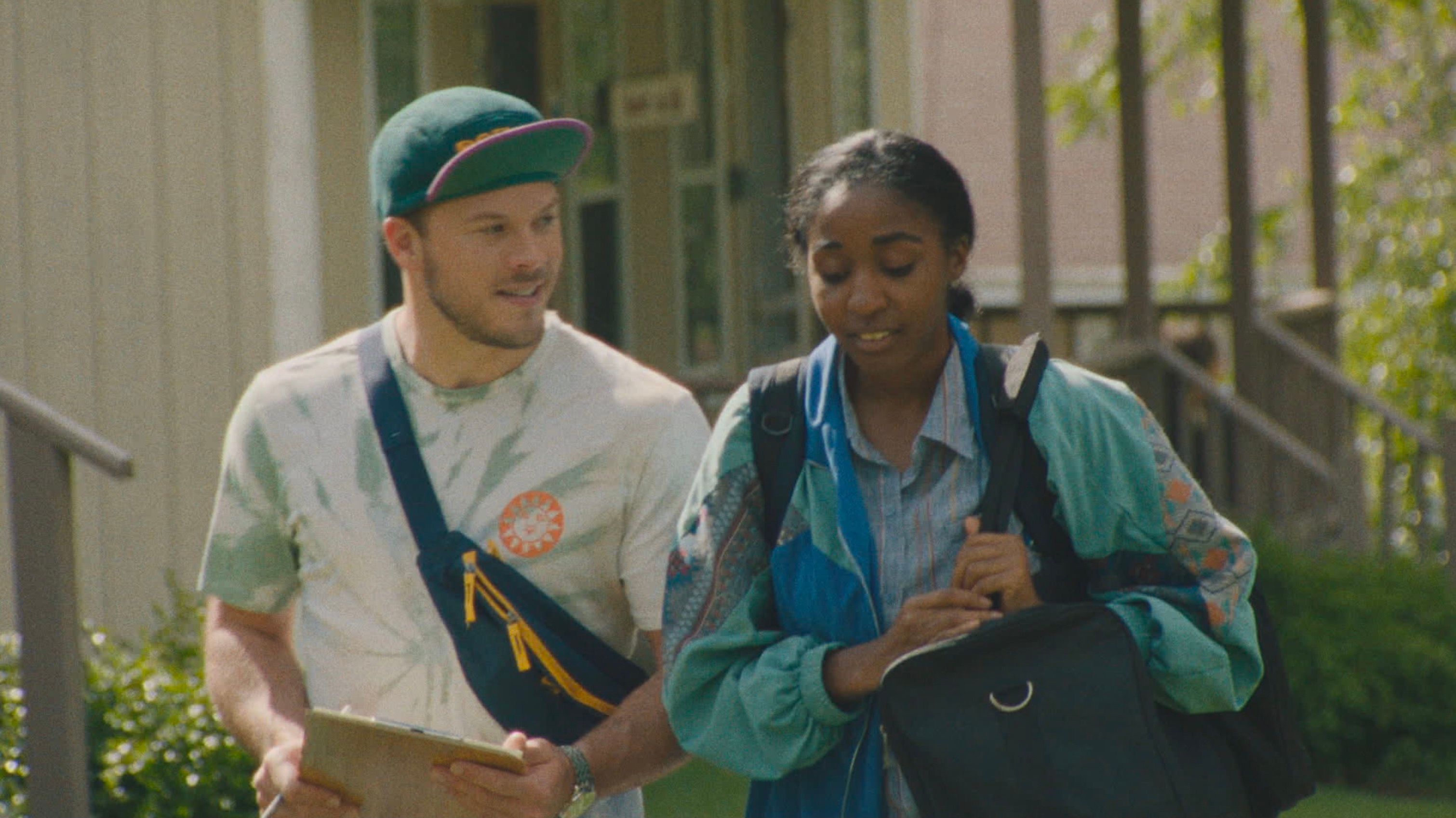 Troy is introduced in Theater Camp in a darkened room shooting a video for his YouTube channel explaining his new responsibilities. His mom, Joan (Amy Sedaris), was the founder of the theater camp AdirondACTS, and she always took care of the day-to-day responsibilities of the camp. Now that she's suddenly in the hospital, the camp is in Troy's hands. He's expressing nonchalance towards the new assignment and his slang, body language, and intentionally-irritating demeanor in this opening sequence all suggest somebody who's incredibly shallow. This sets the stage for conflict between Troy and the AdirondACTS staff and attendees. After all, he's an aggressive crypto-bro and they're "artists." Surely our sympathies will lie with the latter group and Troy will become an easy antagonist.
Instead, Theater Camp quickly reveals that long-standing counselors at the camp (namely Platt's Amos Klobuchar), are somehow even more egregiously self-centered than Troy. Theater Camp is not a film pitting the "jocks" against the "nerds." It's more like a Roald Dahl book where all the adults are vain idiots and the kids tend to be the ones with any sort of clue. In the middle of all this chaos, Troy finds himself unable to connect to any of the youngsters he's supposed to be leading. However, he does strike up a friendship with the extremely quiet and put-upon Glenn (Galvin). In one of his first conversations with Noah Galvin's Glenn, Troy is introduced to the concept of a "straight play" which inspires this "bro" to inquire what exactly a "gay play" is.
RELATED: 'The Bear' Creator Heavily Influenced Molly Gordon's Goals for the 'Theater Camp' Set
This exchange demonstrates Troy's comical cluelessness, but it also illustrates an element that makes Troy an unexpectedly nuanced character. This guy is confused and out of his depth in this environment, but he's not depicted as being cruel to the kids or counselors. It would've been easy to mark Troy as a villain and have him live up to the frat bro stereotype by making him aggressively homophobic or transphobic. Instead, he's genuinely curious about matters of "a straight play," immediately strikes up a rapport with the extremely queer Glenn, and seems chill with the various LGBTQIA+ individuals populating Theater Camp. It's a nice way to lend some layers of complexity to Troy and also feel realistic about the character's upbringing. After all, his mom ran a theater camp for decades. The idea of gay or trans people existing isn't anything new to him.
Troy Becomes a Character You Root For
Initially, Troy has no hopes of connecting with the kid characters of Theater Camp. In one of his first speeches to the camp, a youngster hackles him with the term "cis-het bitch!" and he's confounded by cliques that include a bunch of kids dressed like Bob Fosse. However, during a big social with a rival camp, Troy uses his DJ skills to finally form a bond with these children. Dropping a dance remix of "Give My Regards to Broadway," all the attendees of the camp hit the dance floor and boogie. Here, Theater Camp makes a nice effort to show how Troy's specific skills can intersect with the passions of people who seem so different from him. Much like certain scenes in Everybody Wants Some!!!, Theater Camp is advocating for people of radically different interests to come together, not be torn apart.
It is here, though, that the biggest example of cruelty between Theater Camp characters occurs. Fascinatingly, it's not about Troy getting aggressive with the other characters but rather Amos lashing out to Troy about "you don't belong here!" It's a brutal comment that reflects just how cruel Amos is and subverts initial expectations over who would become the "bully" of Theater Camp's story. It's also an interesting contrast to how Troy has been encouraging Glenn to come out of his shell. Troy sees a different soul and wants to bond with him, while Amos only sees Troy as an adversarial outsider. In the wake of this event, a distraught Amos accidentally hands over the entire cash-strapped camp to Caroline Krauss (Patti Harrison), which puts him in the doghouse once more with the veterans of AdirondACTS.
Here in this finale, Theater Camp gets to its inevitable "put on a show" moment as the kids try and perform a musical about the life of Joan. With this event, they hope to raise the money necessary to save their summertime home. In these final scenes, Troy begins to act a little bit more like a leader, including ditching his casual garments for more professional attire. However, the script deftly makes sure he hasn't entirely abandoned his initial starting point as a character. This is still Troy, a vlogger who loves crypto and tends to leap before looking, as seen by him inviting other vain internet personalities (with potentially fat wallets) to the event. However, the alterations to his wardrobe and subtle changes in his speaking style do suggest that Troy has come a long way.
Let's Not Forget How Good Jimmy Tatro Is Though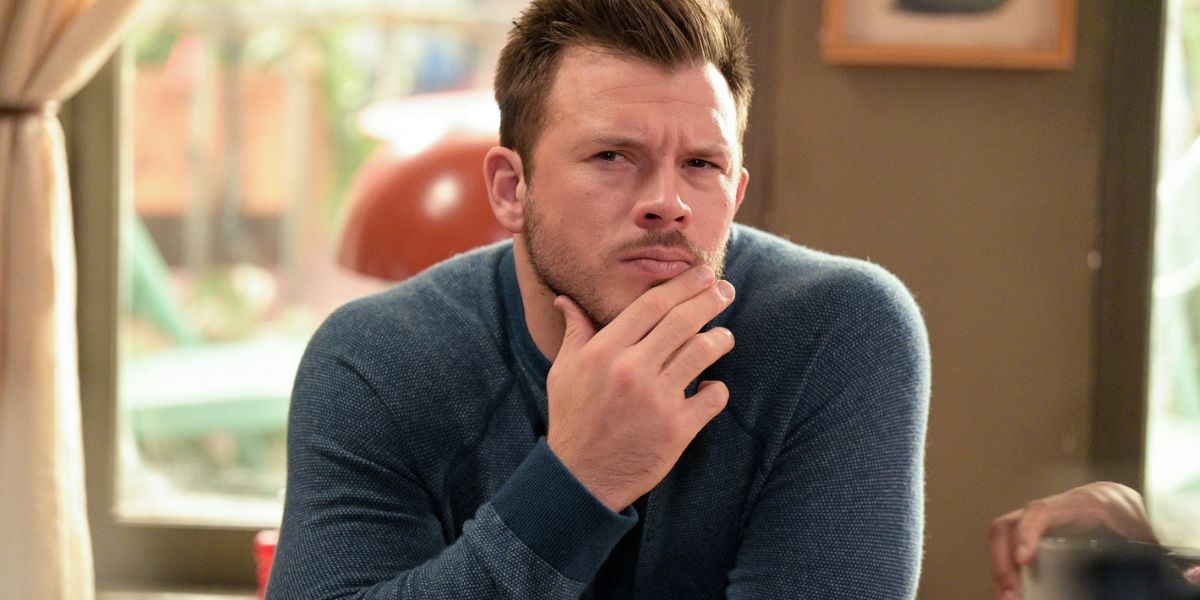 A lot of what works about Troy as an unexpectedly deep "bro" comes down to the writing of Theater Camp. But let's also not devalue the importance of Jimmy Tatro's performance is making this guy so much more than he initially seems. Tatro is himself a veteran of the YouTube vlogger world, which allows him to inject a real sense of authenticity into his depictions of Troy trying to be as savvy on social media as possible. Meanwhile, his lengthy experience in a wide array of comedy movies and TV shows (including a lead role on the first season of American Vandal) means that he's also got the comic chops to really nail Troy's best lines. There's an impeccable sense of timing in how Tatro portrays the cluelessness and enthusiasm of Troy. For proof of this talent, just watch the hysterical moment where his character gets so pumped over an auditioning kid singing a Post Malone ditty.
Even better, though, Tatro effectively handles quieter moments of pathos that do allow Troy to become a more fully realized character. Most notably, when Troy first stumbles on the rehearsals of the musical about his mom's life, he watches a number depicting his mom reacting to the birth of Troy. As he witnesses a portrayal of Joan crying out in joy "Troy! Troy!", Tatro deftly depicts flickers of sorrow intruding on Troy's typically "chillaxed" face. When we first see him in Theater Camp, Troy's role and eventual place in the movie seem inevitable. Thankfully, the film's script and Jimmy Tatro's performance take this guy to unexpectedly hilarious and even moving heights.