Although every one of It's Always Sunny in Philadelphia's protagonists are amoral criminals, Charlie Kelly (Charlie Day) is in many ways The Gang's most lovable member. Taking on the role of janitor at Paddy's Pub and totally accustomed to living in total filth and squalor, Charlie takes life in his stride and is usually far less cynical than his friends.
Although he is often equally responsible for the chaos The Gang causes, Charlie has a hyperactive energy and even less understanding of the world than the rest of The Gang, making him a consistently charming and hilarious character. From his interest in 'bird law' to his surprising musical talent, Charlie's passions have been responsible for some of the show's best moments and most iconic episodes.
10
"The Gang Exploits a Miracle" (S.2 Ep.7)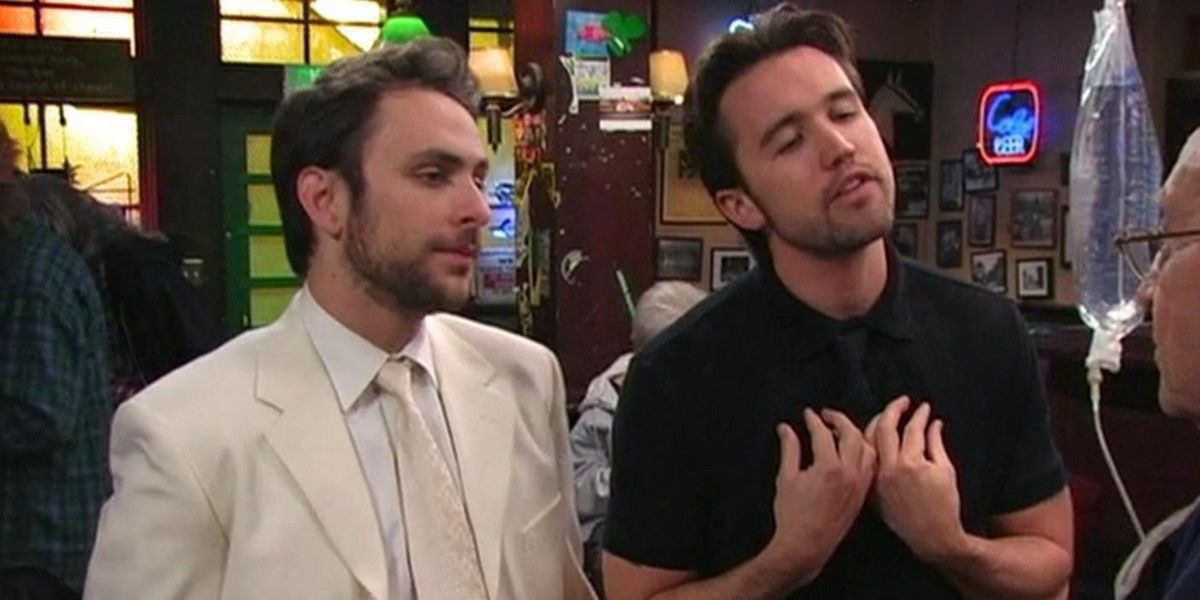 When Mac discovers a water stain in Paddy's that resembles the Virgin Mary, The Gang decide to exploit the opportunity to profit off of their personal 'miracle'. Charlie and Mac (Rob McElhenney) become highly invested in the religious pageantry of the event, taking on preacher personas and competing for attention and praise from patrons.
RELATED: This Is the Worst Thing the Gang Has Ever Done to Dee in 'It's Always Sunny in Philadelphia'
Mac and Charlie's rivalry is incredibly entertaining, especially when Charlie receives the most requests for blessings, considering Mac is sincerely Catholic. Singing that "the good lord is going down on me" and announcing that he is "gay for God" in an impromptu sermon, Charlie's penchant for performance and theatrics really shine in this episode.
9
"Charlie and Dee Find Love" (S.8 Ep.4)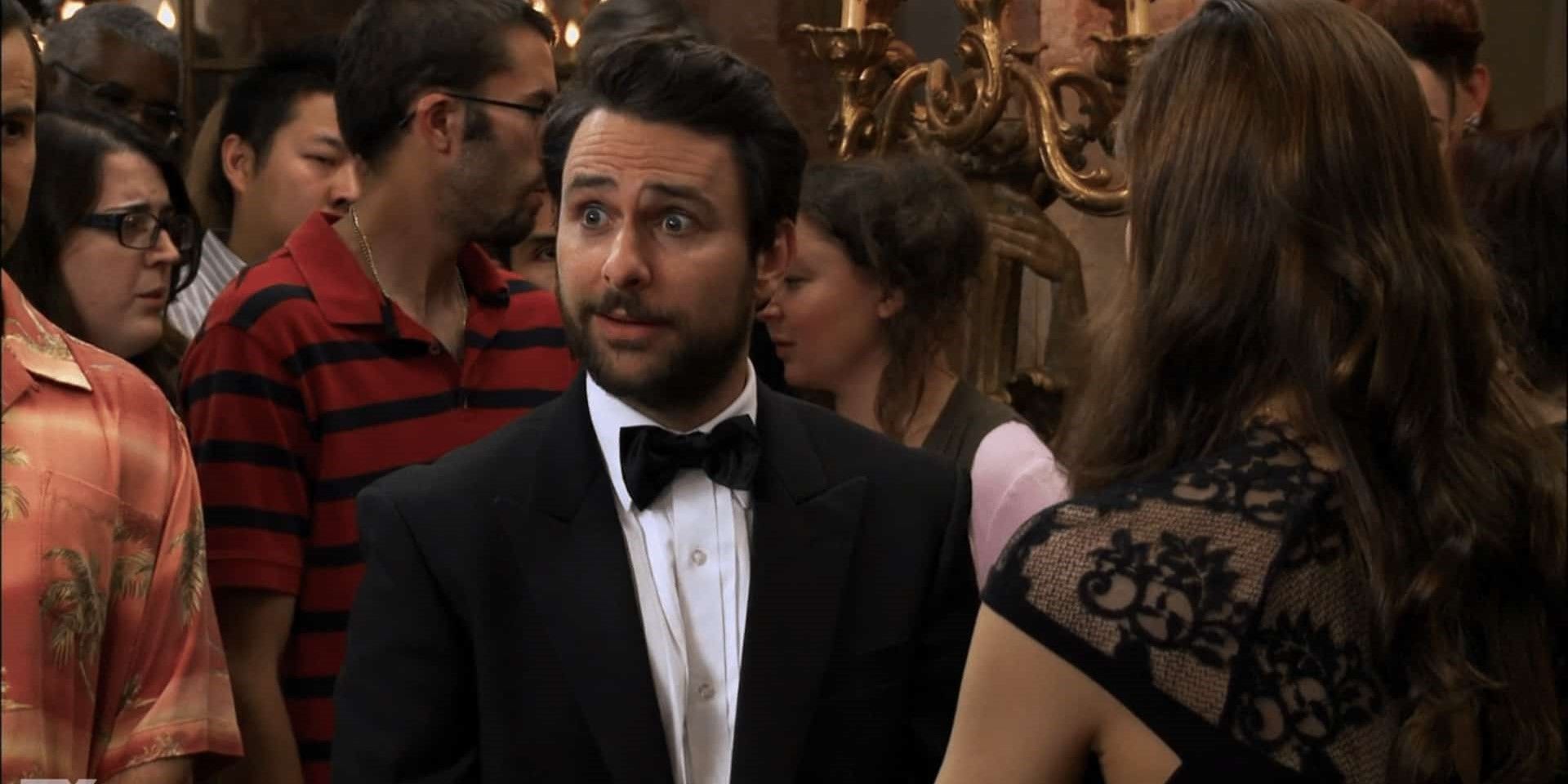 One of the few times Charlie's behavior is genuinely malicious, "Charlie and Dee Find Love" follows Charlie and Dee (Kaitlin Olson) as they begin romantic relationships with two wealthy siblings. Although Dennis (Glenn Howerton) and Frank (Danny DeVito) fear that Ruby (Alexandra Daddario) is going to break Charlie's heart, he reveals in the climax that he has in fact been simply using her to make The Waitress (Mary Elizabeth Ellis) jealous.
The episode explores the impact that Charlie's stalking has on The Waitress' life as well as giving us a glimpse of the successful romantic life he could have if he gave up on his obsession with her. Seeing Charlie take on a straightforwardly villainous role is surprising and dark and makes the episode one of Charlie's best.
8
"Flowers for Charlie" (S.9 Ep.8)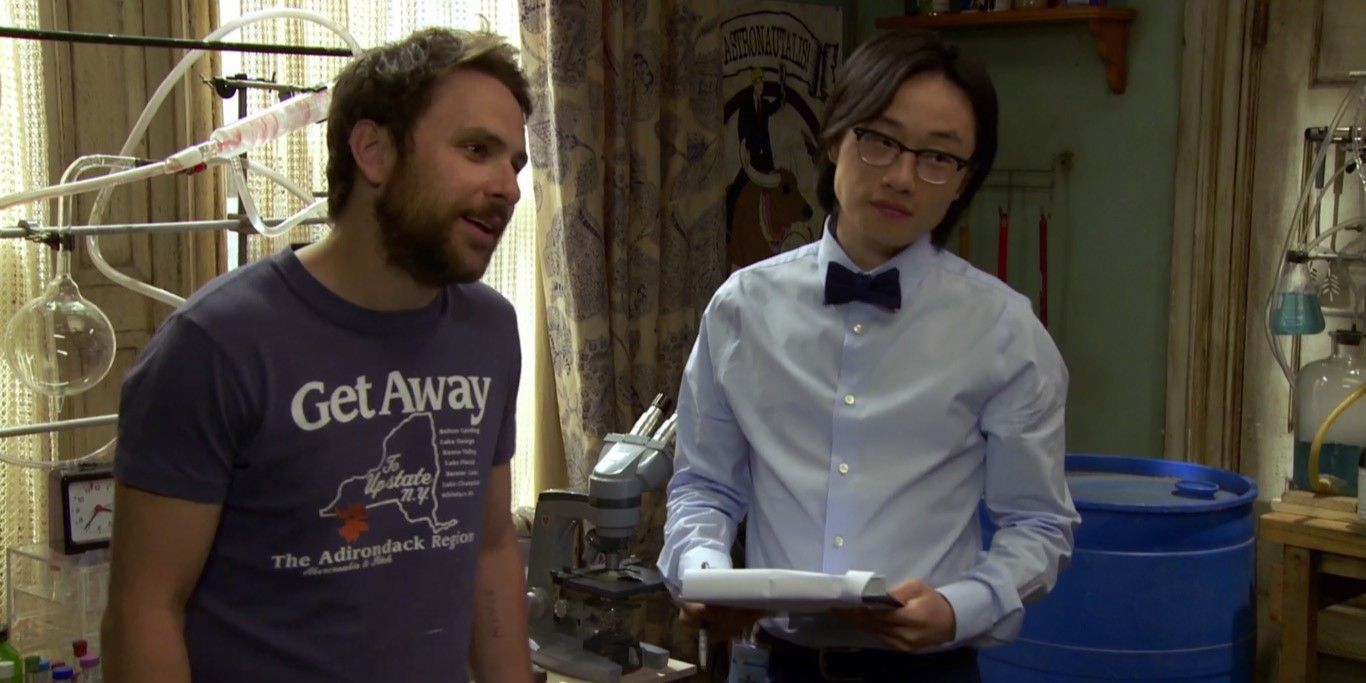 "Flowers for Charlie" depicts Charlie as the test subject in an intelligence experiment, given a pill reported to make people up to 7x smarter. Charlie begins to experience severe physical side effects including numbness and pain, but also begins listening to classical music, reading challenging books and learning Mandarin, all while the rest of The Gang struggles to perform his usual duties at Paddy's Pub.
RELATED: The 10 Best Guest Stars on 'It's Always Sunny in Philadelphia', Ranked
Written by Game of Thronesshowrunners David Benioff and D.B. Weiss, the episode is a very fun departure from the status quo of Charlie being perceived as unintelligent and low class. Additionally, the episode's twist ending completely recontextualizes Charlie's personality change in a hilarious way.
7
"Sweet Dee Has a Heart Attack" (S.4 Ep.10)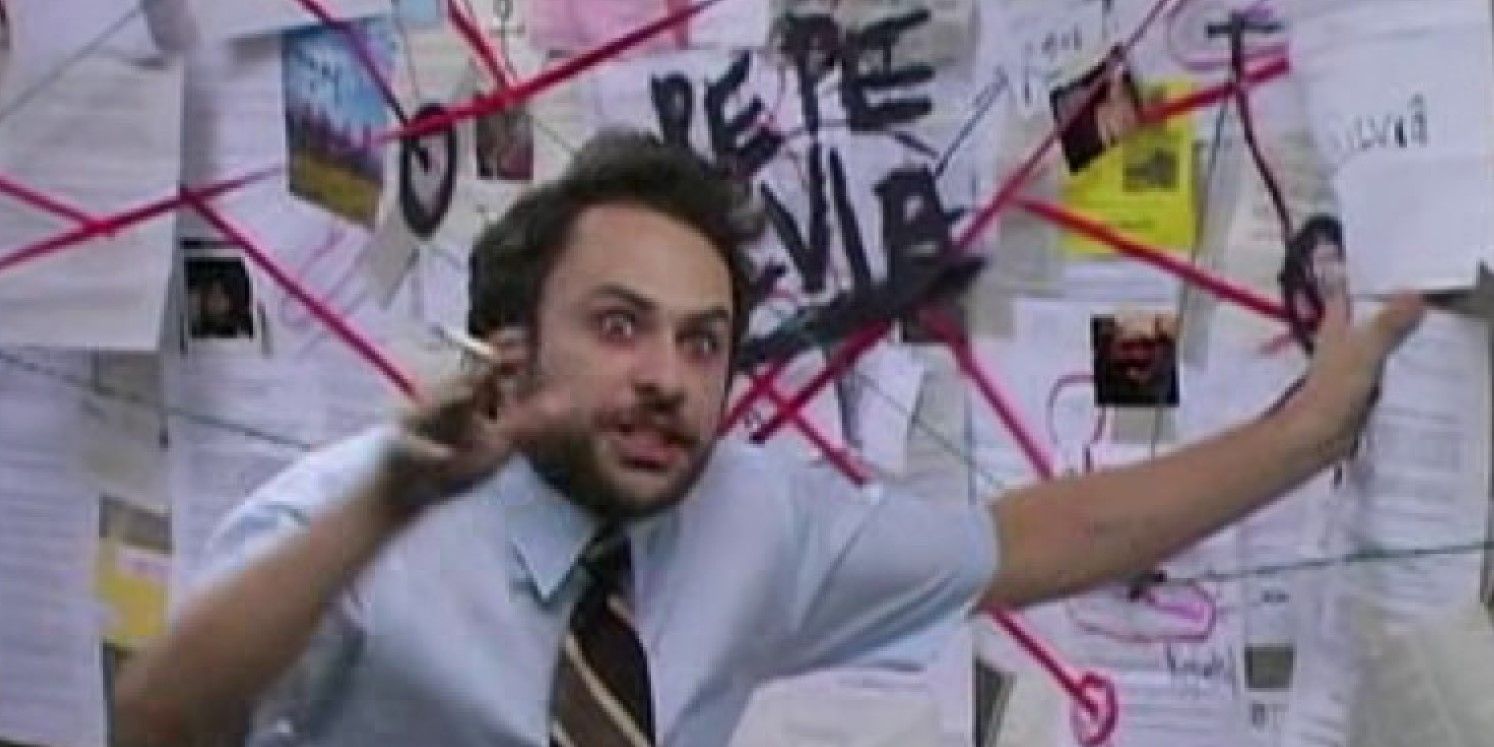 When Mac and Charlie begin working in a mailroom in order to get health insurance, Charlie takes the job incredibly seriously. Although he mostly incinerates the mail, Charlie becomes increasingly frantic about a conspiracy he perceives to be occurring revolving around a mysterious figure called 'Pepe Silvia'.
Charlie's resulting freak-out has been immortalized in internet meme form, as he stands red eyed and delirious in front of a giant detective-style pin board and delivers and presents his findings to Mac. The episode is without a doubt one of Charlie's best, with Charlie Day giving an incredibly impassioned performance as he rants about his increasingly unhinged ideas.
6
"Paddy's Pub: Home of the Original Kitten Mittens" (S.5 Ep.8)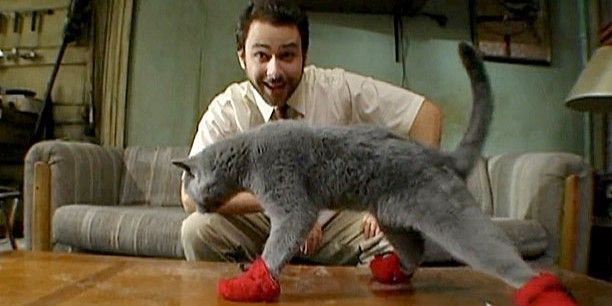 The Gang is notorious for their ridiculous business ventures, and Charlie's creation of Kitten Mittens is one of the very best. From the strange idea itself to Charlie's poorly made demo video, it's hard to get the concept and his awkward "Meow" out of your head.
The episode features a great team-up of Charlie and Dee as they mercilessly harass The Lawyer (Brian Unger) in an attempt to patent Kitten Mittens, culminating in him obtaining a restraining order against them. Full of hilarious moments, a list of Charlie's best episodes would be incomplete without "Paddy's Pub: Home of the Original Kitten Mittens".
5
"The Waitress Is Getting Married" (S.5 Ep.5)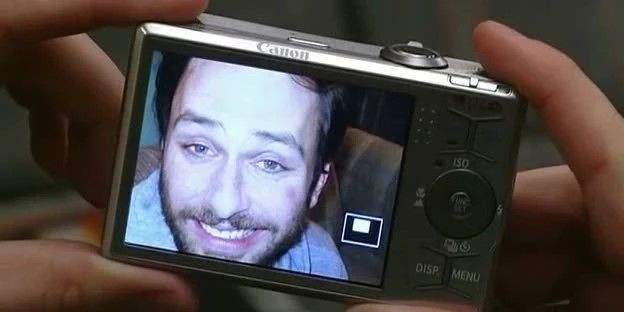 In "The Waitress Is Getting Married", Mac and Dennis make Charlie a dating profile in an attempt to help him get over his obsession with The Waitress. Describing his "likes" as "funny little green ghouls" and his hobbies as "magnets", Charlie is a hopeless candidate for online dating, so Mac and Dennis eventually give up and write his answers instead.
RELATED: The Best Scene in 'It's Always Sunny in Philadelphia' Is the Most Unexpected One
The episode features some of Charlie's funniest scenes, from the creation of his dating profile to the blind date he attends bleeding and drenched in sweat. Concluding with Charlie gifting The Waitress' fiancé (Nick Wechsler) a box of hornets as revenge, "The Waitress Is Getting Married" is an absolute delight for Charlie fans.
4
"Charlie Kelly: King of the Rats" (S.6 Ep.10)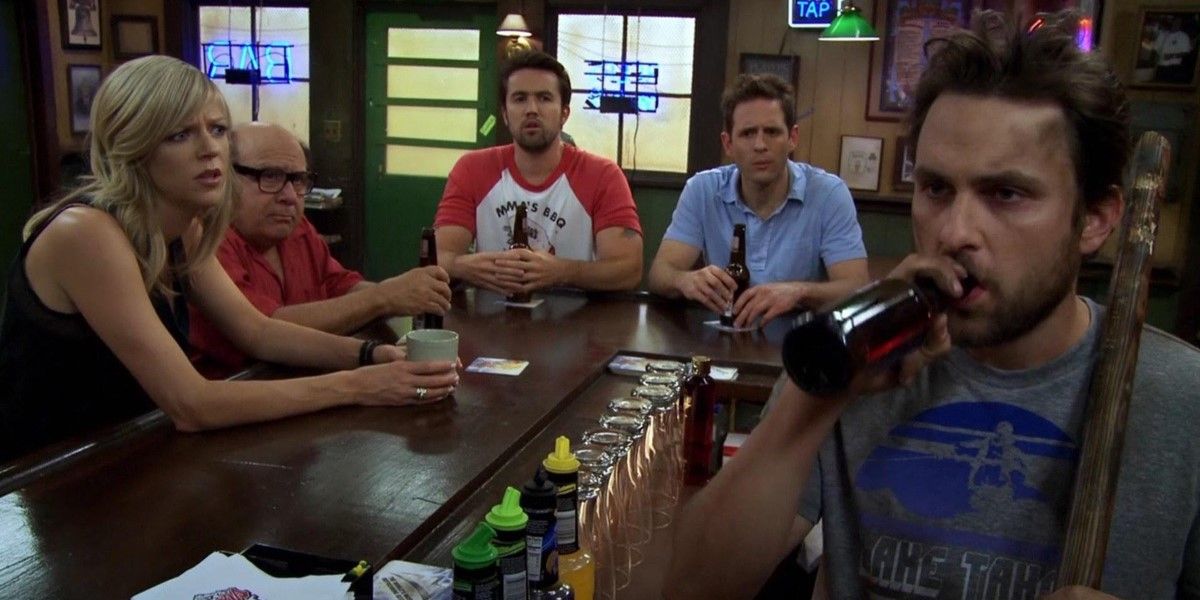 When Charlie appears traumatized by a particularly brutal day of rat bashing, The Gang decide to throw him a birthday party. Dee, Mac and Dennis all make him strange creations from his 'dream book' such as denim chicken and a bird with teeth, while Frank attempts to organize a luau with his friends from under the bridge.
This episode captures Charlie at his most Charlie, from the glimpses into his mind his "dream book" provides to his belief that a "spa day" must be referring to spaghetti. As one of the rare occasions The Gang actually attempt to do something kind for someone, this episode makes a bat covered in nails for more effective and lethal rat bashing look like a downright heartwarming present.
3
"Mac and Charlie Die" (S.4 Ep.5)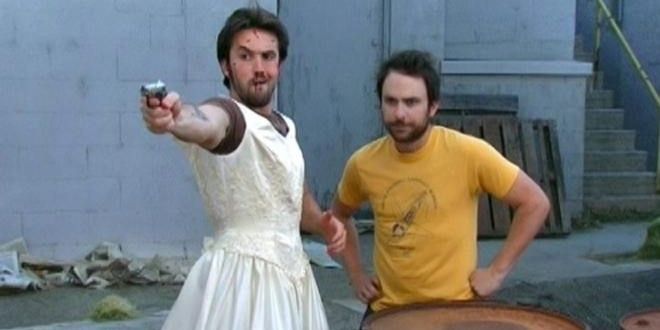 The two-part story "Mac and Charlie Die" follows Mac and Charlie as they fake their deaths out of fear that Mac's dad Luther (Gregory Scott Cummins) is trying to kill them. The episodes explore how the other members of The Gang cope without Mac and Charlie, with Frank even making a disturbing mannequin lookalike to replace Charlie, resulting in a surprisingly emotional moment.
RELATED: 'It's Always Sunny In Philadelphia': Frank Reynolds' Best Cold Opens
Watching Mac and Charlie crash a car into a wall and then attempt to make it explode with a hand grenade and a gun is uproariously funny and perfectly in character. With the examination of Charlie's importance to Frank's life and Mac and Charlie's bizarre execution of an already outlandish scheme, this two-part episode is one of the show's highlights.
2
"Charlie Work" (S.10 Ep.4)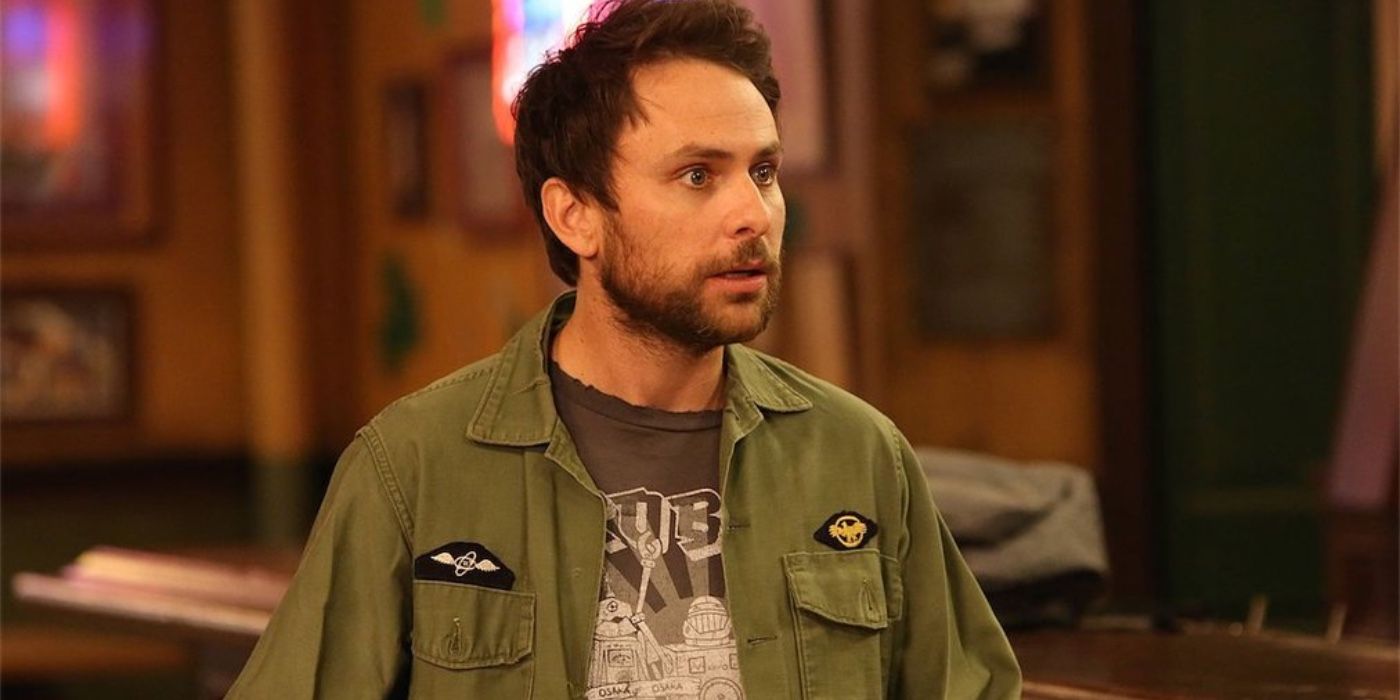 Widely considered to be the best episode of the series, "Charlie Work" follows a particularly chaotic day in Charlie's life as he attempts to juggle a health inspection at Paddy's with an absurd and complex scheme being run by the rest of The Gang. The episode shows in detail just how vital Charlie's labor is in keeping Paddy's Pub, and The Gang, even semi-functional.
Despite his usual manic behavior, the episode shows Charlie in the role of the straight man trying desperate to keep his friends in line, with Charlie Day capturing his stress flawlessly. Featuring an impressive sequence presented all in one take, "Charlie Work" is one of It's Always Sunny's most creative and impressive episodes, and is certainly one of Charlie's best.
1
"The Nightman Cometh" (S.4 Ep.13)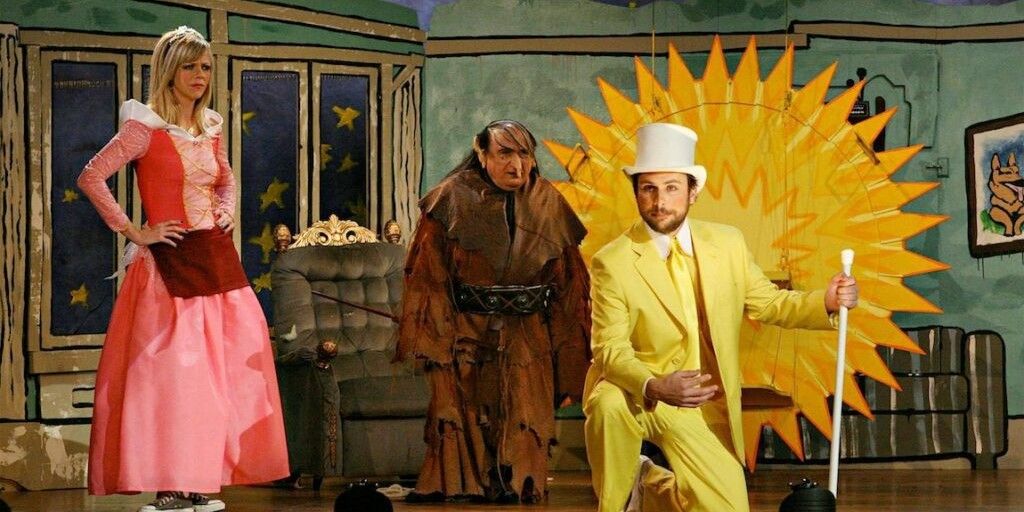 Fittingly, considering his musical abilities, Charlie's best episode is one of the series' only musical episodes. In "The Nightman Cometh", Charlie writes, composes and stars in a musical about a heroic figure called 'the Dayman'. In the episode's climax, Charlie reveals that the entire purpose of his musical production was in order for him to propose to The Waitress, whom he has been stalking for years.
The episode features many iconic songs and hilariously quotable moments from every member of The Gang, but Charlie really shines as the musical's passionate director. "The Nightman Cometh" showcases all of Charlie's most charming idiosyncrasies as well as his delusional and obsessive behavior, making it the quintessential Charlie episode.
NEXT: 'It's Always Sunny in Philadelphia': The Gang's 10 Most Outrageous Schemes