In the late 1990s Michael Eisner, the former CEO and Chairman of Disney, had one of his brilliant, harebrained ideas – to adapt several of Disney's most popular theme park attractions into a series of big-budget, "event" films. For years, the Disney Parks had been places that adapted or accommodated IP from elsewhere in the company. The parks are where attractions, live entertainment and themed dining could be found based on, among other things, Disney's latest animated marvel, the stars of a hugely popular soundtrack tie-in or, for a time, the soap operas that populated ABC's daytime programming line-up. This was a novel concept; Eisner would now be pulling ideas and characters out of the theme parks, which would then cause renewed interest in the attractions. It was a perfect, synergistic loop, the kind only Disney could engineer.
And for such a novel, exciting concept, the initiative didn't last very long. Barring the Pirates of the Caribbean movies (of which there are two additional entries being developed now), there hasn't been a theme park-based feature in more than five years (and even that film, Brad Bird's Tomorrowland, was only tangentially connected to the land that includes Space Mountain). It was also the only project that wasn't green-lit by Eisner's administration and the cluster of activity around the turn of the millennium.
Hopefully, there will be additional features based on theme park attractions in the not-too-distant future (ready to share my ExtraTERRORestrial Alien Encounter script) and that the current Disney leadership will understand that without original properties developed for the parks, there will be no opportunity for these kinds of exciting reverse adaptations.
10. The Country Bears (2002)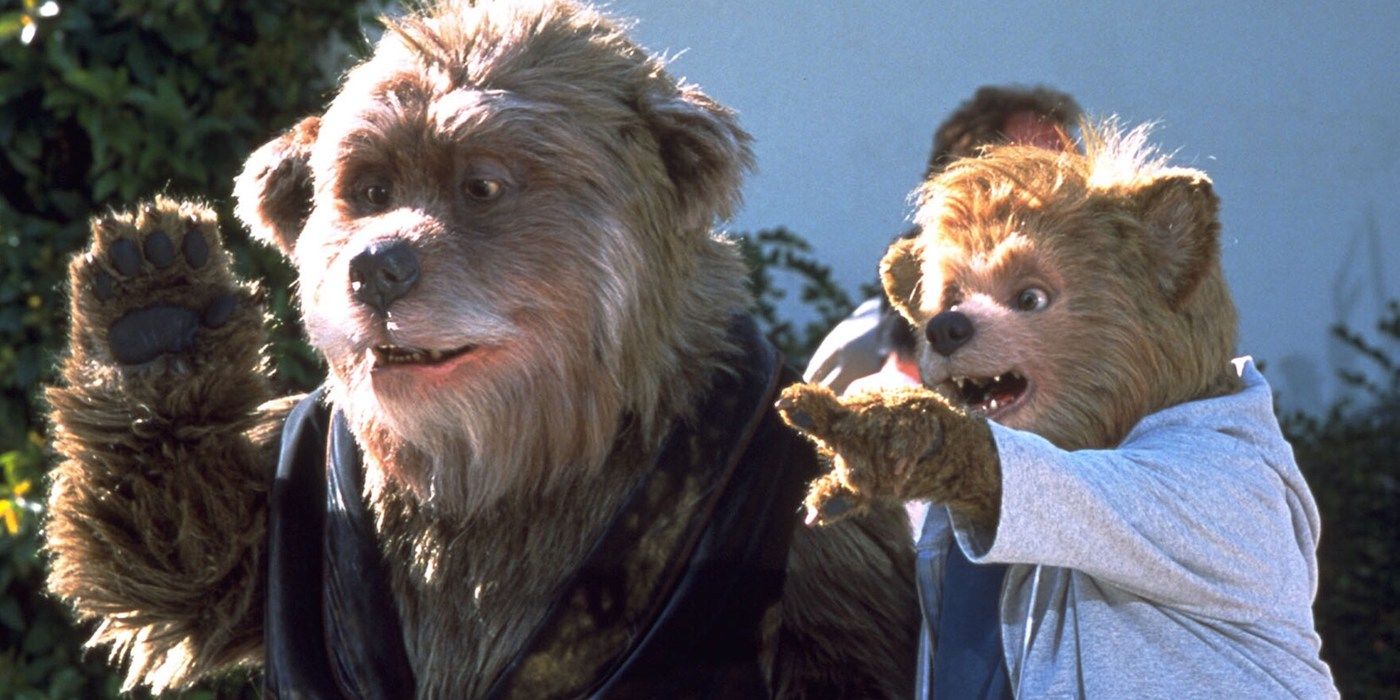 To tell you how little the Disney Company cared about The Country Bears movie (and how little it believed in its own unparalleled synergistic marketing abilities), the Country Bear Jamboree attraction in Disneyland closed a few months before the movie opened. The concept behind Country Bears is pretty good – the movie images the Country Bears as a popular hillbilly rock band who went their separate ways and now their old home base/music hall is being earmarked for demolition by an unscrupulous banker (amazingly played by Christopher Walken). In order to save their venue, they team up with a young bear (voiced by Haley Joel Osment) and go on a cross-country road trip to collect the other members of the band. But the execution is so slack, with several uninspired musical numbers (with everyone from Brian Setzer and Elton John) and only a tenuous connection to the original, thoroughly entertaining attraction (originally planned for Walt's canceled Mineral King ski resort, it wound up an inaugural attraction at Walt Disney World's Magic Kingdom), including a passing mention of the bears characters there (mercifully, Big Al is represented in the movie).
There are, surely, things to enjoy in Country Bears, including a genuinely gonzo performance by Walken and impressive audio-animatronic characters courtesy of the Jim Henson Creature Shop which would have been even more impressive if they had drawn more heavily on the original Marc Davis designs. But the overall aesthetic is so unappealing and the direction so slack that it's hard to have much fun, even in a bizarro wtf-is-happening early-2000s time capsule way. What is fascinating is that director Peter Hastings never directed another feature film but he did direct the pre-show film for Mission: SPACE, starring Gary Sinise, which was based in part on another movie on our list. We should just be thankful that Country Bears didn't kill the based-on-a-theme-park-attraction initiative before we got Pirates of the Caribbean.
9. Mr. Toad's Wild Ride (1996)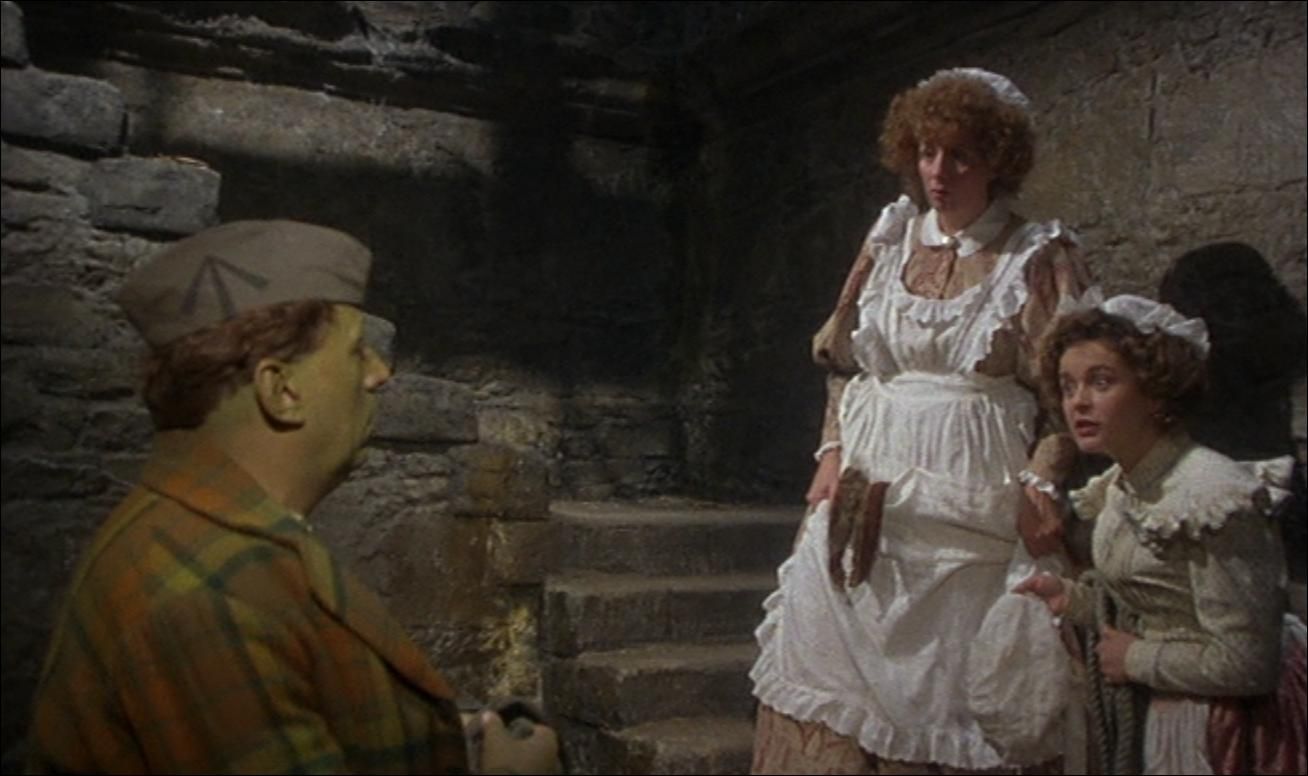 This one is kind of a cheat. When Mr. Toad's Wild Ride was first released stateside in 1997 it was under its original, British title – The Wind in the Willows. But Disney didn't do much to market or even distribute it really; it only played in a handful of theaters for a few weeks. When they finally released it on VHS (and later DVD) they changed it to Mr. Toad's Wild Ride and even packaged it with other based-on-theme-park-attraction titles like The Haunted Mansion and The Country Bears (I should know, I bought the little box set). Like the original attraction, the movie is based on the turn-of-the-century novel by Kenneth Grahame, and the cast is comprised of the remaining members of Monty Python (minus Terry Gilliam, who was too busy filming 12 Monkeys to participate) in little-to-no make-up, even though they're all playing anthropomorphic animal characters. (Terry Jones, who also wrote and directed the movie, plays Mr. Toad and is merely smeared with green paint.)
There is definitely an emphasis on Mr. Toad's automobile obsession and much of Disney's marketing for the movie (on home video anyway) focused on this element to draw more direct parallels between the movie and the attraction. But this is a relatively small portion of the actual film, which is at turns both charming and exceptionally annoying, with a truly abhorrent aesthetic and sub-BBC special production values. (Some of the songs, like the creepy "Secret of Survival," sung by the Weasels, are strange and memorable, like something out of Jim Henson's Labyrinth. Others … are not.) The movie was warmly reviewed upon its initial release, with critics wondering why it wasn't more enthusiastically marketed or shown. But really this seems like an oddity lost to time that is exactly where it belongs.
8. The Haunted Mansion (2003)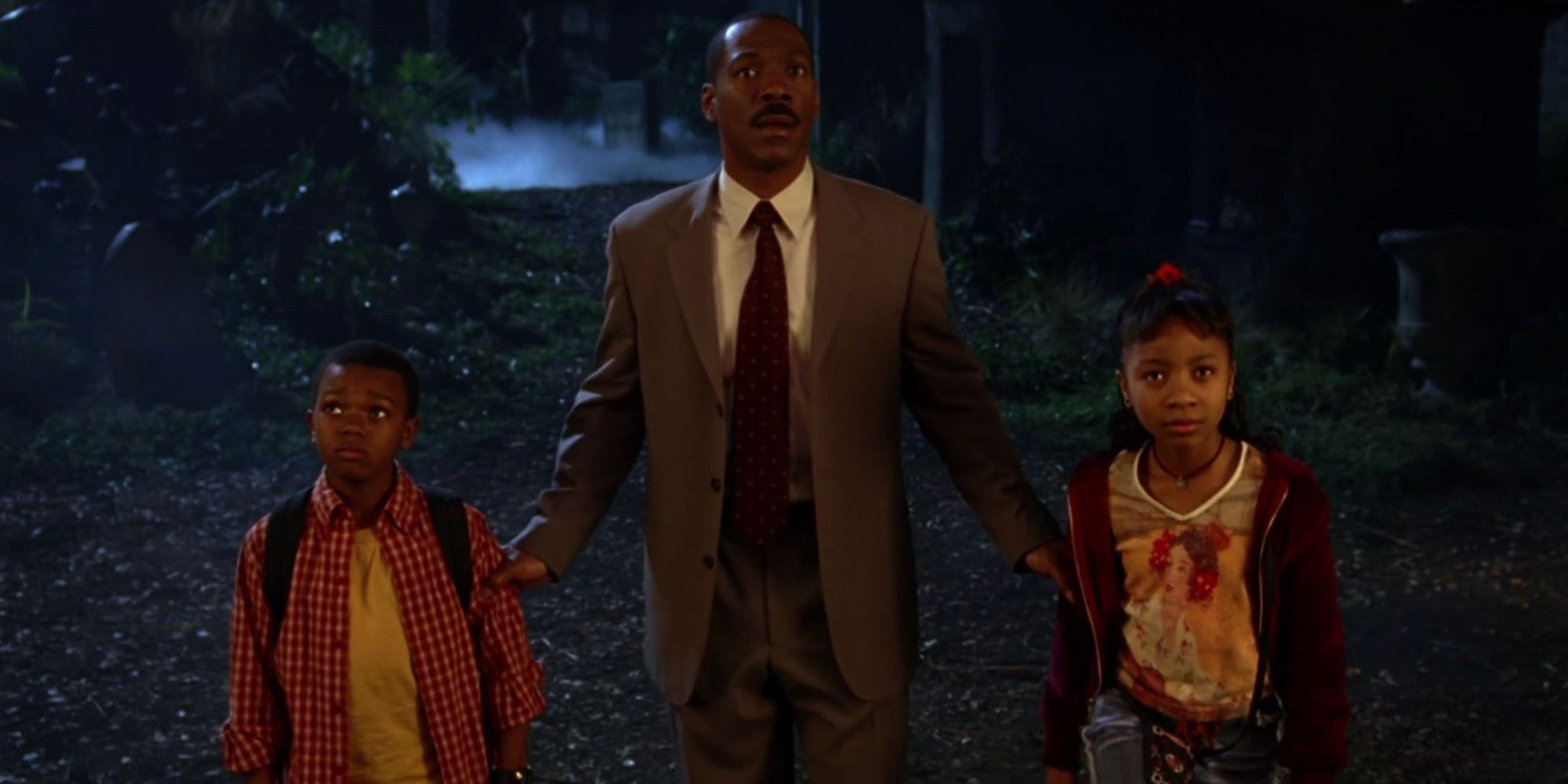 Disney had tried to make something out of The Haunted Mansion, one of the last theme park attractions that Walt Disney was personally involved in (it opened several years after his death in 1969), for a while. At various points, it has taken the form of a Disney Channel Original Movie (or DCOM), Halloween special and, finally, a live-action theatrical film. Without Eisner's initiative, The Haunted Mansion probably would still be stuck in development hell (like Guillermo del Toro's remake, first announced in 2010). Unfortunately, the Haunted Mansion that we got is far from the film we deserved. Part of Eddie Murphy's run of middle-of-the-road family-friendly films, he stars as a workaholic real estate agent who gets seduced into putting the creaky manor on the market and then drawn into a convoluted ghost plot that involves, in Murphy's words, a ghost "getting jiggy with my wife." Directed by The Lion King filmmaker Rob Minkoff, who limply attempts to bring several of the key moments and characters from the attraction into the realm of big-budget live-action filmmaking with decidedly mixed results.
There is one fun moment where Murphy and his children are driven through the graveyard, where a number of gags from the ride are faithfully recreated (including an extended bit with the hitchhiking ghosts) and Jennifer Tilly is a hoot as Madame Leota (the fortune teller whose head resides within the magic ball). And while there are some committed performances (from people like Terence Stamp and WallaceShawn) and frequently stunning Rick Baker make-up effects (there's a great scene where Murphy and his daughter are being attacked by ghouls), the frantic pace and find-the-widget plot mechanics are a real bummer. (The screenplay by Elf's David Berenbaum acknowledges pieces of the storyline from the original attraction but doesn't offer any interesting exploration of the mythology that has made it a favorite for over 50 years.) Also, spoiler alert, at the end Stamp gets eaten by a fire dragon and dragged to hell. Del Toro's movie, at one point starring Ryan Gosling, would have set things right. Sadly it remains a haunting what-if.
7. Tower of Terror (1997)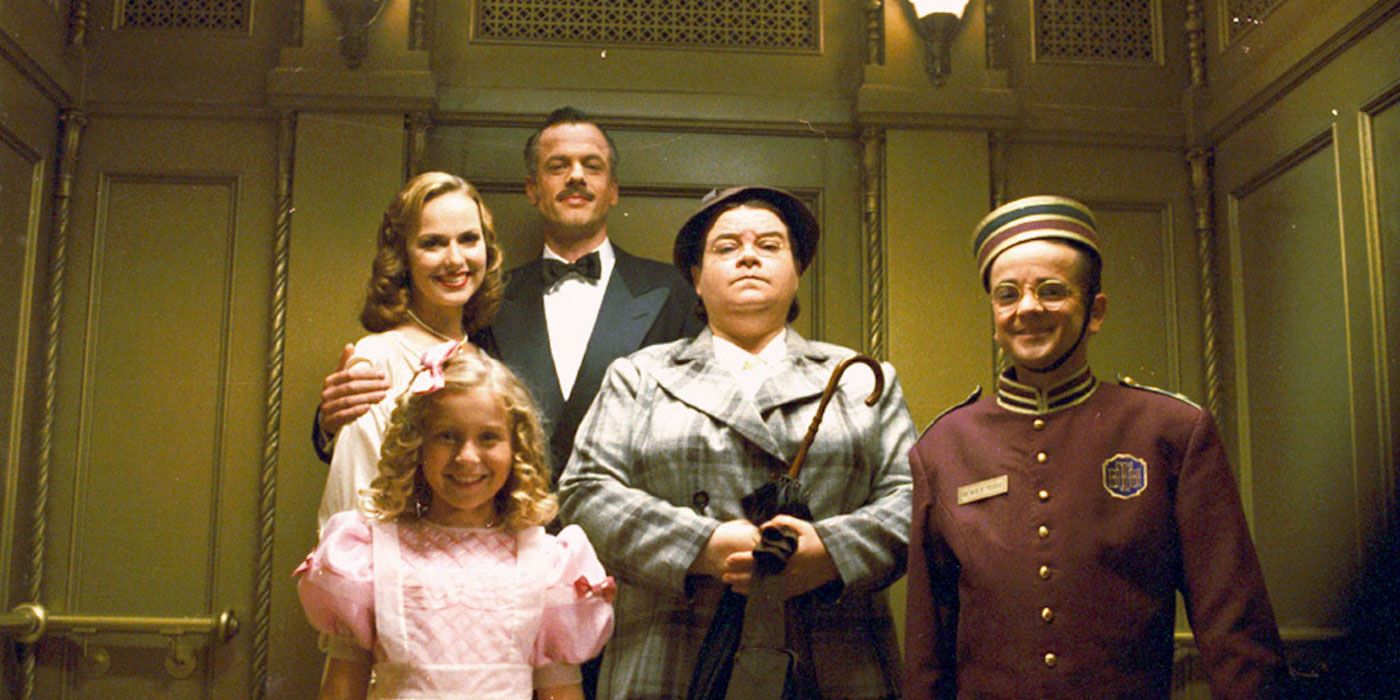 Dopey and earnest, Tower of Terror originally aired as a special episode of the revived Wonderful World of Disney for Halloween 1997. It was the very first film based on a Disney theme park attraction. (This also means that it was probably prefaced by a silly Eisner intro but, dear reader, I have yet to track that down.) Tower of Terror is based on The Twilight Zone Tower of Terror attraction in what was then Disney-MGM Studios in Walt Disney World which had opened just a few years earlier, although the movie totally disregards any connection to the Rod Serling classic, instead focusing on a tabloid reporter (Steve Guttenberg) who teams up with his young niece (Kirsten Dunst) to get to the bottom of a Hollywood ghost story – the disappearance of several unlucky souls on Halloween 1939. The opening sequence, set in 1939, approximates some of the key visuals from the ride's pre-show – a swanky hotel, an odd group in an elevator car that is struck by lighting, sending the riders into an alternate reality (no longer the Twilight Zone) and it's really quite fun. The modern-day mystery is less inventive and visually remarkable; instead of being a young girl one of the characters that disappeared in 1939 is actually a Shirley Temple-style child star, and there's evidence that the lighting strike was brought on by (of all things) black magic. (Parts of the movie were filmed at the attraction in Florida; for a while Disney-MGM was marketing itself as a working film studio.)
Harmless Halloween-time fun, Tower of Terror is the only film based on a theme park attraction that had a more prestigious filmmaker helm the attraction's pre-show. Joe Dante, of Gremlins and The Howling fame, directed that pre-show, in the form of a faux episode of The Twilight Zone (he helmed one of the segments of the Twilight Zone: The Movie) and it's amazing. Supposedly John August is working on a new version of the concept. Is it too late to assign directorial duties to Dante?
6. Dinosaur (2000)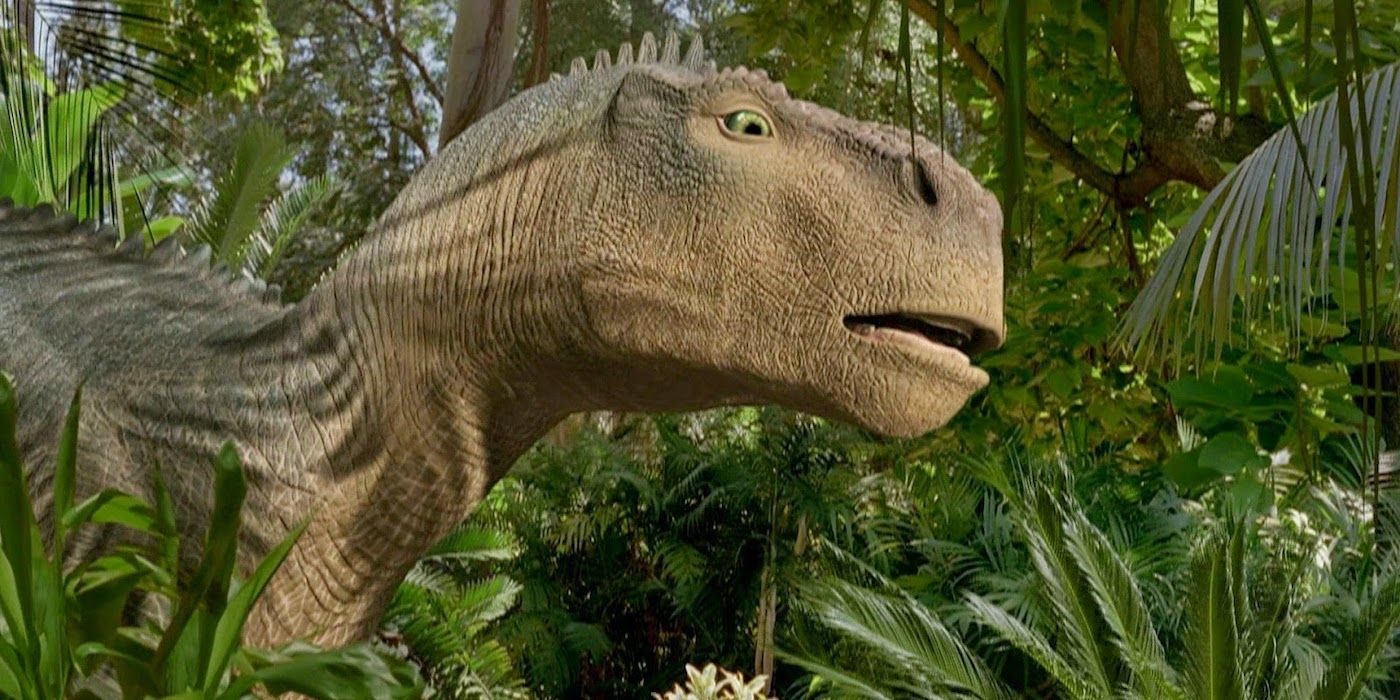 "But wait Dinosaur isn't based on a ride!" you're undoubtedly screaming. Except, yes, it was. Countdown to Extinction opened at Disney's Animal Kingdom along with the rest of the park in 1998 and for a while the movie and the attraction were being developed simultaneously, with Eisner eying the movie as a cornerstone for the new theme park's marketing campaign. At one point Dinosaur was even titled Countdown to Extinction and after the movie was released, the attraction was renamed Dinosaur! The two don't share much connective tissue, although the attraction was slightly reworked after the movie was released in 2000, adding more emphasis on the Aladar character (footage from the film was integrated into the pre-show and a giant statue outside the attraction was replaced with a replica of the character; the original statue is way cooler but sadly is only seen if you go backstage). The movie is way less exciting than the ride, save for a breathless, dialogue-free prologue that is just as beautiful as the opening to The Lion King (yeah I said it). The rest of the movie, which combined photo-real dinosaurs and lemurs (handled by Disney's short-lived animation unit/effects house The Secret Lab) with live action plate photography, was a fascinating experiment but it was saddled with a weak storyline that let you cold, emotionally, which is saying something considering the characters were facing down literal extinction. Also, Countdown to Extinction is a much cooler name for an attraction – it's a shame they changed it to the more generic Dinosaur.
5. Mission to Mars (2000)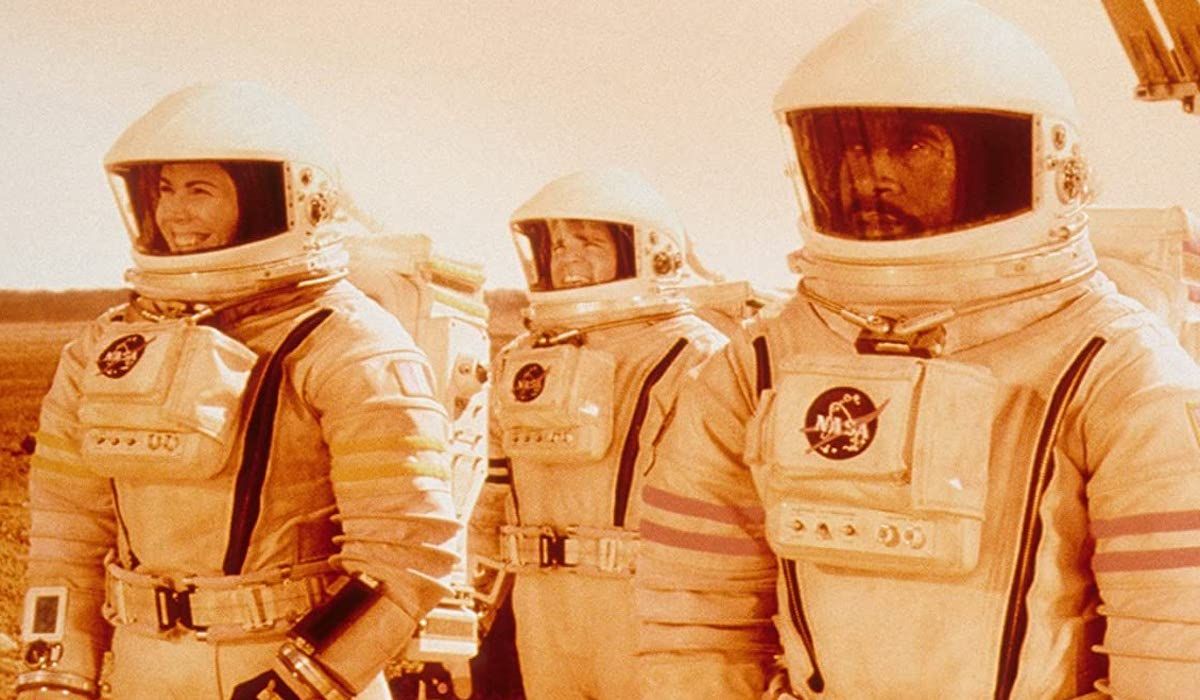 Mission to Mars is unique in the Disney theme park-to-feature film transition for a number of reasons. For one, it was the first theatrical film to be released utilizing the concept (Tower of Terror was a TV movie and Mr. Toad's Wild Ride went straight to video). For another, it was based on an attraction that was no longer operating in any of the Disney theme parks. (The attraction, a pseudo-redo of Flight to the Moon closed at Disneyland in 1992 and Walt Disney World in 1993.) It also has the unique place of inspiring an entirely separate attraction, EPCOT's Mission: SPACE. That new attraction featured props and screen-used vehicles from the film (including the big cylindrical fuselage from the Van Halen "Dance the Night Away" sequence) and had a pre-show that featured Gary Sinise, essentially playing his character from the movie (he was replaced by Gina Torres in 2017). And the Mission to Mars movie, nimbly directed by Brian De Palma is an underrated romp, an adventure to the red planet that is thrilling and fun and sort of dopey too (but in an earnest, admirable way). Sinise leads a team of astronauts (including Tim Robbins and Jerry O'Connell) as they travel to Mars to rescue their stranded colleague (Don Cheadle). The set pieces are, of course, expertly crafted – from a sentient tornado on the surface of Mars to a nail-biting space walk sequence (all scored by Ennio Morricone's organ-heavy instrumentation, years before Hans Zimmer did the exact same thing on Interstellar). Mission to Mars' emotional climax is undercut by some crummy effects and a truly laughable alien design (De Palma claims they simply ran out of money). But the movie's optimistic outlook on the future, emphasis on space travel and mixture of science and science fiction were hallmarks of the original attraction – and Disney's vision for Tomorrowland in general. Mission to Mars never got the appreciation it deserved. But there's always tomorrow.
4. Tomorrowland (2015)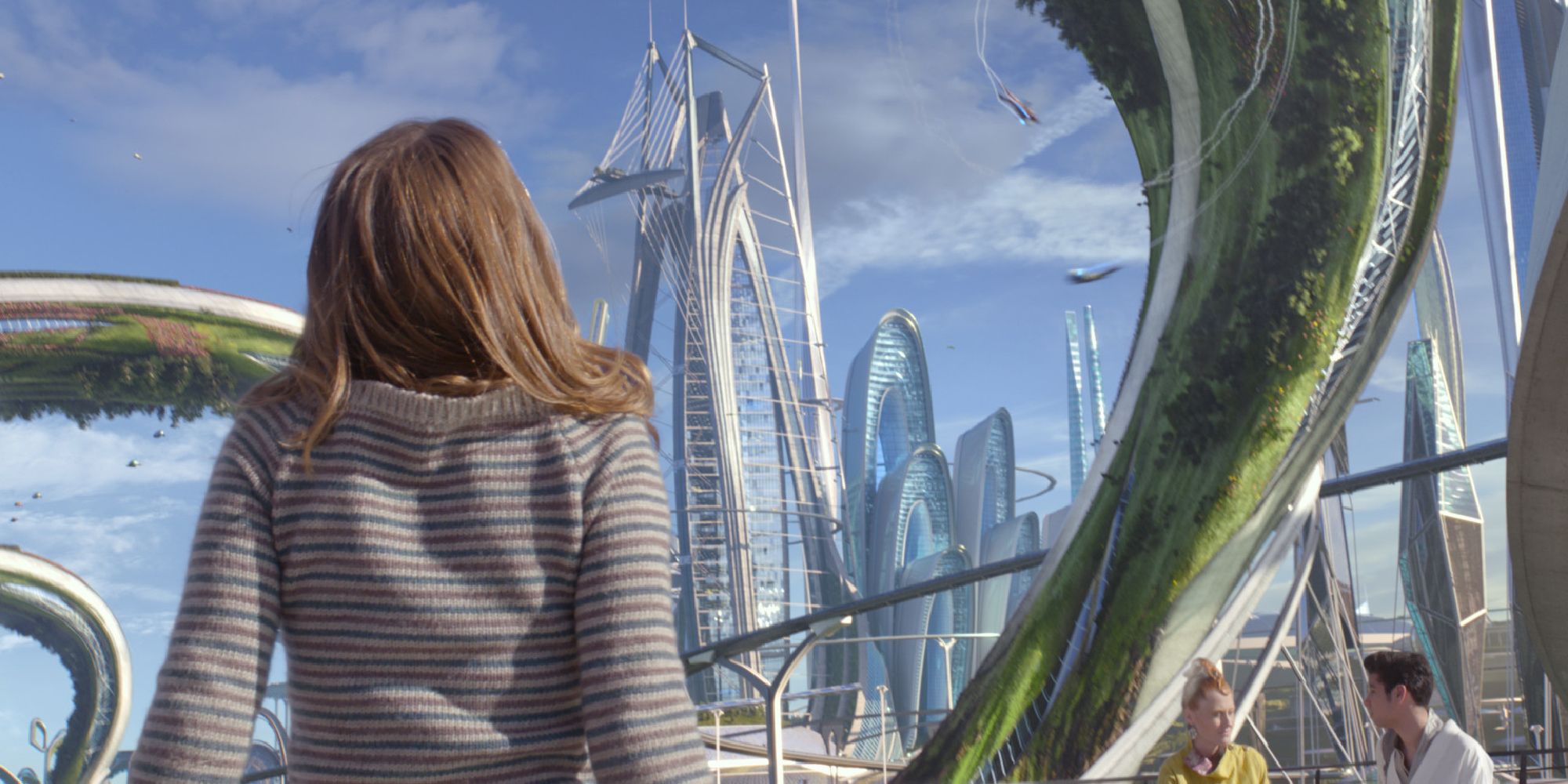 None of the other films based on Disney theme park attractions have ever acknowledged Walt Disney or the theme parks. But Tomorrowland, tangentially based around the fantastic, futuristic section of Disney "castle parks" since the opening of Disneyland in 1955, does. In the world of the film, Walt Disney was an exclusive member of a group of futurists called Plus Ultra, who created an alternate reality where artistic ambition and technological experimentation could flourish without the interruption of capitalism or politics. One of the gateways to this utopian society was located in the it's a small world attraction at the 1964 World's Fair, which is where the story begins (making Tomorrowland the only theatrical based-on-a-Disney-theme-park-attraction movie to have filmed inside Disneyland and Walt Disney World's Magic Kingdom). One minute you're observing childlike dolls singing a song of peace the next you're zapped to a sleek world full of robots and rocket ships.
Writer/director Brad Bird and co-writer Damon Lindelof position Tomorrowland as less of a physical location and more of a philosophical ideal, with precious little time spent in the actual space (save for a thrilling, super-long shot). But once we're there, it is pretty exciting, and you can see architecture reminiscent of the original design of Disneyland's Tomorrowland, as well as iterations from the subsequent revamps of the land (including one in 1975 in the Magic Kingdom and 1977 in Disneyland where Space Mountain was added). It's a film that is brilliant and frustrating all at once. While the small world sequence remains, any direct homage to Walt or the theme parks was oddly removed (you can still see the sequence in the deleted scenes; it takes place at the retro junk shop). In many ways, Tomorrowland is slightly aloof and a little too brainy for its own good. And George Clooney, as an exiled inventor who longs to return to Tomorrowland, feels like every theme park obsessive in the year 2020. Ah, but for the taste of a Mickey ice cream bar and a ride around Space Mountain.
3. Jungle Cruise (2021)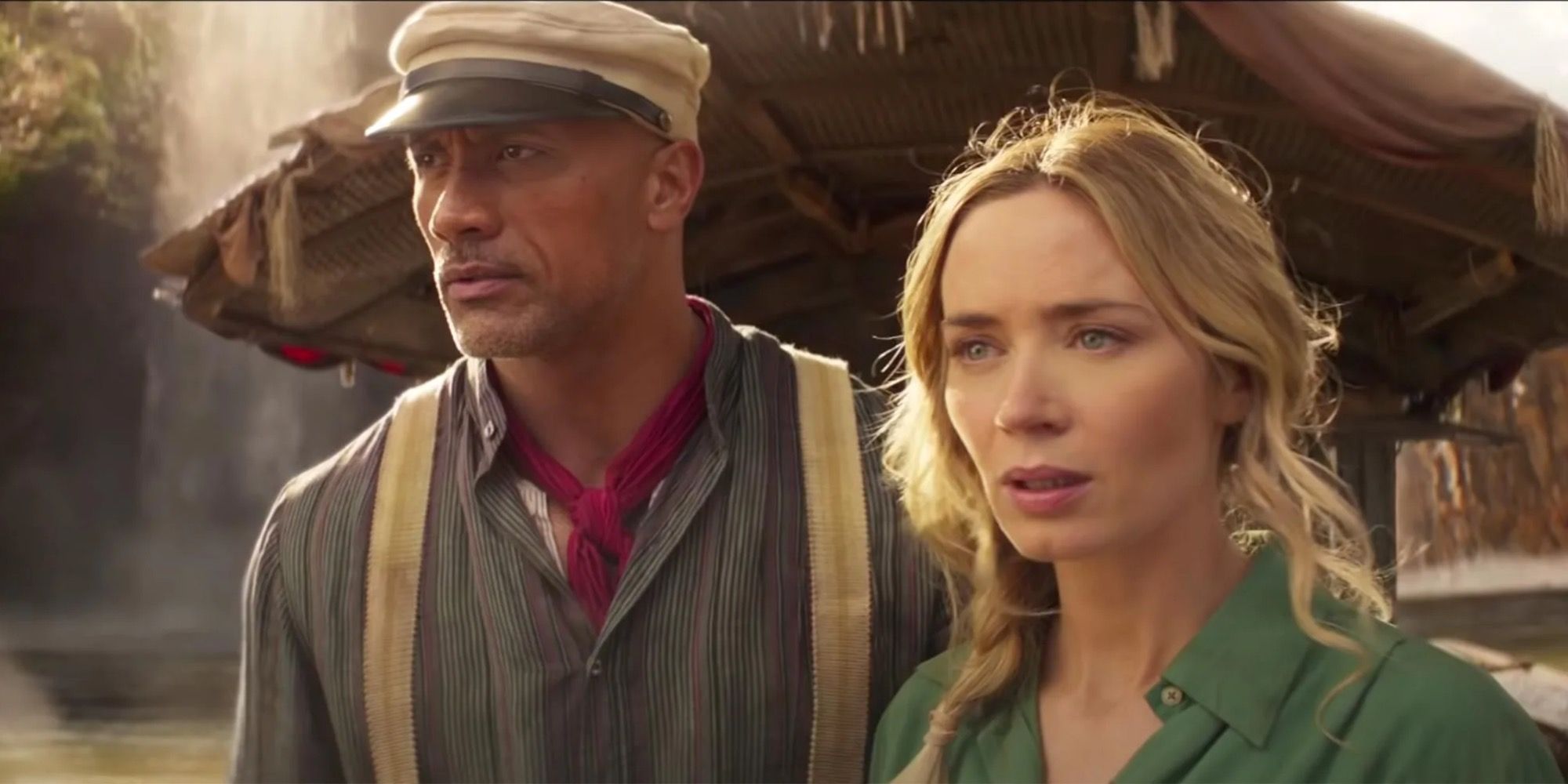 An opening day attraction at Disneyland, Jungle Cruise has made its way to four different parks over the years, and the cheesy jokes and animatronic wildlife make this still a favorite Disney ride after almost seventy years. Much like Pirates, Jungle Cruise takes the basis of what worked in the ride and mostly succeeds at expanding this into a big-screen adventure. Skipper Frank Wolff, played by Dwayne Johnson, is quick with the terrible gags, and together with Emily Blunt's Dr. Lily Houghton, the two create a dynamic that is like a more action-oriented The African Queen—which was also a major inspiration for the ride itself. Jungle Cruise does occasionally go off the rails, exploring immortal curses, the Tree of Life, and kind of sort of maybe introducing Disney's unifying universe of explorers known as S.E.A. But to balance that out, Jungle Cruise is often as quirky and silly as the ride, with Jesse Plemons as a bonkers German prince, and the absurd Nilo Nemolato, played by Paul Giamatti with a cockatoo. Jungle Cruise might not be as incredible as the backside of water, but it's not a bad adaptation of this silly river adventure. — Ross Bonaime
2. Haunted Mansion (2023)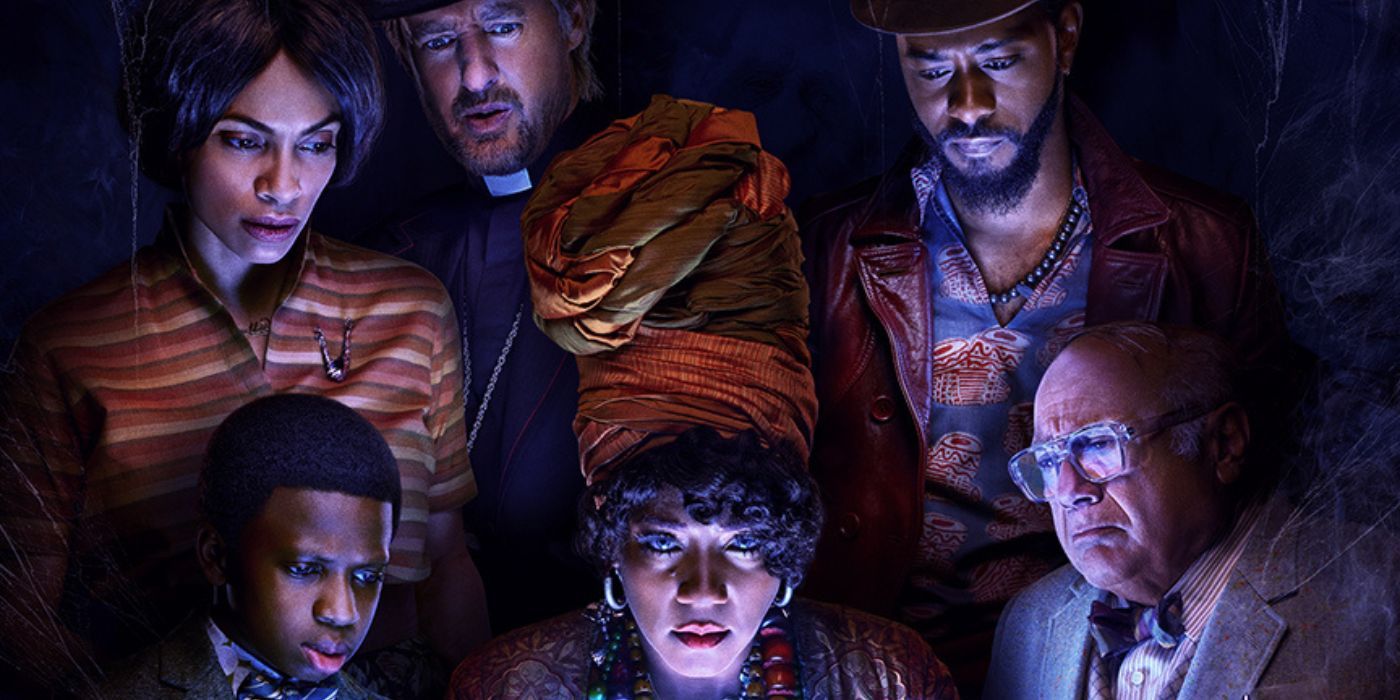 The ride so nice, Disney attempted to adapt it twice. For fans of the ride, 2003's Haunted Mansion certainly left much to be desired, but Justin Simien's 2023 adaptation has a lot of fun bringing these 999 happy haunts to life. Simien—who used to work at Disneyland—and writer Katie Dippold, both show an affinity and love for the ride, making this not feel like a collection of Easter eggs, but rather, fitting beloved favorite moments into a film that expands the lore of this excellent ride. And while Haunted Mansion certainly has the Hatbox Ghost (Jared Leto), the terrifying stretching room, and the hitchhiking ghosts, what makes Haunted Mansion work is the excellent ensemble. It's great to watch LaKeith Stanfield, Tiffany Haddish, Owen Wilson, Danny DeVito, Rosario Dawson, and Chase W. Dillon play off each other (in addition to a few moments with Jamie Lee Curtis' Madame Leota), and this becomes a film about this unlikely bunch, and the family that arises from this strange bond, more than about the various ghouls that haunt them. Yet the mixture works, and while it's not nearly as excellent as our number one, Haunted Mansion is absolutely a step above the previous adaptation. — Ross Bonaime
1. Pirates of the Caribbean (series) (2003 – 2017)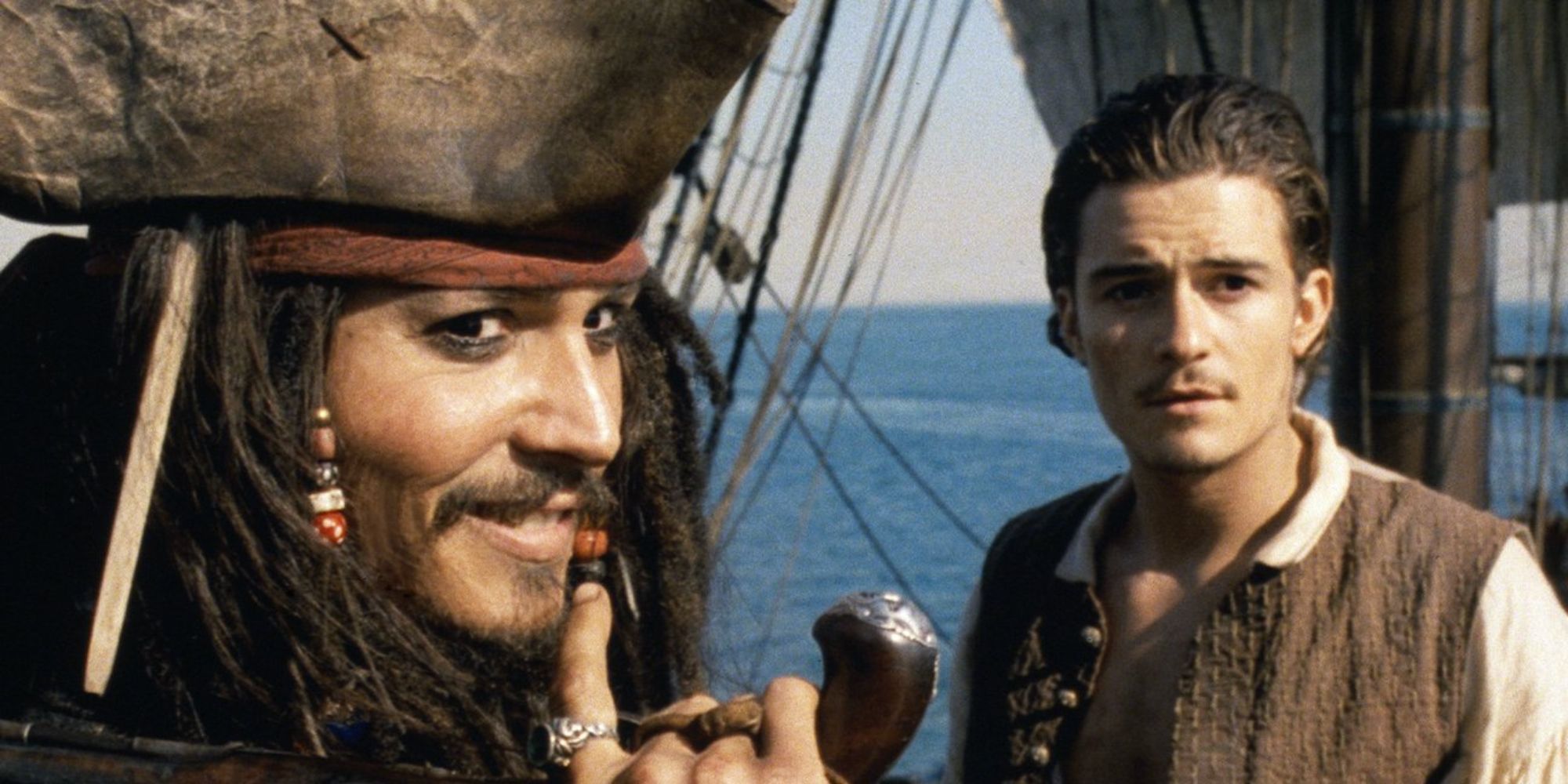 This is it. The alpha and the omega of the movie-based-on-a-Disney-theme-park-attraction subgenre. The first film Pirates of the Caribbean: The Curse of the Black Pearl set the table, mixing well-known iconography from the original theme park attraction (worked on by Walt Disney himself and opened in 1967, a year after his untimely death) with a lovably roguish lead character in Captain Jack Sparrow (Johnny Depp) and heavy supernatural elements that brought the scares and excitement. The subsequent two films (Dead Man's Chest and At World's End) explored the complicated mythological backstory established in the first film and offered even more outrageous set pieces (elaborately choreographed by returning director Gore Verbinski). The two movies after the trilogy, directed by Rob Marshall and Joachim Rønning and Espen Sandberg respectively, continued the story while largely forgoing references to the original attraction. (You can read our analysis of the entire franchise, including what the movies took from the attraction, right here.) The Pirates of the Caribbean films are able to transport audiences to a far-off, fantastical world full of ghosts and sea creatures and undead pirates, bringing the swashbuckling experience to countless guests who had never experienced the attraction. It also profoundly impacted the original attraction, with Barbossa and Jack Sparrow being inserted into the ride later on and inspiring one of the most awe-inspiring, technologically advanced attractions in any Disney theme park – Shanghai Disneyland's Pirates of the Caribbean: Battle for the Sunken Treasure. (It has inspired much more in various theme parks around the world, including stage shows, interactive scavenger hunts, and other experiences.) With two more Pirates of the Caribbean installments being spit-balled at the studio, this is a franchise that could go for many, many years to come. In a weird way the film series has become just as beloved as the theme park attraction it was based upon.