There is no show like Dark Winds. Anywhere. But that's not the only reason you should be watching AMC's sublime and well executed cop show. This is some of the finest storytelling you will find on the small screen, with some of the most interesting characters in intriguing situations in a setting that often feels otherworldly. In season two, Dark Winds spares no time getting things rolling. There is a new villain, new dilemmas, new characters, and an unrelenting film noir thrill permeating the show's DNA.
Based on Tony Hillerman's best-selling novel People of Darkness, the series is set in 1971 on a remote area of the Navajo Nation with Monument Valley providing a lush, scenic backdrop. Lieutenant Joe Leaphorn (Zahn McClarnon of Westworld and Reservation Dogs) returns, of course, this time facing a bigger problem that hits too close to home. Leaphorn runs the Tribal Police, and in season two is paired up with Jessica Matten's Bernadette while Kiowa Gordon's Jim Chee branches out as private investigator. The show also stars Deanna Alison, A. Martinez, and Elva Guerra.
A Season Full of Non-Stop Action and Intrigue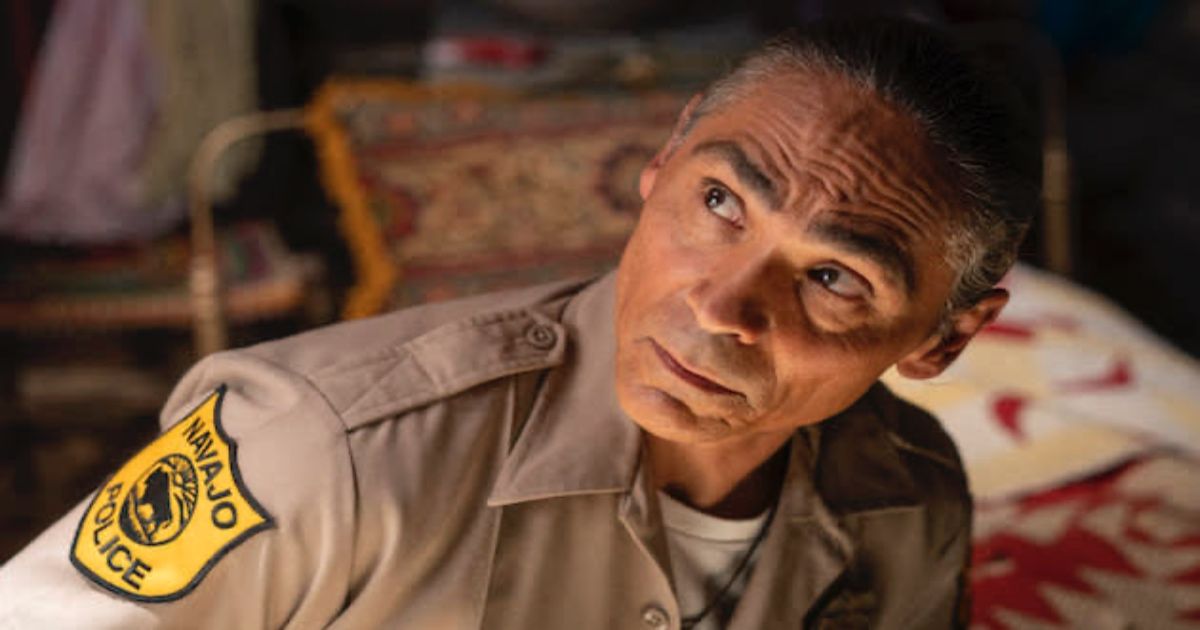 In a refreshing turn, season two eliminates some of the excesses that occupied its freshman year and goes for a more straightforward approach. There's one villain (that we know of) and this guy is treacherous at every turn. The opening sequence, effectively shot in black and white — a device season two often employs — finds Leaphorn and Bernadette facing off against that foe near an RV perched in the desert. The show leaps back several days to show us how the two cops got there, giving viewers a vivid look at whom these folks are up against.
That would be Nicholas Logan's ruthless and seemingly unstoppable beast. He's a brooding fella, somebody who has a curious interest in metronomes to boot, and it's chilling to eventually learn why. As such, there may be a link between this man and the explosion that killed a Navajo man who was already battling cancer. Leaphorn is investigating that event, which feels eerily familiar to the tragedy that killed his son at a drilling site back in season one.
Related: Dark Winds: What to Know About the Hit AMC Show
Meanwhile, Jim Chee has left the FBI and returned to the area as a private investigator. It doesn't much phase Leaphorn, who previously worked with Chee, nor Bernadette, with whom he shared what could have been a growing bond. Yet, these three remained connected as season two moves long.
Chee is hired by Rosemary (Jeri Ryan of Star Trek: Picard in fine chilly form here), the mysterious wife of the man (John Diehl) who bought the drill site where Leaphorn's son died. Rosemary wants Chee to find something that was stolen from her husband's safe. Ultimately, what Chee discovers affects Leaphorn, sending him on a vigilante mission to bring about a sense of justice over his son's death. The reveal, and Leaphorn's reaction to it, supercharges season two, creating a thoroughly enjoyable noir action thriller.
Great Use of Time and Place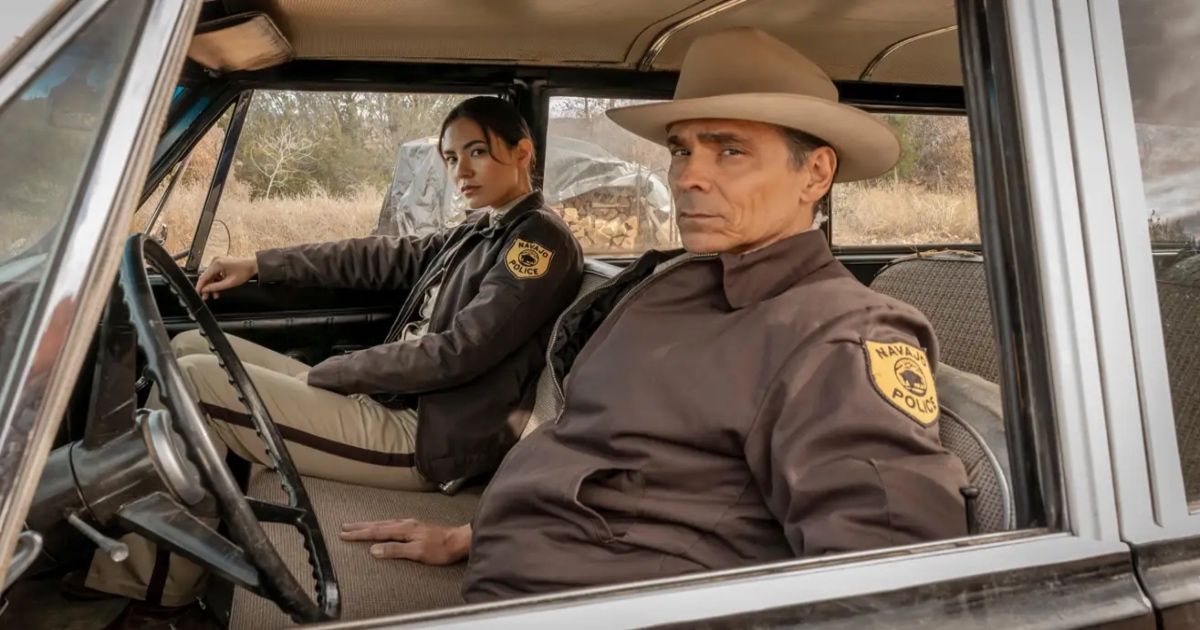 One of the most winning elements of season two is how well it captures the time period. It's the early '70s, and the nation is all abuzz about astronauts. Dial phones. No internet. Imagine. This series, especially in season two, also marvelously captures the interior mood and mindset of the Navajo people — from their core beliefs to what they have had to endure. "There is white justice and Indian justice," a character muses in one of the later episodes. That statement captures Leaphorn's journey in season two. Ultimately, he's taken into a grueling showdown between him and the man who has suddenly become his nemesis (Logan).
Zahn McClarnon is a remarkable performer. He imbues Leaphorn with a sense of urgency and commitment. And while it ultimately may jeopardize what remains of his family, he is determined to stand behind his core beliefs. Let's give this fine actor an Emmy nomination, please. The same can be said for Kiowa Gordon, who creates a fully realized character with Jim Chee. This is a character you want to know more about, and Gordon is a standout here.
Equally fun is seeing Jeri Ryan come on board in a limited role that packs a punch. Creator Graham Roland does a stellar job at establishing several mysteries that need to be solved throughout the season and Ryan's Rosemary fuels some of the show's wonderful noir tinges. Rosemary totes around an oxygen tank. She smokes. She doesn't love being in her marriage. Brilliant.
There are six episodes in season two and the last two are gritty, action-packed, and thrilling. This is the show to watch. And celebrate. And for all their talk about diversity, it would be nice to see Emmy voters toss some love to Dark Winds. It's great that Reservation Dogs nabbed several Emmy noms, and whenever the awards show airs — it has been postponed due the actors' and writers' strikes — we'll see who wins, if anybody. In season two, Dark Winds emerges as a major awards contender and, here's hoping, a great call out for a third season.
Season 2 of Dark Winds premieres on July 30 on AMC and AMC+.