America Ferrera has recently joined Barbieland as Gloria, a Mattel employee that helps Margot Robbie's Barbie when entering the real world. Ferrera is a household name on both the small and big screens, with her more recent TV roles — Amy Sosa in Superstore and Elishia Kennedy in WeCrashed — being lauded by the audience. Nevertheless, her first starring role remains the highlight of her TV career — the titular Betty Suarez in 2006's Ugly Betty, an American adaptation of the Colombian telenovela Yo Soy Betty La Fea.
Helmed by Silvio Horta and executive produced by Salma Hayek, Ugly Betty takes its Colombian counterpart's premise and adapts it to a New York setting. From the moment she is introduced, Betty is shown as not fitting into regular beauty standards and having no sense of fashion – which makes it jarring when she's hired as an assistant at MODE, a fashion magazine. Betty goes through an uphill climb as the series progresses, where she learns that there's more than meets the eye not only in the industry but also in the people who form part of it – no matter how superficial they may seem. The series not only is a highlight in Ferrera's career, but also a brilliant study of work-family balance, opposites learning to interact and bond, and a positive portrayal of the Latinx community.
RELATED: 'Barbie' Would Have Worked Better as a TV Show
'Ugly Betty' Defies Beauty Stereotypes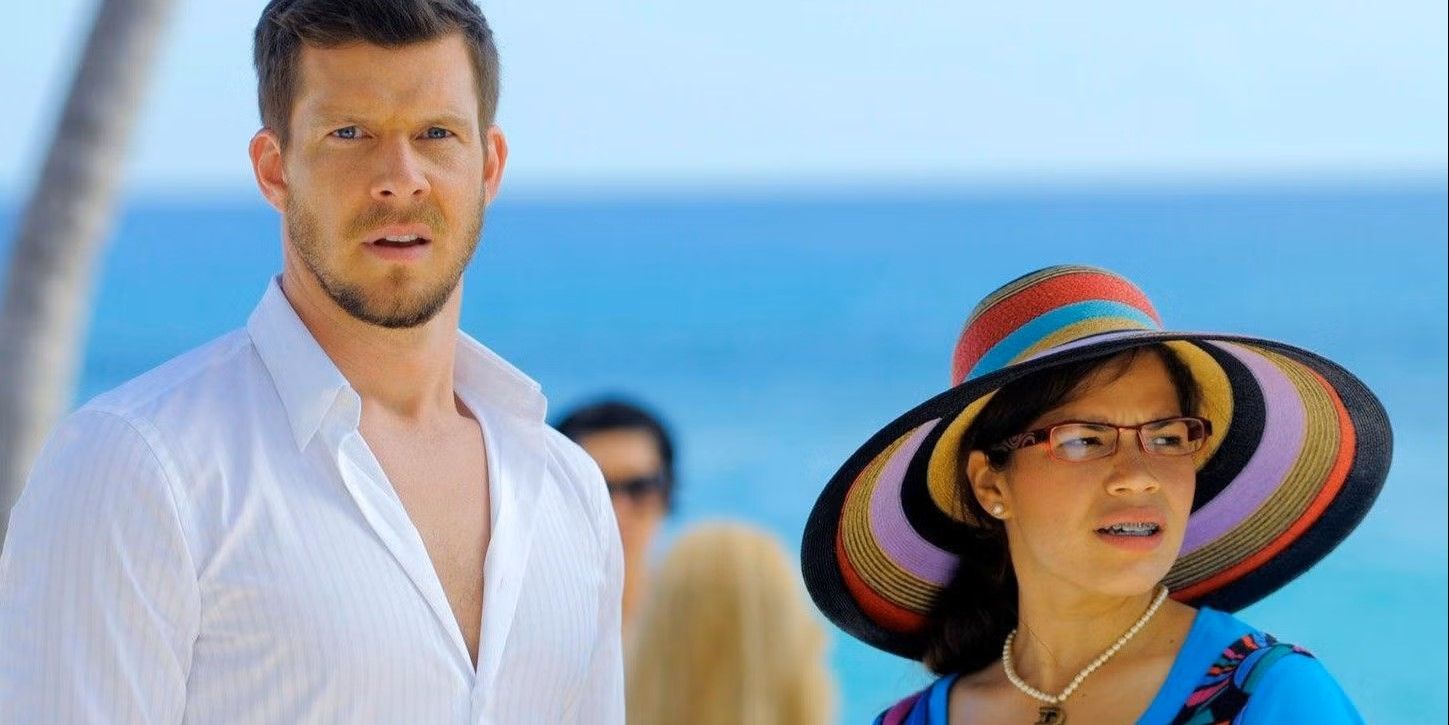 Since the series starts, Betty proves to be more than meets the eye. In a decade when main roles meant being beautiful, and being beautiful was set by a very narrow standard, putting Betty front-and-center was a defiant statement. But she proves that, no matter how she may seem to others, she's a smart woman that not only lives up to her job's demands — who also irradiates joy and kindness to those who surround her, regardless of how shallow and cold they intend to be. Betty is hired by Bradford Meade (Alan Dale), the founder of Meade Publications, to be the assistant of his son Daniel (Eric Mabius), recently appointed as MODE's editor-in-chief. The show sees him grow from nepo-baby playboy to a deconstructed businessman. This is in large part thanks to Betty and her positive influence on his life. At first, he rejects Betty because of her looks, but with time he learns to respect and trust her both personally and professionally.
Daniel locks horns with Vanessa Williams's Wilhelmina Slater, a hard-shelled self-made woman. She sees herself as the boss that MODE should have, and underestimates (rightfully at first) every decision Daniel makes. Wilhelmina is one of the series' most complex characters, having many Miranda Priestly-esque qualities, but slowly showing her human side as the layers are peeled off by her daughter, co-workers, and love interests. She's also the nemesis of Meade matriarch Claire (Judith Light). Light's inclusion in the main cast comes as a breath of fresh air in a time when women her age were relegated to grandmothering storylines. Her wildest and most erratic decisions are retconned to be the result of intoxication caused by perfume. She then makes a comeback by launching "Hot Flash," a magazine for women over 50.
'Ugly Betty's Supporting Cast Is Full of Memorable Characters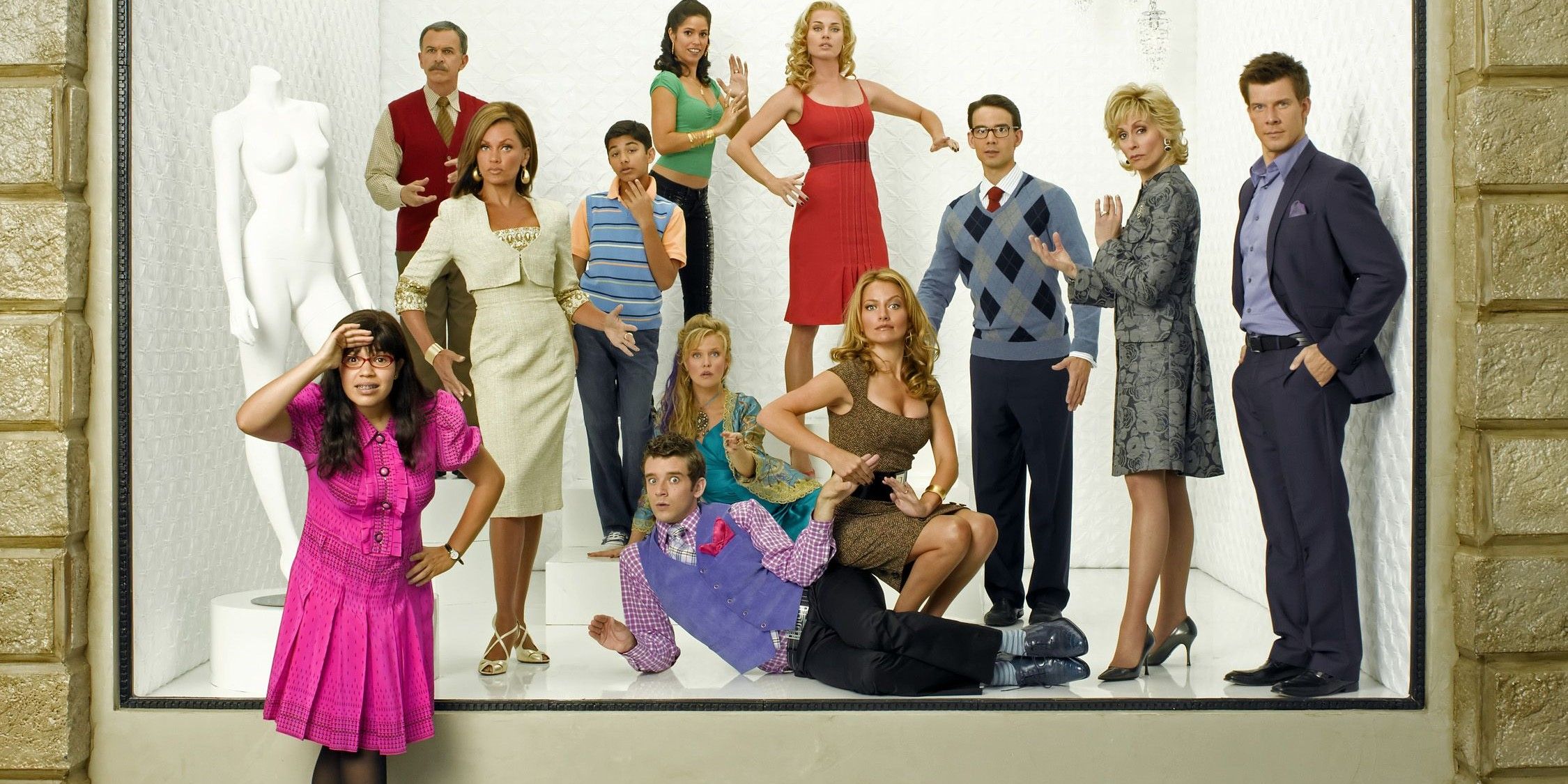 The cast is rounded up by Wilhelmina's assistant Marc (Michael Urie), receptionist Amanda (Becki Newton), seamstress Christina (Ashley Jensen), and Daniel's sister Alexis (Rebecca Romijn). Marc's upbringing as a closeted gay man toughened him up, letting him be a mentor to Betty's nephew Justin (Mark Indelicato) whenever they interact. Amanda is the show's comedic relief with heart, resonating with people who feel immature or lost, struggling to put her life together. Christina is Betty's loyal ally. Initially a loner, she learns to open up and form a family of her own. Romijn's Alexis is certainly a consequence of problematic casting, but her character also shines a truthfully empathetic light on the transgender experience.
Betty's first attempt to try to fit in at MODE is a hilarious yet warm homage to her roots – wearing a Guadalajara poncho. She never lets go of her heritage and her family helps her stay in touch with it. It's also her family who contrasts the privilege that Betty lives at work against the issues that expose the struggle of the American dream. Immigration is one of them, when her father Ignacio (Tony Plana) is revealed to be an illegal alien. Financial issues arise when the Suarezes have to come up with money to avoid getting evicted. Neighborhood insecurity is addressed when Hilda's (Ana Ortiz) boyfriend is killed in a store robbing. Afterward, she also has to deal with government bureaucracy to be able to open her beauty salon. Justin's road to self-acceptance honors Latinx LGBTQ youth with a spot-on portrayal of the coming out experience.
Betty's Busy Love Life and Guest Stars Enrich 'Ugly Betty'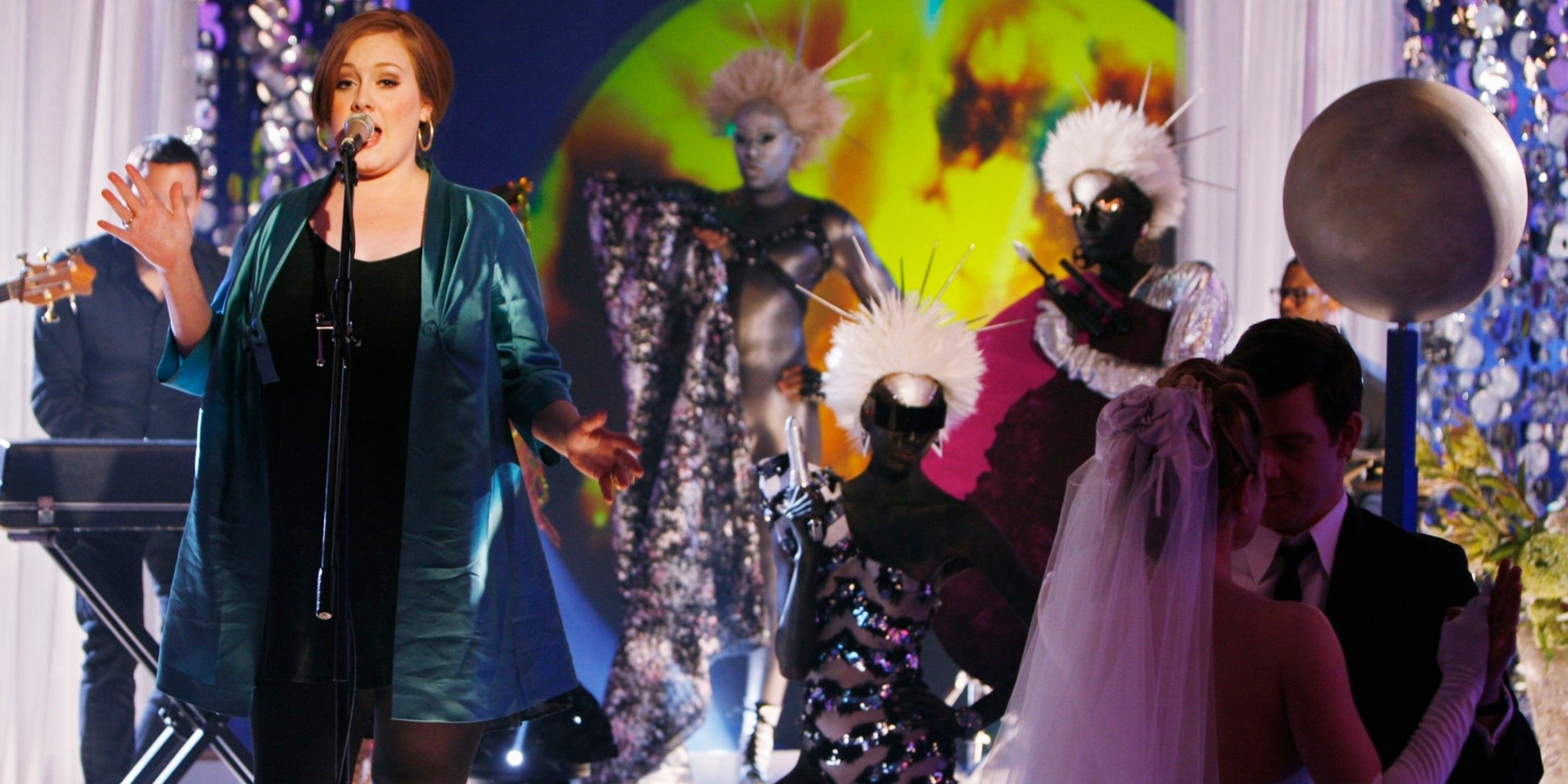 An essential change from the source material is that Betty doesn't pine for her boss. Their relationship goes from professional respect to a warm friendship in which Daniel is protective of her, and Betty has other love interests. Seasons 1 and 2 deal with Betty's love triangle with MODE accountant Henry (Christopher Gorham) and sandwich shop owner Gio (Freddy Rodriguez), where she ends up choosing herself. When she decides to put herself out there again, she becomes infatuated with her neighbor Jesse (Val Emmich), but the two ultimately decide to remain friends. When she meets Matt (Daniel Eric Gold), their chemistry blasts off an apparently ideal relationship, which takes a dark turn when he sees her kissing old flame Henry and becomes fixated on making his life miserable. Zachary Boule (Aaron Tveit) enters the scene towards the series finale, as a womanizer playwright who Betty breaks up with after learning he is hiding her to protect his reputation.
As strong as Ugly Betty's protagonists are, the show has a long line of guest stars that elevate its storytelling. From Salma Hayek as treacherous editor Sofia, to Angélica Vale (from the Mexican adaptation La Fea Más Bella) a dentist's assistant, all the way to Kathy Najimy as the orthodontist that finally removes Betty's braces. Broadway legends Patti LuPone and Bernadette Peters also stop by as Marc's mom and one of Betty's mentors respectively. Nikki Blonsky and Lindsay Lohan also appear as Betty's enemies in different stages of her life. Plus, MODE served as a platform for several guest stars playing themselves, including Vera Wang, Adele (singing at Daniel's wedding nonetheless), Shakira, and Victoria Beckham with her own storyline as Wilhelmina's maid of honor.
Ugly Betty leaves off with an open ending in which, after pursuing a career in the UK, Daniel goes after Betty herself. While it's uncertain if the move is platonic or not, it's a perfect finale that essentially says that life goes on. Though the series — which was a breakthrough title for ABC at the time — has more in common with The Devil Wears Prada than Yo Soy Betty La Fea, it's equally as relevant as its source material. The series hit many milestones and earned Golden Globe and Emmy wins, but its greatest achievement is launching Ferrera as a leading actress, and became one of the first steps that Ferrera took toward becoming the heart of the Barbie movie. Speaking of Ugly Betty, however, you'll soon be able to binge-watch the show as it is set to return to Netflix on August 1.
The Big Picture
America Ferrera's starring role as Betty Suarez in Ugly Betty defied beauty stereotypes, showcasing a smart and kind woman who excels at her job.
Ugly Betty features a diverse and memorable supporting cast, including characters like Marc, Amanda, Christina, and Alexis, each with their own unique storylines and growth.
Ugly Betty not only tackles workplace dynamics and family balance but also addresses important social issues like immigration, financial struggles, and LGBTQ+ acceptance in a positive and engaging way.